New Orleans & The North Shore:
The Perfect Place to Build Your New Boat
By Robert Painter
What's the North Shore? St. Tammany Parish for one thing. And several other parishes surrounding Lake Pontchartrain. It's where the Nawlins crowd goes to get away. They flock there to get out of the city and you don't want to miss it either.
Are you retired and want to spend some time in the Big Easy. Does the wife want to shop and party and the husband want to fish and boat? Or maybe the other way around? How about the perfect compromise? Guys, take your wife on an extended dream vacation and end up with a brand new boat!!!
Rents are cheaper on the North Shore and you're still only minutes away from the city. You can still make it to Brennan's for breakfast or walk Bourbon street at night. Better yet, why not take a vacation from your vacation and spend an occasional night or weekend in the city. Spend at least one night at the beautiful Fairmont Hotel, listen to cool jazz in the lounge and then dine at some of the hot spots around town, like the terrific New Orleans Grill or the legendary Arnauds with live Dixieland in the Bistro Room.
You can go into the city during the day and start your morning off at Cafe du Monde with the Louisiana state donut - the famous beignet. With, of course, cafe'au lait, chicory and hot milk. You'll certainly want to walk down Rue Royale and watch all the street entertainers. It will make you feel as though you are on a city street in Paris or Barcelona. You've probably heard much about Bourbon Street and the French Quarter and you won't want to miss it. This is the heart and soul of the Big Easy. But to see the inner workings of the famous Mardi Gras parades you will be wise to visit the fascinating Blaine Kern's Mardi Gras World. Here you will see many of the largest and most elaborate floats and hear about how they are made and how much they cost. And, who pays for them!
You can enjoy all the Cajun food you want at more modest prices on the Northshore. Of course, since you'll be staying for three months you can rent a nice little apartment with a kitchen and practice that Cajun cooking yourself. You can get a great starter kit from Zatarain's in Gretna with all the spices and other fixin's you'll need to get off on the right foot.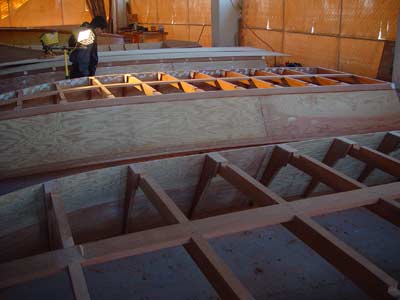 Boat Building Workshop at the Maritime Museum
Why three months? Because that's about 12 weeks - the length of the wooden boat building class held in Madisonville, Louisiana, at the Lake Pontchartrain Basin Maritime Museum. The instructor, Kenny Hebert, who has been teaching this class for years, will guide you through the process of building your very own boat. The course is only $400 plus the materials and you'll end up with a boat worth thousands! And you don't have to have any woodworking experience! And if the spouse wants to join in the additional fee is only $100. The next course is in April 2004 and there should be another one in the fall. Check the Maritime Museum website at the end of this article.
You'll only be working on your boat Monday and Wednesday nights from 6pm till 9 pm and one of you can experiment with your Cajun cooking those nights and surprise the other one with a different Cajun treat after every boat building session.
If you're wondering if three months is too long to vacation in one spot, let me tell you that once you get there you'll quickly begin to wonder if three months is enough time. You'll want to explore the Tammany Trace the full length of its 31 miles. You can cycle from one community to another or just take a romantic stroll in the shade across some of the 31 footbridges built on the original railroad trestles. Walk or bike down smoothly paved trails through the natural habitat, bayous and creeks and watch for wildlife along the greenways and wetlands. And whatever else you do, be sure to stop and have an Abita beer in Abita Springs and visit the slightly bizarre UCM Museum before moving on down the trace.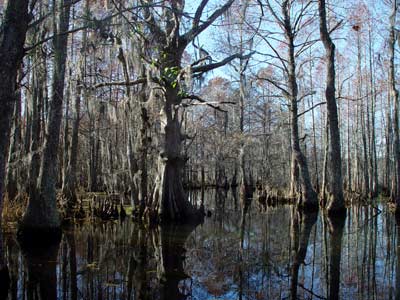 Louisana Swamp - Great Boating Here!
You'll certainly want to take one of several swamp tours. I went on Dr. Wagner's Honey Island Swamp Tour and saw alligators, turtles, nutria (giant swamp rats), herons and other waterfowl. The guides are extremely knowledgeable and can answer all your questions about the swamp and its critters. And even a few comments about local customs and politics!! (Their gift shop is the place to stock up on fabulous homemade pralines.)
There are several wildlife management areas and refuges along the Northshore and plenty of opportunity for outdoor activities, including golf and biking in addition to lots of boating and fishing. And yes, you can even rent a canoe. And if you're traveling in an RV you won't have to rent that house or apartment for the three months stay. There are plenty of campgrounds in the area, including two state parks.
As long as you're here you won't want to miss the old German town of Gretna, with one of the Nation's largest National Register Historic Districts, including the Louisiana Fire Museum, founded in 1841 and the oldest continuously active volunteer fire company in the United States. It's also home to Zatarain's with some of the finest New Orleans-style, award winning food in Louisiana. And birthplace of the western movie actor Lash Larue, star of "B" westerns in the 40's and 50's.
Be sure and visit Covington with it's many historic sites and uniquely designed city blocks containing "ox lots." The city is laid out on a grid of squares which each contain central squares called "ox lots" which were accessed by alleys and used for public parking and trading of wares. These "ox lots" are in the interior of the block with the buildings around the perimeter.
Other options are the Pontchartrain Vineyards which produce some fine Award-winning wines and hosts an outdoor music concert series, Jazz/n The Vines. And for something a little more unusual try Insta-Gator Ranch & Hatchery where you can hold them, touch them, feed them or even hatch one in your hand!
If you're tired from thinking about all this activity then head over to old Mandeville and the balcony at Alex Patout's for a relaxing drink while you watch the sunset over Lake Pontchartrain. You can follow this up with dinner at the hottest new spot on the Northshore - Shady Brady's!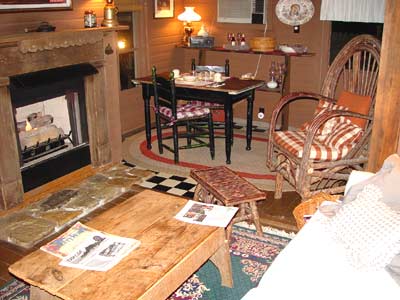 Cozy Wood's Hole Inn B&B
If you've been staying in your RV for a month or so, maybe it's time for a little break. How about a terrific little bed and breakfast. Check out the Woods Hole Inn run by the Smalley's. I really enjoyed the Cabin with it's cozy fireplace. It's nice to have a separate bedroom in case one wants to retire early and the other wants to sit by the fire and read or watch a movie. And the cabin is well stocked for breakfast with everything from OJ to blueberry muffins to hot or cold cereal.
You'll be close enough to New Orleans to experience all there is to see in the city and really get to know the place. Won't that be a first? Take a vacation and actually see something besides the beach or the ski run while you're there! You'll have a chance to absorb the local culture and become a part of it. Plus, you'll end up with a boat worth a few thousand dollars at the end! Your major decision for the summer will be whether to trailer the boat home or sell it for a profit - maybe enough to pay for the whole journey! Wouldn't that be something special?
Maybe you'll make enough on the boat to plan a trip back for Christmas. New Orleans is a special place during the holidays. No, you can't expect snow, but it can get a bit chilly. Bring along a nice warm coat to wear when you go out to see the six miles of flaming bonfires along the levee. This Festival of the Bonfires in St. James Parish is amazing. Bonfire structures as high as 25 feet flaming up and down the levees is a sight to behold! Be sure and visit the Celebration in the Oaks, New Orleans City Park's holiday lighting extravaganza for the past 17 years!. You can walk or take the two mile driving tour through the park. And you certainly won't want to miss the "Angel Hair Lobby" at the Fairmont Hotel - you've never seen anything like it. You can tell it's special because even the locals make an annual pilgrimage to visit this spectacular sight!
Laissez Les Bons Temps Rouler - Let the good times roll.

When you go:
Louisiana Travel - (225) 346-1857 - www.ltpa.org
Lake Pontchartrain Basin Maritime Museum - (985) 845-9200 www.lpbmaritimemuseum.org - (Boat Building Classes)
Woods Hole Inn B & B - (985) 796-9077 - www.woodsholeinn.com

Fairmont Hotel - (504) 834-7517 - www.fairmont.com

Brennan's - (504) 525-9713 - www.brennansneworleans.com