For the past four months I have been scouting and testing to bring you boat builders what I think you should and should not buy. I deliberately skipped over most of the ten-inch saws because their larger brothers can do more work with only a little more cash. I do have one ten-inch saw you should not buy though. I also had to break down and test a few smaller cordless saws because they're portable and easier to take aboard a larger boat to finish the detail stuff while you cruised. There are some very exciting tools that you should look at in today's miter saw world. Be warned, if the saws found at cheapo discount tool stores sound too good to be true, in the long run you'll end up spending much more than you would have on a good name brand saw.
Ten years ago miter saws were just beginning to make inroads into boat building and carpentry. At that time the radial arm saw was king of the miter world and nobody thought that a strictly miter saw would be of great value. That has changed largely because of super high capacity 12" miter saws and 12" sliding miter saws that come with one inch arbors and blade depth adjustments so you can even cut dados with these saws. In years past I can remember trying to cut compound angles with my worm drive saw while I held the lumber at the same time. I had an eight out of ten ratio of good cuts to bad so 20% of the boards I cut were not used for what I cut them for. Everybody makes mistakes and I confess that I make more than my share especially when I try to hurry things along and use the very dangerous practice of holding a board while cutting it.
Modern high capacity miter saws save much time and trouble because you can use a miter gauge to set the angles you need, then place the wood into the saw and you have a perfect cut time after time. Now my waste wood that I miss cut comes out under ten percent. If you must cut a lot of pieces to the same measurement these saws can definitely speed up the process. They cannot make cuts like a table saw but if you are looking at a miter saw you probably own a table saw already.
In this article I will show you what a difference a good blade makes and how you can install your own laser if your saw didn't come with one from the factory. I will also show you what a difference a good miter saw stand makes and where you can go to get plans for a very choice stand. Most manufacturers make their own stands but there are stands out there that can save you hundreds of dollars and still be nice stands. I will also show you a new saw blade that stands ready to change the way we look at saw blades for fast smooth cuts. You'll know what some of my professional carpenter friend's use for miter saws and what they won't buy again.
So read along as I take you through the complex and often confusing new crop of miter saws. You may not agree with what my choices are but in the end I hope you can better understand these new saws and their capabilities.
COMPOUND VS. DUAL COMPOUND
In this day and age you pay for what you get most of the time and more features make a saw more expensive. A single compound saw cuts a miter and bevel at the same time. But to get a mirror image of the same board you must turn the piece of wood over. To a lot of home boat builders this would be a minor inconvenience but if you are building a big boat with lots of mirror image cuts a dual compound miter saw would make the work go faster. A dual compound miter saw cuts angles from 45 degrees to 60+ degrees either left or right and it bevel cuts both left and right.
There are some very good saws that are single compound miter saws. Almost any major tool company that sells these saws will have a great single compound twelve-inch miter saw. When you get into the dual compound saws the field starts to narrow on what the best saws are. Again most of the major tool companies make good double compound miter saws and personal preference for a company's products will make the difference in what you buy. I always tell my friends who ask what they should buy to go 12" because if they ever need the extra cutting capacity they will have it. In today's tool markets the price difference between ten inch and twelve inch tools is very close and blades for different saws are almost the same when you compare the quality of each size. A no name 10" combination blade will always be cheaper (and I do mean cheap) than a name brand quality crosscut 12" blade. I just saw a Diablo 96 tooth thin kerf crosscut blade at Home Depot on sale for only $59.00. An excellent blade for any twelve-inch miter saw.
A double compound saw saves time and energy but also costs the buyer on average an extra $50 to $100 for this option. But most of the high quality double compound 12"saws will cut a 2' X 8' piece with no problem. There is one brand new double compound saw that I tested that almost matches the capacity of the 12" sliders. In fact it can beat out most of the 10" sliding compound miter saws in cut capacity. We will get to it a little later in this article but it is the saw that I would have in my shop and the price is hundreds less than the sliding 12" saws.
Sliding Double Compound 12" Miter Saws
Now we come to the big saws. The 12" sliding double compound miter saws. Saws that have taken on the radial arm saws and relegated them to a very small portion of tools sold in the United States. There are major saw makers that do not have these saws in their tool line-ups. These are specialized saws that can make cuts so large and precise that using them for one hour of works in repeated cuts can out-cut a handsaws production by one day or more!
They have stolen the crown from radial arm saws and can cut your boat building time by leaps and bounds. They can out cut their 10" brothers by huge amounts but not all of them are built the same. In fact when I spoke with some of my contractor friends they all gave one certain brand a failing grade. They replaced this brand with what I call the top three sliding saws. Again we'll get to this a bit later in this article. Some wood working magazine writers say that a 12" sliding miter saw is too big for the home shop builder but they don't build boats. I think that you should buy the biggest saw you can afford. With that said I think that the ultimate boat shop should have a large capacity 12" sliding miter saw or a dual compound miter saw with huge capacity. I will continue to say you are much better off with a larger saw. All of the 12" sliding miter saws and the special geometry arm non-sliding miter saw have huge 15 amp motors that make them exceptional powerhouses.
A TEN-INCH SAW YOU SHOULD AVOID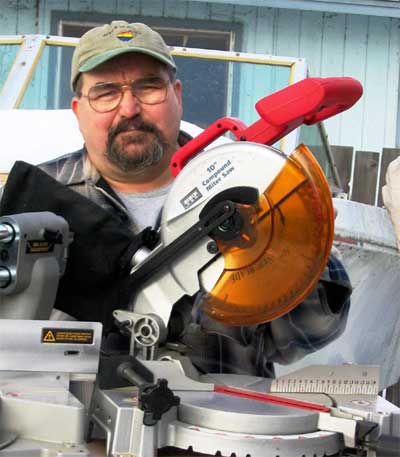 Yes my fellow boat builders I found a saw that you should avoid. It is a very low cost saw that is offered by a couple of budget tool companies. I picked up one for testing at a chain store called Big Lots but I have seen this same saw at a discount catalog Tool Company and a few others. It is the 10" compound miter saw and the one I acquired had a Bench Pro label on it. They look very similar to the 10" Ryobi saw but the quality is sub-par and that is where the resemblance stops.

They cost from $60.00 to $85.00 and the injected plastic body can come in many colors, the saw I used for testing was red. The first problem I had was in setting all of the bevels and miter angles to a zero point so that the saw would be accurate. This saw would not become accurate no matter what I did. I could set it and as soon as I moved any setting and went back to the zero mark the saw would be off again. So as you can imagine any price would be too much to pay. I could put a metal cutting carbide blade on the thing and use it to cut steel rebar. The buyers beware! A person could save up more money and buy a laser single compound 12" miter saw and actually have a good saw. I bought this to prove my theory but I was more successful than I hoped and I wasted money that I could have used in a better way to help my shop.
THE BEST SINGLE COMPOUND 12" MITER SAW FOR THE PRICE!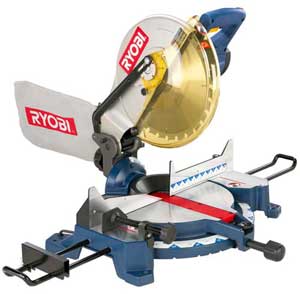 Okay, most of the major tool companies sell single compound miter saws that are very good in quality. There are a whole bunch of 10" saws that could work for most home boat builders, but the 12" models are not that much more expensive and deliver a huge jump in dimensional cutting size. This is the saw I pick as the best priced saw you can get and still have very high quality.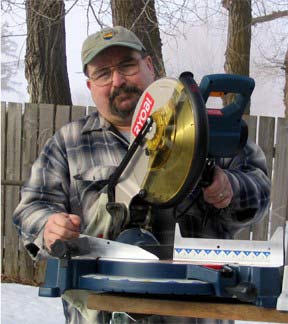 The Ryobi model #1551DXL (Editor's note: You can win this saw in our latest design contest. Thanks to John, the company donated it to Duckworks) comes with a laser kerf sight system called Exactline, a clamp and dust bag with a vacuum hookup. It also has sliding extensions for longer boards with an adjustable stop included. The blade was very surprising in the smoothness of cut it provided for the small amount of teeth that the blade has. With the low cost of this saw it would be perfect for someone who needed the capacity but didn't want to break the bank. Freud graciously provided one of their 72-toothed 12" thin kerfed saw blades to use as an aftermarket test blade to see what a good blade could do for the saws I have for testing. With this blade mounted on the Ryobi 1551DXL and with the saw in perfect alignment, this saw could equal in exactness any cut of any non-sliding saw in this test. Although it could not match the size pieces that the other saw could cut, it was on the money as far as miter angle and smoothness. If you can't afford a dual compound saw or a slider this saw is a perfect choice. For the student or person on a fixed income like myself this is a great saw. Even without an aftermarket blade I was amazed at the precise angled smooth cuts it produced. I give this saw a very high "must have" rating and with a great blade it is a superior saw at a discount price. It comes with all the options most high-end saws don't have included like material extensions and a clamp. I also have to mention that most high-end saws can also improve their blade quality to improve their cutting ability. The laser on this saw is a great addition that helps so much. You can never mistake where the blade will cut unless you have your eyes closed and I would not recommend that unless you want the nickname "Stubs".
NON-SLIDING DUAL COMPOUND 12" SAW CATEGORY
This is a wide-open category with many options. Popular brand names that I like are Delta, DeWalt, Ridgid, Porter Cable, Hitachi and Craftsman. Most of these saws have a very fixed size for the amount the blade will cut. Most 12" double compound saws will cut a 2" X 8" or a crown molding laying flat at 90 degrees of 6 ¼". That is large but the 45 degree cut is only a 2" X 6" to make the 12" saw good but not great. One top company has listened to professional carpenters to get more cutting capacity. Crown molding is a good example of a well-used interior trim that must be mitered to fit properly. The first saw with a large capacity and a double compound giant is the Delta model 36-412. DeWalt claims they have the largest capacity 12" double compound saw but the numbers do not lie in favor of the Delta.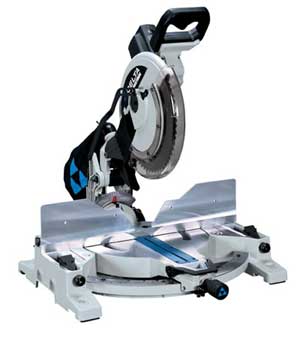 The Delta saw has a 90 degree capacity of 2" X 10" while the DeWalt cuts only a 2" X 8" piece of dimensional lumber. This 12" saw by Delta has a better capacity than some 10" sliders and is much less expensive than most sliding saws. In my shop the Delta 36-412 proved to be the best of the non-sliding saws with giant capacity and many great features. Like the Bosch saws, the Delta puts all of the controls on the front of the saw. This saw would be perfect for a shop where you don't have the room behind the saw to put a sliding miter saw. I know one carpenter friend who uses a DeWalt non-sliding saw for the same reason. He was very surprised by the Delta saws capacity. If I didn't like the sliding saws so much I would have stopped my review right here.
All of the saws I mentioned are good saws but the Delta 36-412 is a standout in any shop. It is well made and the finish is perfect in quality. The saw also has flip-up stops for larger wood pieces such as crown molding or ship planks. They can also be used as clamps for smaller size pieces. It will actually cut a 2" thick by 10" full dimension piece of wood. At 90 degrees you can flip the wood over and essentially double the width of the cut. You can do this also with compound cuts but be prepared to think backwards and whatever you do don't email me and complain. I will mention that Hitachi does make a 15" miter saw but the sad fact is that the Hitachi saw costs about $600but doesn't even cut as large a piece of wood as the Delta 36-412 miter saw. I hate to go on about this saw but it has two blade guards. The arm geometry of this wonderful saw is much different than all of the other saws in its class. It requires a blade guard behind the blade that rises when you cut through a large piece of wood like the front guard.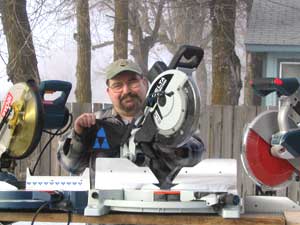 The Delta 36-412 saw rear fences use a patented squeeze release that makes changing settings very easy for anyone. They are also very high and made so you can put a sacrificial piece of wood on them to prevent tear out when making a cut. The stock blade was good but I did put on the new RAZOR blade by Porter-Cable and the results were spectacular. I then added the Avenger Laser sight and it made an unbeatable combination! This was the saw that is so new I had to put on hold the whole review because this saw was on back order. I am glad I did because it turned out to be top in its category and worth the wait.
SLIDING DUALCOMPOUND MITER SAWS
Makita
Some of you must be wondering now why I have not mentioned Makita and their line of miter saws. Since I am doing a review of mainly 12" saws and the sliding saws are at the top of the list I cannot in good conscience include their products. I did try to get one for the test but was unsuccessful. I have many friends who work as carpenters and some of them manage groups of carpenters. To a man all of them have used the Makita 12" sliding compound miter saws and they have all changed from Makita to other brands.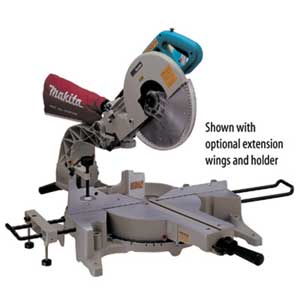 The friend who manages at least four teams in new construction told me that the Makita saws do not stand up to the rigorous use that they put the saws through. He told me that if the blade binds, the motor is ruined in a matter of seconds. The Makita sliding 12" miter saw is the smallest in size of all the saws and the most delicate. All of the other sliding compound miter saws use belt drives. If by chance a blade binds on the other saws, the belt drive will slip or break with only the small cost of a belt to replace.
The Makita saw has a direct drive and when it must cut product for seven carpenters at one time there will be rough use. You or I may never have a problem but they are prone to losing the motor from blade binding. When you place a DeWalt saw along side the Makita you will notice that the Makita is at least a third as small as the DeWalt. There is a price to pay for a lighter, smaller saw. I have seen other reviews of the Makita slider 12" saws and they always place the Makita at the top of all the saws. I have a different take and after hearing of this problem from more than one person I have to place this saw on the "Do Not Buy" list along with the Bench Pro 10" saw.
I do own other Makita tools that have provided good service and I like to use them. I consider Makita tools as one of the top line of imported tools sold in the USA. I may never use my miter saw long enough to wear it out but after hearing reports from more than one professional builder I will opt to leave them out.
DeWalt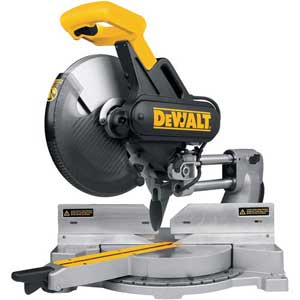 Now that the unpleasantness is out of the way, we will get into the biggest and baddest of the miter saw kingdom. I will start first with the DeWalt DW708 Sliding Dual Compound Miter Saw. Because of a new product back order I have used this saw in my shop for a few months already along with a few others. The DeWalt saw has a very nice look and excellent range in both miter and bevel scales. DeWalt did a lot of research before building this excellent machine. I did find two small faults with the machine I used. When I first received the saw the yellow edge on the blade wiped off on every cut.
I called DeWalt and it was concluded that this was an isolated incident. I then changed blades to the Freud blade I mentioned earlier. It improved the smoothness of the cut dramatically. I then acquired a new 96 tooth DeWalt blade and the cuts remained super smooth. There was not a noticeable difference between the Freud and the first DeWalt blade. The cost was basically the same and under different circumstances the DeWalt blade might have a slightly better cut because of the tooth count. I also put the Avenger laser kerf sight on this saw, what a difference because I can see the cut line before I ruin anymore wood!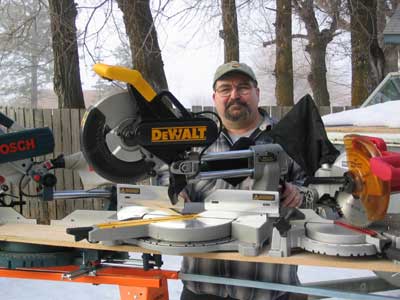 The second small problem was in my perception. After using the Delta saw and the Bosch I became aware of how easy front only controls made using the saws. My opinion is not shared by some of my carpenter friends; two of them chose this saw as the saw they depend on. It is a great saw but because of preference it is not my first choice. My brother-in-law did choose this saw. He liked it so much he bought one for himself and he is an above average woodworker obsessed with the smallest details. He has rebuilt a boat our family owned for years and was a mad man about making everything better than it came from the factory.
A redeeming plus with buying the DeWalt saw is the certificate for a new Heavy-Duty 18 Gauge 2" Brad Nailer Kit. They had this special running in the months before the holidays that I thought the article would be ready before the holidays. What a great gift for just buying this product but you have to ask your local tool store to find out if the offer is still in effect.
I didn't like to reach behind the saw to change the bevel adjustment and that is why I didn't give the DeWalt the top spot of the review.
Ridgid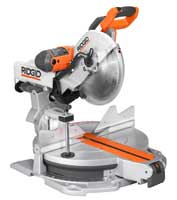 The Ridgid Compound 12" Sliding Miter Saw is the only one of my top three I didn't have in my shop. I had a mountain of saws and very little extra room but I do know someone that has had one for some time. He was one of the ones that traded up from the Makita 12" slider. His saw is not the new one with the laser but they are almost identical otherwise. He maintains that the Ridgid is the best performing saw that he has used. It, like the DeWalt and Bosch units have a belt drive and they act as a fuse that will keep your motor going when the going gets rough. The Ridgid saw is huge and built like a saw should be built to survive in the rough jobsite environments. I may revisit this saw in the future as a single tool review. There are no glaring faults with this saw and if you were considering buying it I would say you are making a good choice. The Ridgid also has the very largest cutting capacity and a novel idea where the whole turntable becomes the place where all of the wood sits. For a picture of what I mean go to, https://www.ridgid.com/Tools/MS1290LZ/
BOSCH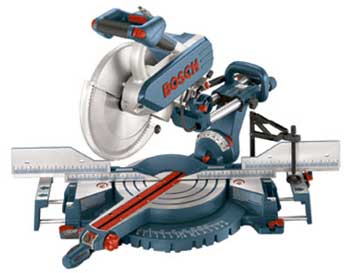 Now we have come to the Bosch Sliding Dual Compound Miter Saw. I must admit that I am very partial to this product in particular. I have noticed that on Amazon the product reviews have been very harsh on this saw. It seemed to stem from a perceived large amount of slop in the arbor bearing. They claimed that the blade would wander all over the piece being cut. NO-WAY!
As with all of the saws I placed my trusty dial indicator against the blade and no side play at all! I found the same thing on all of the saws except the Ryobi and it had two-thousands of an inch play in the arbor bearing. The Bosch saw came with an excellent clamp unlike most of the saws. The built-in side extensions missing from most of the saws (with the exception of the Ryobi) are another added bonus.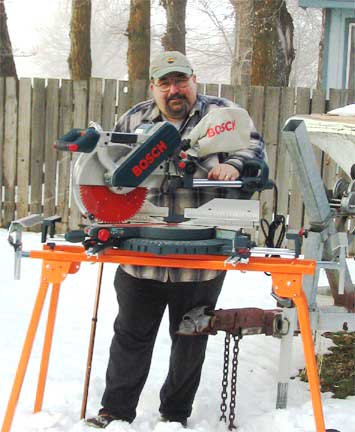 Bosch has all of the adjustments in the front of the saw like all saws should have. All of the covers were castings and just not stamped steel (like some of the other saws). The finish on all of the saws was great but the Bosch and the Delta were exceptional. Fit and finish on a tool is indicative of the accuracy you will find when the cutting begins. All of the saws were accurate and the Bosch saw was no exception. The clamp for the Bosch saw is a simple and great clamp that is very positive. Once it is engaged it would take a herd of wild horses to remove the piece to be cut. From the front of the saw I can set the bevel and make every other adjustment. The handle is even adjustable! I set it with a slight cant so it is more comfortable for myself but you can set it at any angle. Also it has a left hand safety start button as well as the right side one. The sliding fences have etched measuring scales in inches that will not rub off. The sliding extending supports have a stop so if you have more than one piece to cut the same size set up for it takes just seconds.
For all these reasons of accuracy and up front controls I give the Bosch saw my "must have" award. These sliders all use the belt system for driving the saw blades. If the majority of companies use this system on their saws there must be a good reason. Only one of these sliding saws has a factory-mounted laser for marking the cuts. If you want a laser you can add it to your favorite saw. I added the Avenger laser kerf sight to the Bosch and it works out great. Once you try one you'll wonder how you ever got along without it! The stock blade on the Bosch is outstanding (the part number is 2610915721). I did use the other aftermarket blades on this saw but the only way to make a smoother cut with this assortment of high quality blades would be to cut the wood with a laser and then the saws would be a moot point.
DADO CUTS WITH A SLIDER?
Yes! Each slider had a depth of cut lock and can make multiple cuts across a board to make dado slots! I am going to try and find a dado blade I can use to make these cuts with the Bosch saw. It already comes with rulers on the sliding backboards. Even a doublewide board could be done one side at a time. I think this use will prove much safer than the table saw dados because you see the cut being made. I will ask a few big saw blade companies if they would consider a dado blade for this purpose. Who knows this could become a trend since these saws have some of the tightest tolerances.
SAW BLADES ARE NOT ALWAYS WHAT THEY SEEM
During the test I had a chance to switch blades on all of the 12" machines and to try out some unique blades that are just showing up in stores now. The 96t DeWalt DW7650 blade gave a nice finish but it wasn't the stock blade on the DeWalt 12" slider I tested. The Freud thin kerf LU91R012 ATB 72t 12" miter blade gave the best overall performance in all of the saws until a new blade arrived from Oldham. The blade carried a Porter-Cable brand name but was designed at Oldham just before the merger with the Pentair Group. Can you imagine a variable tooth blade that has finish teeth and rip teeth on the same blade? I can because I used it and it's called the RAZOR! It cuts butter smooth without much noise and also cuts much faster. I received one 12", one 10", and one 7 ¼" blade to test. See it HERE.
The difference between the Freud 72t miter blade and the 96t DeWalt blade is very small with the Freud blade being just a tad smoother in most cuts. Glue would wipe out any edge that any blade had in the upper end blades.
Now imagine me opening a box and looking at these strange Porter-Cable Razor brand name blades! I couldn't imagine what in the world would possess anyone to build a blade like that! That was until I mounted it on the Delta saw first. What a difference, it was smooth, less noisy and cut very fast. The fact is that saw mills have been using this technology for generations and only now has it shown up in the consumer market place.
My big 220-volt Radial Arm saw is getting a new blade! The main reason is that it cuts kickback to virtually nothing. What a wild new blade and it cuts as smooth as any of the top end blades when you consider that most cuts will be covered with glue. One of the things that the new 12" sliders will do is make Dado cuts. The Bosch comes into its own because it has rulers etched into both sides of the sliding fences. The Razor cut nice flat Dados that took very little chisel work to make them perfect. Most blades I have used make a little ridge in the center of the kerf. The Razor has a raker tooth that cleans the bottom of the cut. What a nice feature and the blade is affordable. I was very, very surprised and the engineer who thought this one up was definitely thinking outside the box.
Now you can use a stock blade like the great 80 tooth blade on the Bosch saw or four different premium blades that also work very well. When the dust settles you can pick blades by name or by cost but all of these blades I would use. The Freud really did a fantastic job for having the number of teeth it had. The DeWalt blade is from a new series of high quality blades from the company that builds tools for professional builders. The new Porter-Cable blade was the least noisy and fastest smooth cutting blade in the test. This blade should be standard on the Delta saw. Finally the Bosch blade was the best standard blade on any of the saws in this test. It was also on the top sliding saw in the test. The Bosch may have the highest price but after you add all of the things that come standard on the Bosch to all of the other saws they end up being more expensive.
A LASER SYSTEM FOR ANY MITER SAW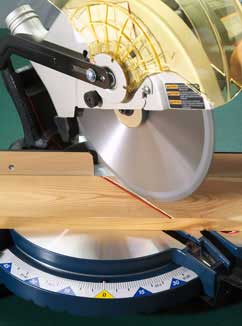 Avenger Products is the maker of great Dados and many fine saw blades among other things. Their new Laser attachment can be used on any of these saws as an after-market add on. Installing this add on is even easier than changing saw blades. I recommend that you place one of these great devices on all of your saws that can use it. It simplifies cutting over curved surfaces and compound miters. It will keep your scrap pile much smaller and give your ego a boost at the same time. You can see this mark even in bright sunlight and there is a reason saw companies are adding this feature to their new saws all the time.
Don't worry about battery life because the laser only operates when the blade spins and replacing the batteries is a five-minute job. This is also on my "Must Have" list of items you should always have ready to use. Retro fitting this device on older models is a way to bring them into this century. Here is the web page:
https://www.avengerproducts.com/products_laser.html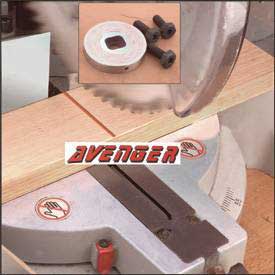 On this page it says that this laser will not fit the Bosch saw, but I maintain that it does because I am using it on that saw now. Get one of these devices and you'll never be sorry you did. You will find they also fit the DeWalt DW 708 Miter Saw. These Laser sites are available at Hartville Tools. Their site is at,
https://www.hartvilletool.com/product.php?search_id=13020
Update! I just received a new model of the laser from Avenger and this one is perfect. It can be plainly seen in bright sunlight. The laser kerf beam is perfect for outdoor work that I for one do a lot in the summer time. It is item #21365 and should be available now. Call Hartville Tools to see. I hate mentioning stores by name but they always give me the best price and I thought I should mention that.
Battery Operated Miter Saws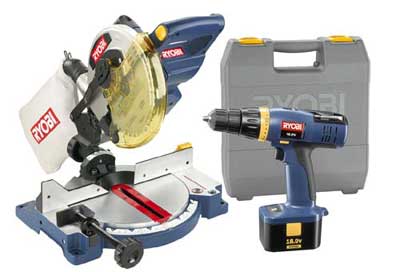 This is a fairly small market today but there are two clear sources that you should look at. I have the Ryobi model MS 181 that was part of their famous Six Pack 18 volt tool set. I can say that I will be taking this saw with me when I take my cruising boat to Mexico. That is after I build it, but everybody has a dream and this is mine. The saw fits in a compact space and is very powerful for it's size. It has an ultra thin kerf 8 ¼" saw blade that leaves an outstanding finish. The saw probably is not meant for full production work and has some limitations but it is a great saw none the less.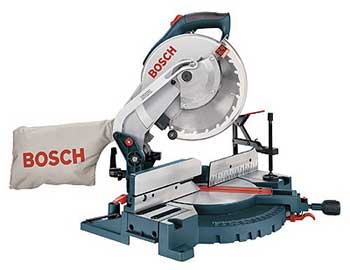 The other great saw is the Bosch 3924-24 cordless miter saw. This saw is the best 10" miter saw (cord or cordless). I have seen this saw used in demonstrations and it is as powerful with its 24-volt system as any other 10" saw. It is very well made and in a situation where there is no power this saw could do the job very well. So if you need to do work in a space with no power this saw would be and is the top choice. I have the Ryobi unit and you must do the setup to the letter. After that, this saw gives very acceptable performance. It is not a Bosch but it is a nice 18-volt saw and very useful. The only problem I can see now is that the Ryobi saw only comes in a kit with an 18-volt drill. Item number Ryobi MK218K2. This is not so bad because the drill is a great tool also.
PORTABLE SAW STANDS, FACTORY &
AFTER-MARKET DEALS

I am sorry for the lack of humor in this article but I have stressed over this review. I have had holdups and back orders and my wife wanting to skin me alive for stacking large boxes in our living room. I even set up a portable miter saw stand there. I can't wait till spring when I can start building my new shop. I guess it is either that or a divorce. If you hear that I have died call the police! My wife may have come through with her threats.
I have searched and looked at over twelve models of miter saw stands. Among them I have seen first hand the DeWalt but it has no wheels, the Bosch stand, it is very mobile but expensive, the Ridgid stand was less expensive but after spending nearly $700 on a saw, a discount would be nice. The factory stands are very good but if you are like I am I want the least expensive with the best features. I found one that has everything I need and even more. The Port-A-Mate 4400 by HTC is as close to perfect as any stand out there. It costs fewer than $100 but has the features of stands three times that price. It has wheels to move it around and folds up for compact storage. In the pictures of the miter saws together they are sitting on that same stand.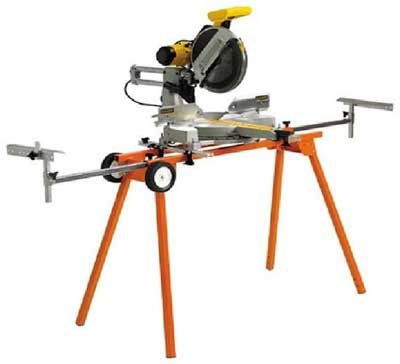 It can hold over two hundred pounds of wood on it plus the saw! It doesn't have roller ends but it works great without them. One of the fellows at HTC told me they are selling them faster than they can make them. When you order one it may take a week or so to get it to you but when it arrives it will be worth it. I can now take my saw right next to the boat I'm building. This is another "must have" item. All the major companies build models of their own but the HTC stand does the same job with less money. HTC also makes high-end models but I put my money on the Port-A-Mate 4400. It is a great deal and I like finding great deals for my readers and for myself.
How Can We Build A Better Boat Now?
I know that making compound cuts with any other saw is a bigger pain with more waste than a miter saw. A large capacity miter saw set up right can save more wood in my shop situation and I'll bet in yours too. Miter saws can save wood in the long run and help make you a better boat builder. With proper use and care a major expense like one of these saws will last years. My big 12" radial arm saw was purchased in 1966 and it is still able to cut lumber (but it could use new bushings and bearings). If you plan on staying with your boat building addiction then buy the tools you think will help you. Please don't buy one of these saws if the money should buy shoes for your children or rent for your house. The purpose is making better boats not just buying tools.
Your own situation will guide your purchase of that new saw. I think the Ryobi 1551 DXL is a great bargain and a good solid functioning saw. If you don't have the room for a slider, like some people I know, then the Delta 36-412 can handle extra large cuts and is an excellent saw that I would not mind owning myself. It has a great price tag compared to the sliding miter saws also. All of the 12" sliding saws I mentioned are great saws but the Bosch (my favorite) has everything I think a good saw should have. My brother-in-law disagrees with me and bought the DeWalt. Another friend of mine thinks the Ridgid is the best saw of the group. I still give the Bosch the top slider spot.
The Bosch has more and better features that are user friendly. Just like the handle that can change any position, Bosch has made these things count. I will now have to beg and plead so I can buy the Bosch saw. It is even worth tears as long as I can get my wife to concede to the purchase. My second choice is not a sliding saw but the Delta 36-412, half the money but not half the features. This saw out classes its own class of saws and nearly matches the sliders in cut capacity. The only other saw that had the perfect finish was the Delta. If Delta decides to build a sliding 12" saw the competition better watch out! To get performance that is outstanding you only have to buy the Ryobi saw. With its laser and pure performance it doesn't need a clamp and extensions. With the Port-A-Mate stand the Ryobi could work next to a boat all day long and never miss a beat.
Saw blades are another place where opinions differ but if you need a new blade you can't go wrong with the Freud blade or the new Razor from Porter-Cable. All of the blades that came with the saws are very adequate but perfection still costs more money. The Avenger is also a great blade as is the DeWalt so you can have a wide choice to make your boat a great one. The laser guides and miter stands are icing on the cake but it is better to know how great you can make the cake.
I hope that I have not made more confusion out of an already large array of saw and accessory choices. These are my choices and you might not agree with them but I have given you some very good saws to choose from. I have based my selections on mainly boat building and not just woodworking so even if you do mainly woodwork these saw will still work very well for you. I deliberately left out the specifications of each saw and accessory. You can find them at their websites very easily. I have spent more time on this review than expected but I worked with some of the best saws and accessories on earth, so I am pleased. I have already made many of you sleepy and I didn't want to make the perfect "before bed sleep aid".
Have a great time shopping and if you have any questions email me at my tool crib. boatdock@kfalls.net
From my tool crib to yours
John Cupp
For more Miter Saw reviews, see: https://www.mitersawreviews.biz/