Rigid Hull Inflatable Boats (RHIBs)
Built for Rescue
Almost every major Navy and Coast Guard has them in their inventory. No, their not named, and they aren't usually found in Jane's Fighting Ships either. But, they are an important part of many major sea services. What type of vessel are they? They are Rigid Hull Inflatable Boats, commonly referred to as RHIB's or RIB's.
What exactly is an RHIB?
They are typically glass-reinforced or aluminum hulls to which a multi-compartment buoyancy tube is attached. RHIBs have stringers and which support a molded deck. In addition, for rescue RHIBs, they also have a removable collar that has multiple air chambers, each fitted with separate fill and relief valves.
Many of the collars have a built-in bolt-rope system to enable other boats or people to grab hold of, during a rescue. These collars also allow impacts to be absorbed, protecting the rest the molded deck and personnel. The collar, which is removable, expedites repairs or replacement. The inflatable collar makes the RHIB extremely versatile by providing high stability and the ability to fender off vessels without damage.
Powered by either a single or dual gasoline or diesel engines, with either outboard, inboard/outboard stern drive, or jet drive, these boats can carry as few as three and some as many as eighteen people. Speed is dependent on the size and power plant, but some can reach speeds in excess of 40 knots.
Why are they so popular as a rescue vehicle?
There are several reasons why RHIBs have gained in popularity as both recreational as well as rescue craft. Prime among these is the durability of the craft for many types of sea states. The United States Coast Guard requirement for its new WPB (87'"Marine Protector Class" Coastal Patrol Boat (CPB)) was that the patrol boat be able to operate in Sea State Five (10 foot waves) and launch and retrieve a small craft in Sea State Four (7 foot waves).
RHIBs have the ability to withstand these unfavorable sea conditions, as well as absorb the beatings that these wave heights that would stress traditional fiberglass or wood vessels.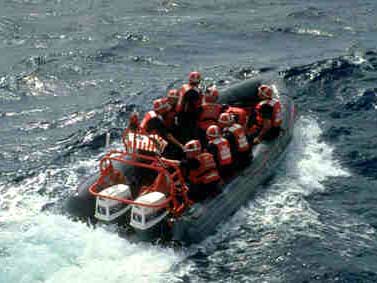 USCG RHIB on patrol
The large availability of different manufacturers and power plants has also added to their popularity. Most RHIBs are available in SOLAS (Safety of Life at Sea) and non-SOLAS standards.
Other reasons for the popularity of RHIBs in the rescue community include its ability to provide a fast response and its shallow water capabilities. These factors make RHIBs an excellent vessel for conducting the Law Enforcement as well as rescue missions.
In a report title "Worldwide Assessment of Stern Launch Capability" by Rubin Sheinberg, Christopher Cleary, and Thomas Beukema of the U.S. Coast Guard's Engineering Logistics Center spoke about the advantages of the RHIB:
The outboard powered RHIB is very responsive to throttle and very maneuverable. All the diesel powered small boats used water jet propulsion with the exception of the Navy's 7-meter RHIB that used an I/O drive. The larger 11-meter boats used twin water jets for propulsion. The advantage of the water jets is there is no appendage that hangs below the hull to interfere with launch and recovery operations.
| | |
| --- | --- |
| Hy-Seas Inflatable Boats has produced inflatable boat tubes used by the Sidney Search and Rescue (Sidney, Vancouver Island, British Columbia, Canada) (click to enlarge) | |
RHIBs in action
Rescue services from Canada to Australia, Great Brittan to the United States rely on Rigid Hull Inflatable Boats to service inland, bay, near coastal and ocean rescues, law enforcement and environmental missions. It is because these vessels offer such a wealth of different mission platform support, that they have become indispensable tools of the International Search and Rescue (SAR) Community.
Here are some short stories of these infamous vessels in action:
The Canadian Coast Guard (CCG) along with the Royal Canadian Mounted Police (RCMP) intercepted a vessel that was engaged in illegal transportation of undocumented Asian aliens. When finally intercepted, the CCG found 100 persons on the beach -- cold and wet and bewildered. The CCG using only a rigid-hull inflatable boat (RHIB), demonstrated their faith in their vessel, forging through dense fog and swell. Hour after hour, rescue trip after rescue trip, they plied waters containing rocks and other debris. All in all, they rescued 133 illegal Asians from the beach.
"Coast Guard's Rigid Hull Inflatable Operator Training (RHIOT) program in Bamfield that's considered one of the best in the world for this specialized training. The school has been in operation since 1984. Since then, more than 1,536 rigid hull many groups that use RHIBs in challenging and often dangerous conditions," Kevin Tomsett said. "Our program is in such demand because we've got the perfect training ground, lots of cumulative experience, and excellent instructors."
| | |
| --- | --- |
| | Her Majesty's Royal New Zealand RHIB on patrol. (click to enlarge) |
A recent class included a … a 23-year old female UVic student and member of the Oak Bay Coast Guard Auxiliary… The week-long course is held only in winter, when the seas are at their roughest. "We like to put the students through the worst conditions possible," Bill Mather, Chief Instructor at the school, said.
The course comprises classroom work, hands-on instruction, and real life training out on the ocean. Students study high-speed obstacle avoidance maneuvers, station-keeping close in to rocks and cliffs and the proper way to drive big waves. They attend lectures on wave theory that examine the differences between various waves—what makes them refract and break and move like they do. There are classes dedicated to using sophisticated navigational tools like DGPS and radar.
Students learn proper care for RHIBs including how to repair leaks, how to restart engines that have been submerged and how to right an overturned RHIB. There are sessions on how to use an overturned boat for protection, how to get back into a boat if you have fallen out, and how to get victims into the boat."
By Kendra Helmer, Stars and Stripes - European edition, Wednesday, April 9, 2003
"ABOARD THE USS GARY — Half-blinded by sea spray, the U.S. sailors yelled and gestured for the Iraqi fishermen to jump off their sinking ship.
Fifteen-foot waves tossed the sailors around and sucked their inflatable boat toward the listing, spinning trawler.
"I didn't think at any time we'd get all eight of them or that we'd all make it back ourselves," said Ensign Ryan Easterday, officer of the rigid-hulled inflatable boat launched from the USS Gary…"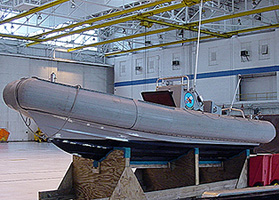 The Rigid Hull Inflatable Boat (RHIB) is operated by crew members from NAVSTA Norfolk Detachment. It is used for Helicopter Squadron Support during search and rescue training in Willoughby Bay area. The RHIB is also used for coastal launch zone protection during BQM launching operations.

Performance Details

| | | |
| --- | --- | --- |
| Speed: | 33 | kts |
| Range: | 150 | nm |
| Length: | 23 | ft |
| Beam: | 8 | ft |
| Weight: 5603 lbs | | |

Sidebar
A Brief History of RHIB's in the Coast Guard
By Armand L. Chapeau, CDR, USCG, (ret)
CO, USCGC ALERT 1980-1982
The RHIB was prototyped for the Coast Guard onboard USCGC ALERT (WMEC-630) then home ported at Cape May, New Jersey from 1979 - 1983. The crew called it the "rubber duck." During my tenure as Commanding Officer the RHIB was directly responsible for the saving of 15 lives over my two year command period.
In the fall of 1980, the Sailing Vessel MARIAH was taking on water in 50 –70 knot winds and 30-40 foot seas about 200 miles Southeast of Cape May. There were seven persons on board. An H-3 helicopter out of Elizabeth City managed to rescue two of the occupants by picking them off a trailing life raft.
Before the others could be removed the raft deflated. We arrived on scene in the early morning hours and even though rolling about 35-40 degrees launched the RHIB and rescued the remaining five occupants.
| | |
| --- | --- |
| Navy Awards SBIR Phase I Hybrid Electric Boat Contract to STI, 7 meter rigid hull will carry generator, batteries, motors, controllers. Current configuration has diesel enginewith stern drive or twin outboards (click to enlarge) | |
The rescue would not have been possible using the standard ships fiberglass boat as it would have been smashed against the hull of the ALERT. The ship got a Coast Guard Unit commendation for that rescue and the boat crew received Coast Guard Commendation Medals.
In the fall of 1981 strong low developed about 300 miles south of Cape Fear and caught a number of vessels off guard. ALERT having just departed Charleston was ordered to assist. With winds topping 70 knots and breaking seas on scene we arrived at the first vessel, an 80 foot sailing vessel with one crewman.
The RHIB was launched and just before they got to the sailboat it pitch poled, throwing the one occupant into the sea. A crewman in the RHIB snatched him on board and returned to the ALERT. 12 hours later battling the same weather conditions, we reached another sailboat with a single occupant and repeated the drill.
Another twelve hours went by and we arrived at a third sailing vessel with a merchant ship standing by and again retrieved the sailboat crew of four with the RHIB in the same adverse conditions. Another 12 hours saw ALERT again launching the RHIB to rescue four more off another sailboat.
| | |
| --- | --- |
| | RHIB leaves the CGC Escanaba (WMEC-907) on patrol. (click to enalrge) |
The weather had moderated enough to get a towline on this vessel and tow it to another cutter to take into port. ALERT then headed for Little Creek, Virginia to repair storm damage. As we were tying up with four brooms at the mast, the sounds of "You Can Take This Job and Shove It" broke out on the ships PA system after the playing of "Semper Paratus" followed by "Victory at Sea."
The ship was awarded a Coast Guard Unit Commendation for the rescues, the crew of the RHIB Coast Guard Medals, and the RHIB became a standard for the fleet.