Beale Park Boat Show
by Chris Partridge
Pangbourne is a little village on the River Thames famous for being the place where the Three Men in a Boat decided after three days of rain on the return trip from Oxford, they would abandon boat and slink off to the railway station for dinner in London.
| | |
| --- | --- |
| Perhaps the glorious sunshine at the Beale Park Boat Show at Pangbourne convinced people to get back on the water. Beale Park is a nature reserve with the priceless asset of a lake connected to the river through a short channel. Nowhere could be perfecter for a boat show where many boat designers, kit builders and craftsmen show off their wares to home boat builders | |
And some of those home boat builders entered their latest productions in a competition organised by Watercraft, the excellent magazine for small and home built boats (rotten website though - www.watercraft.co.uk).
| | |
| --- | --- |
| | Charlotte II is a lovely Lyle Haas-designed 16ft catboat built by a man who normally builds on a much small scale - he is a professional model maker. The boat is unusual in being made mainly from recycled timber including redwood from a gym ceiling, iroko from laboratory benches and mahogany from church pews. It took seven years to build and cost just £10,000 including the engine and trailer. |
| | |
| --- | --- |
| Philip Venn built his 15ft Bear Mountain Canoe from cedar strip and ash, costing some £800. | |
| | |
| --- | --- |
| | Mowana, a Yachting World Utility Pram, is living proof that leaving old plans around the house can come back to haunt you. The builder, Ann Sanders, said she bought the plans in 1978 but moved house instead. Six years ago she came across the plans and finally got to work. |
| | |
| --- | --- |
| My favourite boatbuilders, Chippendale Craft, were exhibiting their lovely Sprite rowing boat, but made much better than I did mine, with practically invisible inner seams and a little seat at the back. | |
Incidentally, I have decided to sell my double skiff version, the Otter, so if anybody is interested go to www.chrispartridge.dial.pipex.com for details. A bargain at £1,600.
Conrad Natzio, a Bolger-influenced designer who has created a very attractive line of easy-to-build designs, had his Little Grebe and Shoveller designs (below) on show. Very characterful and practical.
| | |
| --- | --- |
| Little Grebe | |
| | |
| --- | --- |
| | Weirwolf Watercraft's proa is an interesting design for home construction. |
| | |
| --- | --- |
| The Barrow Boat Company is famous for the wheel it puts in every boat, making launching a doddle as long as the beach is firm enough. Here's my friend Andy demonstrating the way the oars are stuck through holes in the transom for easy barrowing. They are beautifully made, too. | |
| | |
| --- | --- |
| | Swallow Boats showed a lovely sailing canoe with a simple single sail designed to spill wind in gusts to avoid capsize. But the bloke on the stand did not deny that going out in any sort of wind would be a damp experience. I'm still tempted though - it is incredibly light and just the job for those 'it's high tide, the sun's out, so what am I doing indoors?' moments. |
Their excellent website is at www.swallowboats.com.
Swallow Boat had a very interesting new boat on show in the form of Winsome, a pedal powered launch designed for inland waterways where rowing is not practical because they are not wide enough or you can't see where you are going.
| | |
| --- | --- |
| To power Winsome, two people sit facing each other at either end pedalling at a central gear box. The idea is that a respectable speed can be kept up without too much effort, conversation is possible and hands are free for that essential accessory for quality boating in Britain, champagne. | |
| | |
| --- | --- |
| | Everyone loved a pair of models of Victorian battleships, one British, one Prussian. I assumed they were radio controlled until the funnels of one of them suddenly hinged outwards to reveal a bloke lying inside, controlling the boat with the aid of a tiny TV screen. Apparently it was jolly hot in there. |
The models are based, appropriately enough, in Portsmouth, home of the Royal Navy - take a look at pmbdt.co.uk for more.
Another impressive performer on the lake was Sgian Dubh (Gaelic for Black Knife), a quadruple skiff owned by the Thames Traditional Boat Society (below). Earlier this year, the Dittons Skiff and Punting Club, based near London, broke the record for rowing the length of the Thames from near the source at Lechlade to Southend Pier, in the estuary, 185 miles away. They did it in 30 hours 57 minutes and 37 seconds, chopping more than seven hours off the previous record. However, the crews at the Show needed a bit more practice...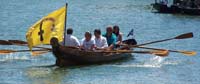 | | |
| --- | --- |
| The Dinghy Cruising Association (www.dca.uk.com) had a big presence with a whole jetty to themselves. These people are devoted to finding muddy creeks and camping in them. They are possibly mad, but I am thinking seriously of joining them.... | |