Peterborough Messabout
September 10-12, 2004
by Bryant Owen
I know many people were disappointed in the cancellation of the second Kingston Ontario Messabout when the host, Bruce Hector, had to bow out due to health reasons.
I got thinking about it and realized that my home city, Peterborough Ontario, would be a great place for a last minute alternative messabout. It could be held on Little Lake, located right in the middle of the city.
Little Lake has a lot to recommend it. To begin with, Little Lake isn't that little. At 1.7 kilometres long (about 1 mile) and a kilometre wide (about a half mile) it's big enough for small sailing craft, small enough so you can see everything and great scenery everywhere. Here are some examples:
There's a marina with boat slips, a good ramp and fuel. For accommodations, there's the Holiday Inn on the waterfront, several B & B places and a campgrounds right on the lake. Within a block or two of the lake on the west side are several fast food outlets, an LCBO, laundromat, shopping and fine restarurant.
Beavermead Park is easy for out-of-town vistors to find....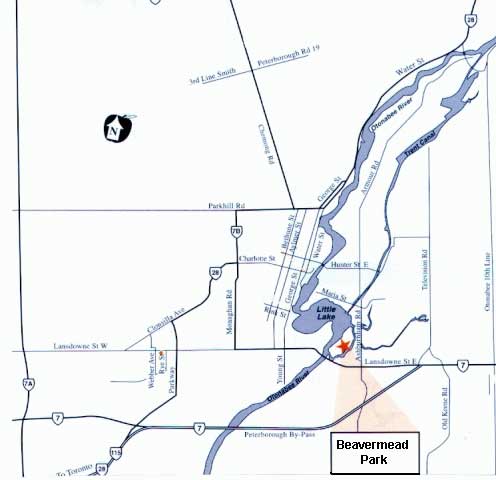 Expect some local owner built boats too. I've contacted the local antique and classic boat group and they'll pass the word on to members. There were some very interesting local boats at the recent show who may be interested in attending. Here are a couple of examples that may be there:
Peterborough is about an hour and a half drive north east of Toronto (401 and 115) or about 3 hours west of Kingston (401 and 28). All very good roads to the city.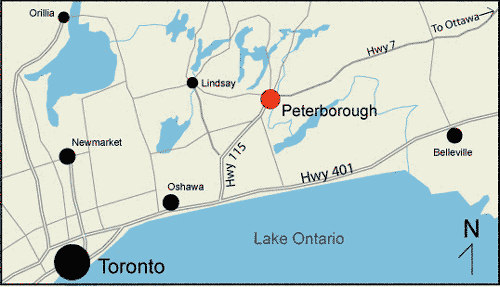 I'm only planning a one day event on Saturday (boating, lunch, more boating, pot luck dinner?) but the lake will be there all weekend for messing about. There are other things to do. You can walk over to see the Peterborough Lift Locks, the world''s highest hydraulic locks with a rise of 65 feet. - and then check out the Trent-Severn Visitor Centre.
Another way to see the Lift Locks would be by taking a Liftlock cruise and travel up the Locks themselves. Sightseeing cruises are at 11 am and 1:30 pm. A two hour cruise for only $16.00 Can.
Other things for visitors to do would be a tour of the Canoe Museum or attend the weekend Jazz Festival held just a few blocks north of the lake.
If you're interested in attending, or in getting information on accommodations or whatever, please email me at mariner@nexicom.net. By the way, Bruce has my blessing on holding this messabout and said he'd come!
Here's my final pic, the water fountain at Little Lake.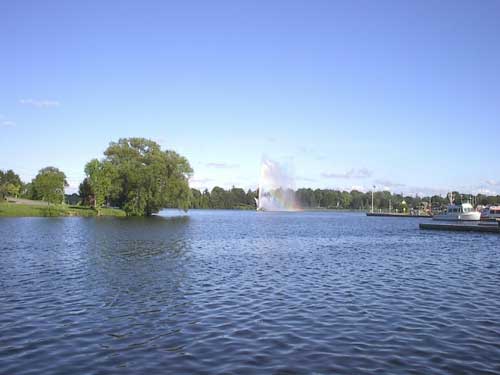 Bryant