Various projects
I am building in my garage near Emerald Victoria in south eastern Australia. I have built an 18ft Simmons Sea Skiff , a couple of canoes, a Wee Rob, a South Haven Dory and a small 8ft dingy called "La Tubby" for a friend to fish out of in places that he can't use his tinny.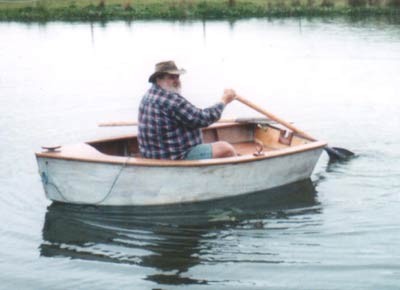 It had to be small enough to fit in the back of his truck, safe to fish out of in the bays near his place in South Gippsland and too small for his wife to fit in with him. He has done dozens of trips in it.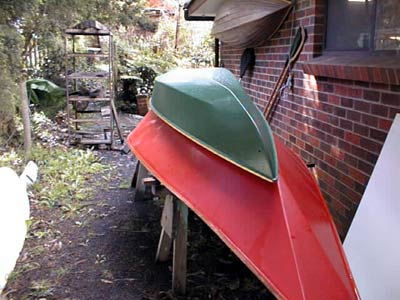 (above) the canoe on the wall is a Wee Rob. The green one is just a quikie I needed to fish in a river near here, I wasn't alowed to use the Wee Rob that I built my son. The red dory is a South Haven Dory, Plans down loaded from the net.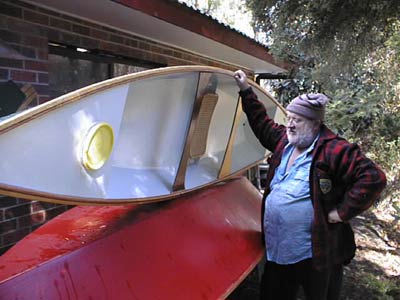 The inside of the canoe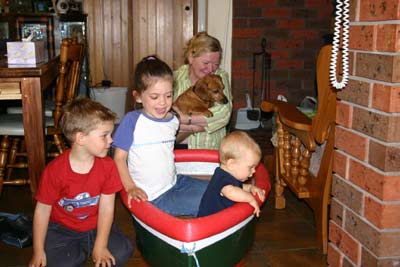 The little red, white and blue kids boat is my own design, if you can call it that. It is 4ft long and I don't know how wide as I don't have one here at the moment.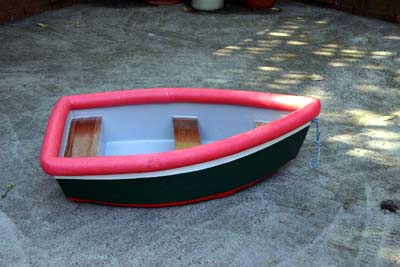 Next time I build one would you like a drawing? They are built out of 4mm marine ply and a few bits of what ever I can find for the seat tops and gunnels and skids or rockers in this case.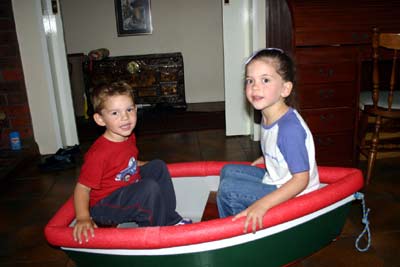 They work better than the ones that have separate rockers as they are lighter, less work, stronger and look more like boats. Also the external rockers look like the would squash little toes.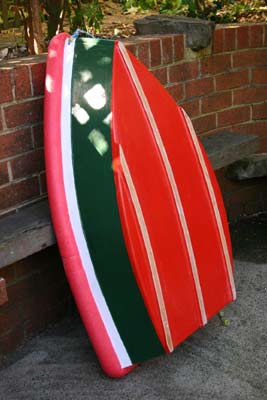 I have made 3 of these and haven't had one break yet. Shouldn't speak to soon as there is not much a 3 year old can't destroy.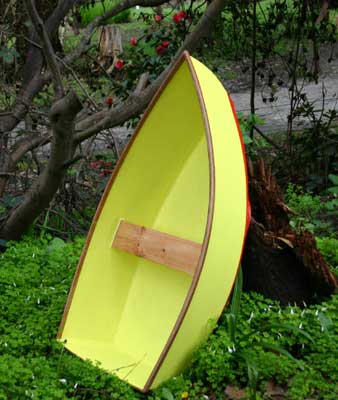 The little Yellow boat was the first that I built. In that one I had the bottom flat and curved the rockers or keels. In the next two I made the bottom curve and used straight but sprung rockers, if that makes sense.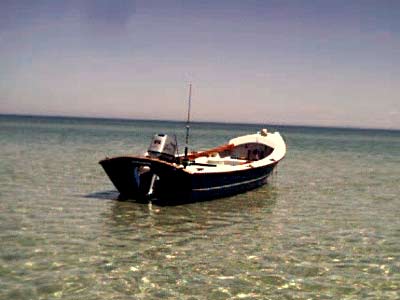 The blue skiff is an 18ft Simmons Sea Skiff. I got the plans from Dave Carnel from the Cape Fear Museum. Dave was very helpful when I asked him silly questions during the build.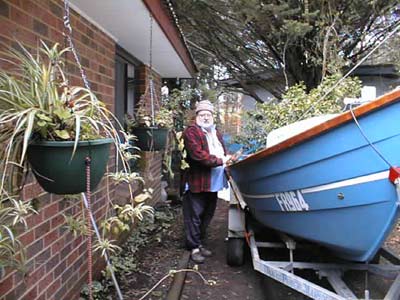 The boat was built out of 9mm marine ply and epoxy. I used treated pine to make the floors. It was launched in Paterson river and out into the bay in Feb 01. It clocked 21.5 kilometres per hour with a 15 hp Honda 4stroke.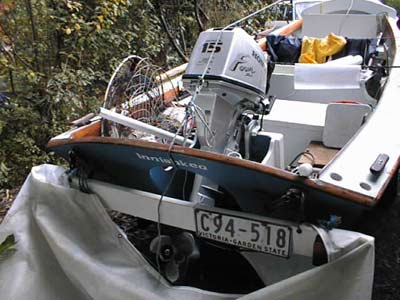 The boat has caught a lot of fish but is very wet with the motor being tiller controlled. My fault I should have bought the 30hp and had forward controls. Then you are passed the splash before it comes back.