Schooners, a biggie Starlet, Durgan `dogs',
fellows of fun and a Maroochydore flyer!
There were twelve schooners at the Auckland, New Zealand Ancient Mariners second annual Schooner Day held mid-November last year – Gosh, doesn't time fly, it is just over a year ago. Held on a beautiful Spring day, most of these excellent photos were taken by Richard Plinston who keeps his eyes on the water levels on the Onepoto lagoon on behalf of all groups who sail on the pond, and on Sundays sails his Seawind with a group dedicated to that class of boat. For the writer it was pure enjoyment seeing the lagoon with nothing but schooners.
| | |
| --- | --- |
| | |
Who and which boats won the handful of keen but decidedly no-pressure `races' is really immaterial, (that's an Ancient Mariners philosophy) however I will slip in that Laurie Pittams won the big event sailing his schooner Labressa, and a certain person sailing his John Spencer designed Fiji Magic schooner was a consistent performer. A `Concours D'elegance medallion presented by the writer on behalf of Duckworks magazine went to Ron Rule for his well presented (very West Indian looking trader ) Sea Krit. I just loved the day for schooners absolutely enthrall me.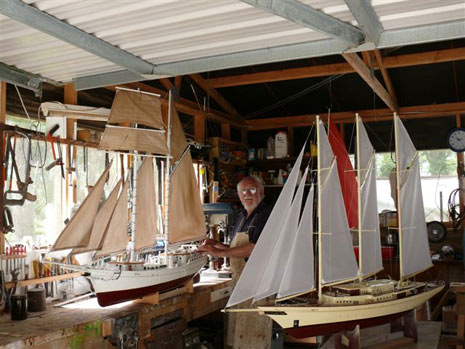 How long can a Smeed-looking Starlet be, in fact how long does it have to be in order to carry a person aboard? (Well, how long is a piece of string , I suppose you could well ask?) Andy McGarrity in Great Britain built his own sail-aboard Starlet which came out at 7' 9" and cost him six hundred UK pounds to build. He built it in his attic including the varnishing, with the actual varnish costing him fifty pounds. The photos above tell all. Look at the one of the boat photographed near to his motorcycle and it will give you an idea of the size, and you can understand perhaps, why Andy needed the help of two additional persons to get it through the attic hatch.
Nothing to do with sailing this one (unless you are heading to Spain for the next `SwissAmerica's Cup'), you should know that if offered criadillas fritas, these are fried bull's testicles. They could be delicious but keep an eye out for the not too happy bull!!!
No bull this though it sounds like a `doggy story'. It is not really, not about the barking species anyway. Durgan is a wee hamlet upriver from the coast Southwest of Falmouth, on the northern side of the Halford river in Cornwall, England, and the Durgan Old Gaffers Society is a group of boating enthusiasts who support the sailing and racing of traditional gaff-rigged working boats of the river. Hence they are known as the DOGS. Like so many around the world, particularly the British, they like to preserve the items of old. They believe that if they don't, one day all will be forgotten and we will all live on an absolutely totally fiberglass and plastic planet.
DOGS sailing (each Wednesday evening in the English Summer) sees working boats varying in size and speed, their only common feature being the gaff rig. Their racing is loose and highly unconventional with too much organisation `looked down upon.' (Sounds a bit like our Ancient Mariners !)
Their fleet includes several very old boats, two of them over a hundred years old. The society runs several other events that include their Dogathon , a combination of sailing, rowing, swimming, running and cycling and when Winter is upon them and after the boats are laid up at the top of muddy creeks there is the annual Dogs Dinner, with invitations restricted (as their website states) to those who have either sailed with or slept with a dog !
The top left photo shows Neil Wilson's 100 plus years old boat Thistle in the centre of the photograph, the other photo a few boats in spirited combat.
| | |
| --- | --- |
| | Gracious! The rush hour has started with sea traffic in both directions, the writer's Pinky schooner, Running Tide heading one way, a small Footy sloop heading towards her. |
| | |
| --- | --- |
| The late John Spencer and Mark | Steve Walters with Yachting Federation boats |
The Fun Fellows



A quartet of Fun Fellows

The late Ken Black with

Odd Fellow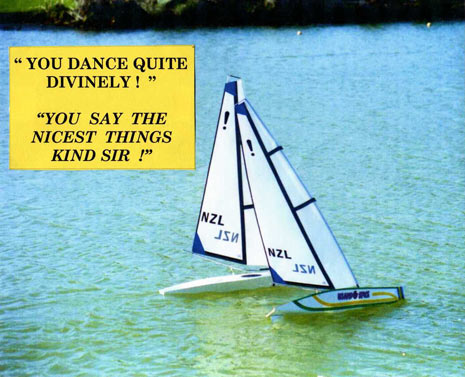 It sounds like a comedy group (the Fun Fellows) and indeed I personally often classify it as `sad comedy', given the fact that my own Spencer (Island Spice) is possibly the only FF still sailing continues to give me much pleasure. John, the respected New Zealand yacht designer of Infidel which in the US became Ragtime, and Buccaneer (a line honours winner of the Sydney to Hobart ocean classic) and a host of successful craft among them the Cherubs and Javelins had retired and moved to Russell in the north of New Zealand's North Island. In 1994, three years after we had met and become close friends, and after his development of the `Fiji Magic' model schooners, John decided to proceed with the idea of creating an even easier to rig model yacht and thus the Fun Fellow, a una-rigged with unstayed mast boat two inches in excess of a metre in length was born.
Steve Walters produced some fiberglass hulls and the Yachting Federation purchased a quantity of the boats with the intent of establishing a few fleets of FF's for training of youngsters in the skills of sailing. Unfortunately the plan was never a success, as (in my opinion) they failed to put the effort needed, and Walters (seen above with a quantity of the boats) who maintained the boats by arrangement for the YF is probably still most disappointed. You can add the late John and the writer to the list, There must be than 20 of these boats gathering dust somewhere, alternatively lying deep underground somewhere in a New Zealand landfill. (I well remember a couple of the boats became dancing partners one day at Onepoto lagoon in Auckland, one of them, mine, lived happily ever after!)
| | |
| --- | --- |
| | |
Richard Mayes in Queensland, Australia built his schooner Sea Hawk (top left) – a rendition of the real boat Borkumriff IV which was built in 2002. The model is plank on frame and highly detailed and a good boat in pretty well all conditions. Three channels are used. One for the rudder, one for the main foresail and staysail, the third for an overlapping jib. The second photograph above shows good friend, Ken Impey of Falmouth, Cornwall, England with Thomas , just one of a quantity of beautiful sailing models he has built over the years. Ken's modeling activity has sadly slowed due to his impaired eyesight.
As I now digress and am just dilly-dallying on willy-nilly matters, I definitely feel a `poo-um coming on:
I must go down to the sea again, to the lonely sea and sky,
I left my socks and underpants there and I wonder if they're dry!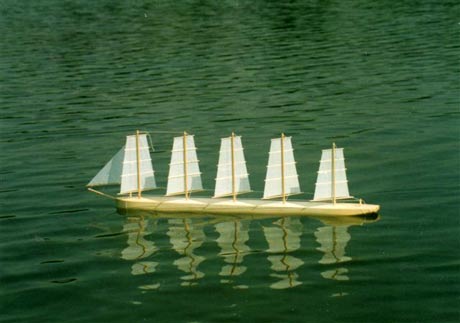 Now hear me out you guys, go and buy a second-hand sailboat or consume the contents of a bottle of your favourite tipple and make a bottle boat, or cut a bit of plank and make a plank boat, even consider a model out of beer cans as they did with a bigger boat in Australia that I read about on Duckworks! You could even build a simple free-sailing square rigged model such as the Preussen built some years ago by George Surgent of Seaworthy Small Ships in Maryland, USA.
I have heard on a `wild breeze' (hey that's a nice name for a model yacht!) that there may be a `wind tax' before long, a sort of `pay to breathe' swindle by Governments worldwide, so get sailing now while the wind is still free! I hope that our Government includes all politicians who already spout enough wind to push the largest of aircraft carriers out to sea…and over the horizon!