Dust collector
Here is something a lot of woodworkers should think about. It's a dust collector - collects the dust before it gets to the vacuum cleaner. You can find them on youtube. But for those who do not go on youtube I would like to share. You should look for them - cyclone dust collector. This is the one I made. It works perfect and my cleaner does not get clogged with dust.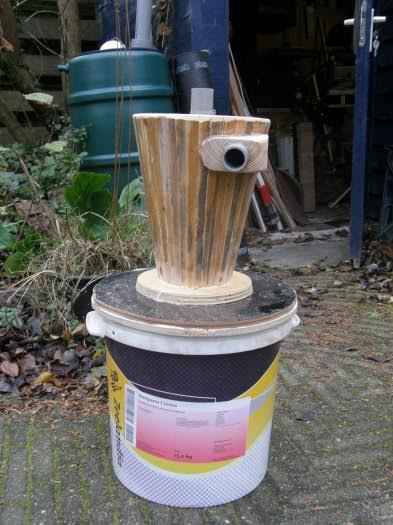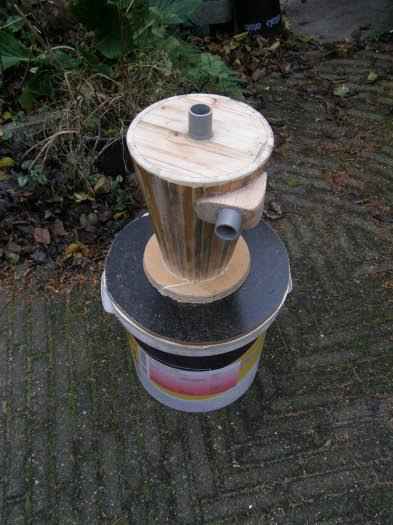 Made from wood.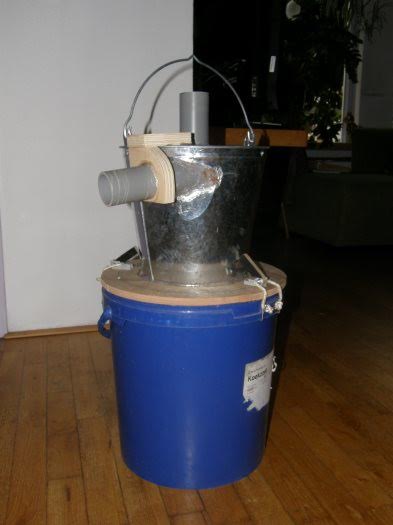 This is made frame a ready-made bucket. The clean air pipe on this is tricky to get the right length. Try before you glue.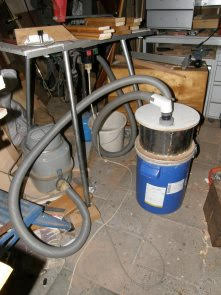 This is a thiens with bafle and works good.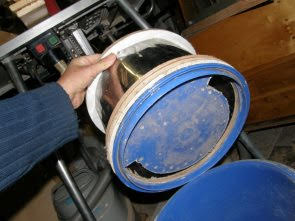 The baffle is made to reduce the cyclone effect so the dust doesn't get sucked up again. And this works pretty well. You can also make this to fit in the bucket.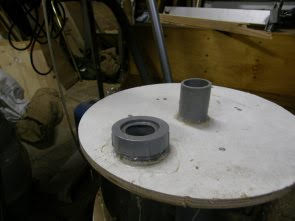 Hilbert Gorte
Netherlands
---
---
Barnacle Bill Magazine Review
by Paul Austin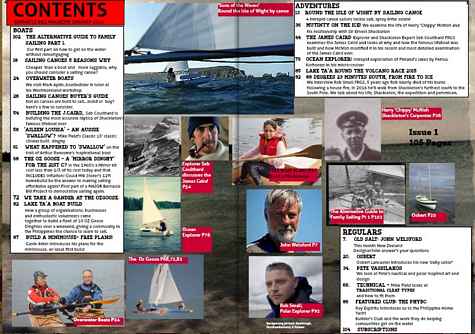 A new sailing magazine has appeared on the horizon, and it's a stunner. It's called Barnacle Bill, published and written by Richard Palmer of Northumberland, England.
This is no rag. The design graphics are awesome, the work of a gifted designer and superior software. A typical page will have a map of a coastline in a faint tint, bold print on top of it and cool shapes filled with beautiful color on the side.
The first issue covers-
Why families should have a sailing canoe
A three page interview with John Welsford
An interview with designer Mark Alpin
The James Cairn, the 23 foot lifeboat which Shakelton sailed
800 miles from Antarctica to South Georgia
A replica of one of the skiffs described in Arthur Ransome's
Swallows' stories
The OZ Goose
Free plans for a Gavin Atkin Minimouse
Now is that enough to keep you in the easy chair and pipe for a month? I would guess so. But that's only about half of what Palmer has put into the first free issue. He has 19th century ads, small boat building today, the five kinds of wood cleats - can you name all five - and the sail rig for the Cairn.
If you had to outfit a 23 foot lifeboat with no keel to sail 800 miles in subzero icy cold, what sail rig would you use? Palmer has included an accurate drawing of the rig, and it might surprise you.
And what about the Swallows boat. Several attempts to duplicate what Ransom described have been made, and the Aileen Louisa might be the best guess. It's a 15 foot clinker with centerboard (although the skiffs in the Ransom stories might not have needed a board because of where they were sailed), beautifully clenched together. There's even a story about English rum and where to get some.
Now this is not a shoestring project. It takes some serious coinage to get the permissions, the rare photographs, interview Welsford and put all this together in such a dramatic layout. Palmer has big plans for a French language version and Spanish language version, too. He will be working with Duckworks in the future, sponsoring raids and other things.
He's planning on an interview with Paul Fisher of Selway-Fisher. It seems these days are more interesting for designers than we might imagine. Some like Michalak and Welsford like to draw boats by hand and eye on a table. Some like Warren Messer use video to walk the builder through the building process. Ross Lillistone uses CAD very well. Palmer has a picture of Fisher at his drawing table, looking good.
Andrew Walters, a former architect, uses CAD and 3D software to illustrate the building process in his plans. Photographs always have shadows, sometimes right where you need to look; but with Andrew's 3D illustrations you can see the entire process in one or two views.
So with interviews coming, new graphics and the viewpoint of new methods of building always around the corner, I signed up for Barnacle Bill immediately, at $2 per month.
Palmer has perks for those who contribute more, and they are worthy.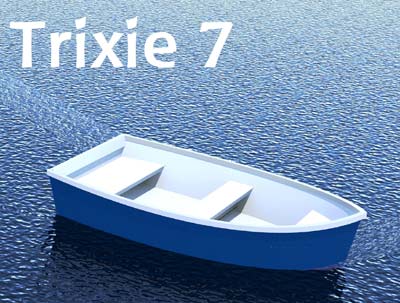 Paul
*****
50% off Subscription for Barnacle Bill Magazine for 2015 12 issues for £12!! Was $36 NOW $18 - Was £24 NOW £12. First issue free to read.
Richard Palmer
---
Lock Jaw Tool Holder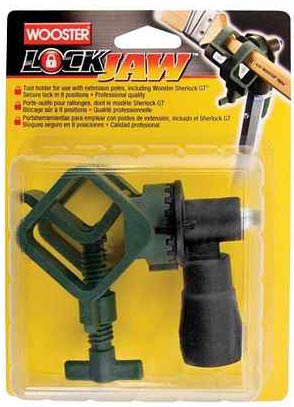 This holder would be useful for brushing epoxy or paint into confined areas, such as deck-to-hull seams. John Harris uses a similar home-made system for epoxy. I like the idea of being able to adjust the length and change the angle, but the challenge might be keeping epoxy from gooping it up. Great for painting though. In the 7-8 dollar range.
Stacy
---
Survival Heat and Flame (From the Internet)
Rule number 1. If your not sure about this suggestion or comfortable with open flame than PLEASE don't try this.
I saw a video of a guy who wanted a winter survival kit for the car. He wanted all the winter stuff and good source of heat and possibly cooking fire. What he did for heat was Pure MacGyver.
He bought a clean new quart paint can with lid from the box store and a roll of toilet paper from wherever. He pulled the cardboard core from the center of the toilet paper roll and crushed it around the middle to fit into the paint can.
With some TP you may need to remove some paper to get it into the can but when you can press it in to the can it comes up to just under the lip of the can.
He then adds a bottle of 75% Isopropyl Alcohol to the can until it is just about to pool on the surface. The TPacts as a wick and once the liquid burns off the top, prevents spilling if it should tip over. To extinguish the flame simply put the lid over the top.
A word caution, use only 75% alcohol as the 90% will burn too hot.
He went a step further and using Ducktape, "Duct Tape" he attached a disposable lighter and paint can opener, "the kind with the bottle opener on one end" to the side of the can.
In a confined space I would put the heater inside a larger cook pot with a lid. This would make it easier to move and extinguish.
Extra fuel is inexpensive and useful for other things.
I had to make one and found it put out a decent amount of heat and could defiantly heat water or cook something.
It will put out some moisture and carbon monoxide and dioxide so proper ventilation is necessary in an enclosed space.
The can will stay hot for some time and even gas off a bit so the top should be secured as soon as possible. Leather gloves would be a good accessary when using this thing.
It should be as safe as any other Alcohol burning stove or heater if used appropriately and with common sense. I would advise caution using this thing however as with any open flame heater.
"I think most sailors are either born with common sense or learn it early." 
Andrew N
---
Countersinker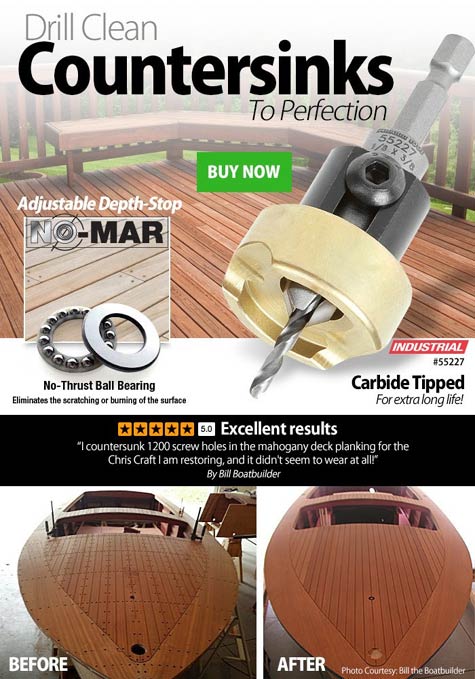 Mike John
---
Quick Release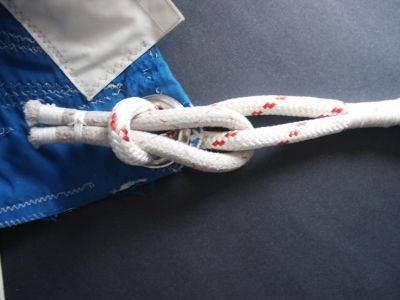 Simple quick release method for attaching the clew to jib sheets or the outhaul.
Bruce
---
Sanding in Tight Places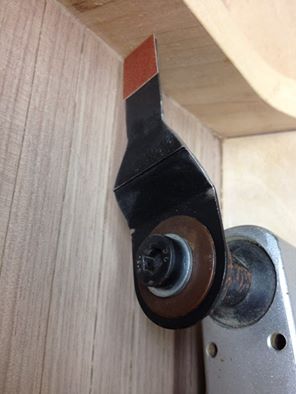 Got to sand in those tight spots? This has been working out nicely for me. PSA sandpaper, cut, peel, stick. It wears out quickly but changes are pretty quick too.
Dennis
---
Glue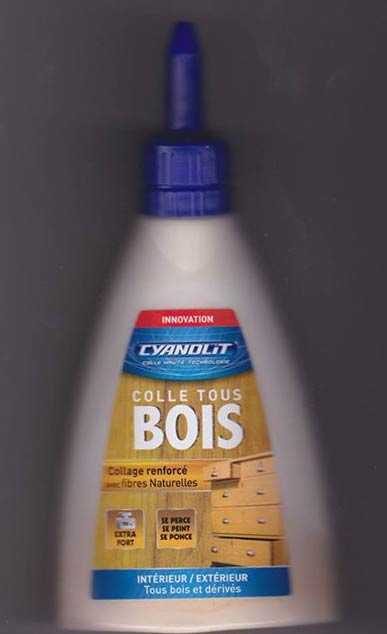 Found this at the local big box the other day while looking for the normal pva water resistant glue I often use - essentially titebond II water resistance (EU type D3), claims to be an exterior glue with some kind of fiber reinforcement (so perhaps moderately gap filling) and claims that it can be sanded, painted, stained like natural wood.
Odd thing is that the name brand is Cyanolit - so I thought at first glace it was some kind of superglue formulation, but no, crosslinked pva.
Anybody ever seen anything like this?
Brian