Beach Trolley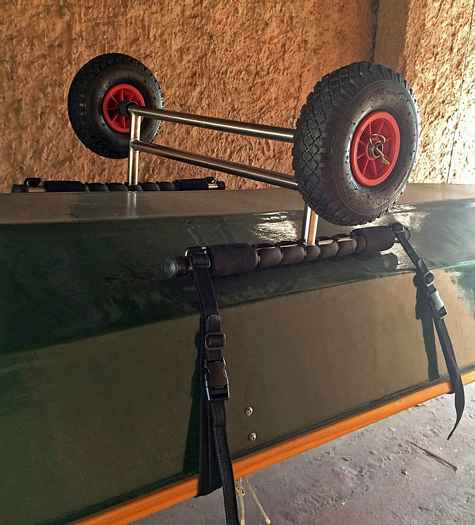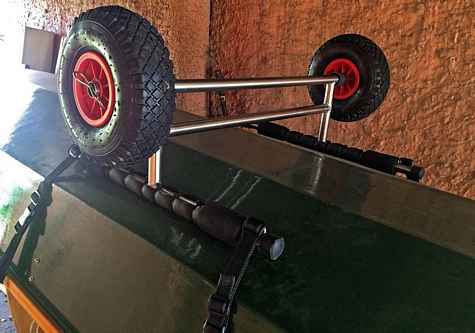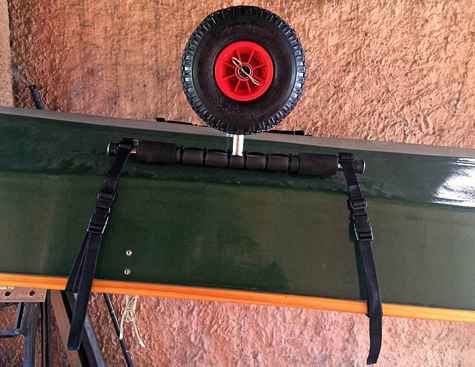 New beach trolley for "La Savonnière". Inox, custom made by a friend.
I already had broken two plastic/aluminum trolleys when the canoe was loaded with outriggers and sail.
Daniel
---
---
Making Carbon/Kevlar Deck Eyes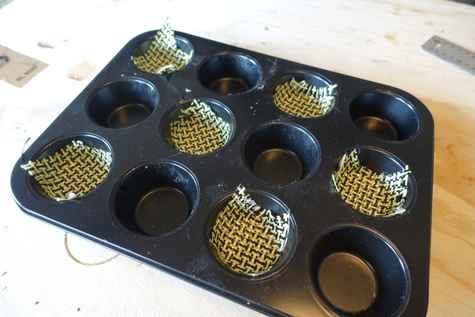 After some copying work from Hugh Horton, West and Axel Schmid, I made my own version of deck eyes, and updated the description of making them. I think they look good, and at 5 grammes I'm not complaining about weight!
Koos
smallboatadventurer.wordpress.com
---
Visor
Here's a "must have" item for you to install. There's nothing worse than slipping along in the late afternoon trying to enjoy remains of the day only to have the low sun zapping you in the eyes so hard that you can't see. Well what you need is a visor like your car has.
And here it is, I put them on today with only two tries for a good fit, well four on the port side. (This stuff always works perfectly the first time in my head.) It's held up with a spring clip thing and drops down when needed.
Chain locker; something to think about. On my last three boats I avoided the problems associated with the chain and line inside the boat by just making an open top locker in the deck. Just cut a foot or so back from the bow and make a sealed bulkhead with a hole through the hull at the bottom for drainage. It all just plops in this open at the top locker for ready use and inspection.
Dave Lucas
---
Epoxy Bench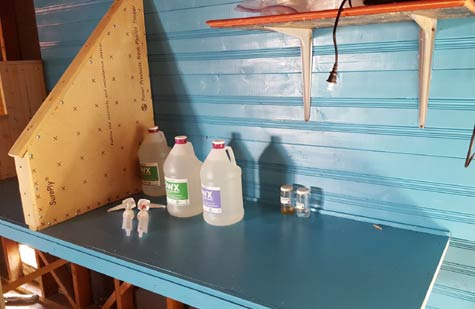 You know the old saying about being careful what you wish for? The Duckypoxy Bar...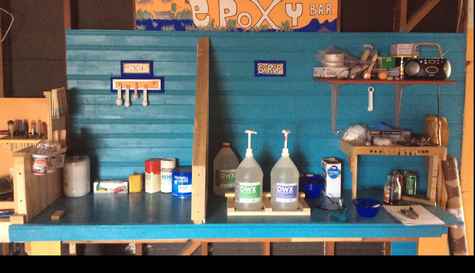 It's not all set up, yet, but it is done. On the "Syrup" side is a little pen to hold the jugs in place, a little shelf for gloves and goggles and tools and bits, a big shelf for overflow and radio, and a little area to set the mixing container and really whup it good. The mixing tubs and sticks and fileting tools will live under the shelf on the bench. From here you can go gloop glass, with your straight syrup, or head next door to the "Mixin's" side. On the "Mixin's" side are thixogens, fillers, assorted what nots to add, and a little deal to hang measuring spoons for adding stuff. I'll add a fancy cardboard dispenser for the sandwich bags I use to filet. There is also room to whup the schmootz together on a nice, flat surface.
You can't really tell, but I waxed the bench, too.
This was all scrap material, and about and hour to paint the signs.
Robert J
---
Cutting Plywood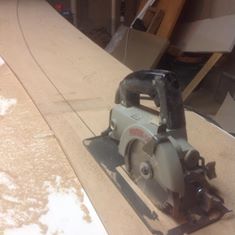 My Porter Cable Model 314 4 1/2" eBay find panel saw. Forrest Woodworker 2 blade WW04H407080. Fast, very accurate cuts, with no tear out. The 4 1/2" blade is the perfect size for a straight cut with the ability to follow the gentle curves of the strake panels.
Scott E
---
Back Rest Jig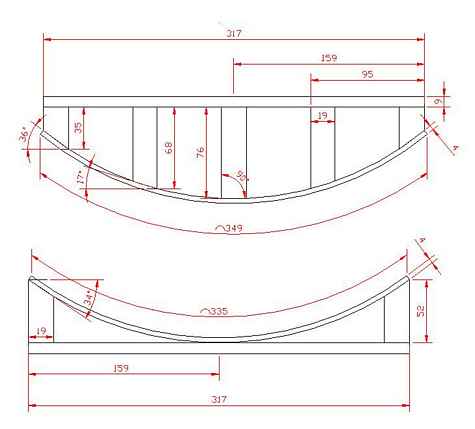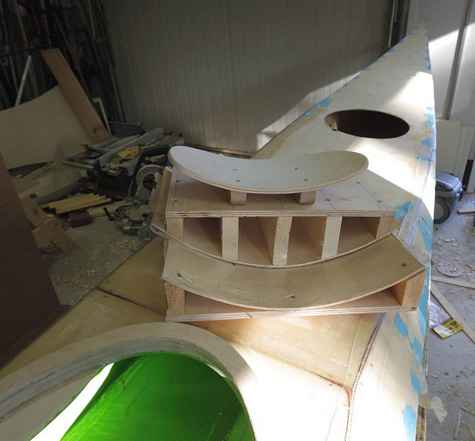 Simple jig to laminate kayak back rest.
Perttu Korhonen
---
Weighted Rudder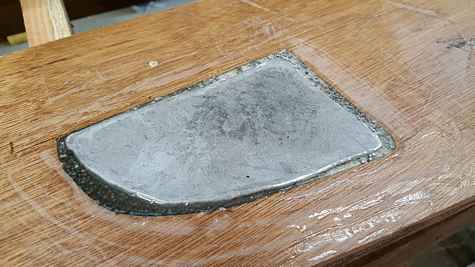 The Saturday Night Special rudder is weighted with melted lead shaped from tire weights and then glued in with epoxy to hold in place. This half gets a second half on top and epoxied in place before shaping. The pattern is to show location of lead so we don't accidentally cut or sand into it.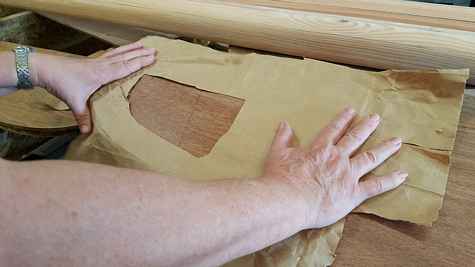 Jackie
---
Paddle Jig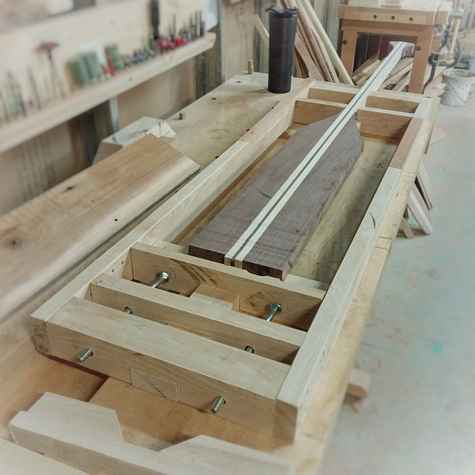 Paddle making jig - the plan is to run a contoured router sled over it. Tests so far are good. Can you say poor-man's-CNC...?
Trevor
---
Boarding Ladder
Being an Old Geezer with gimpy knees, I decided to make a portable "no toejam ladder to use off Pilgrim's bow when pulled up on the beach.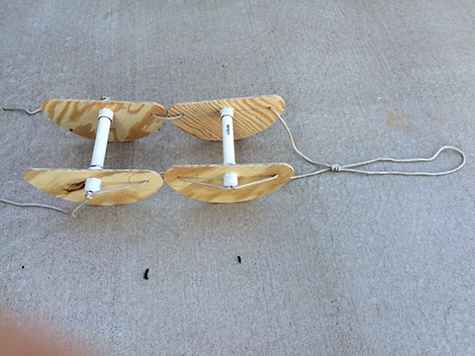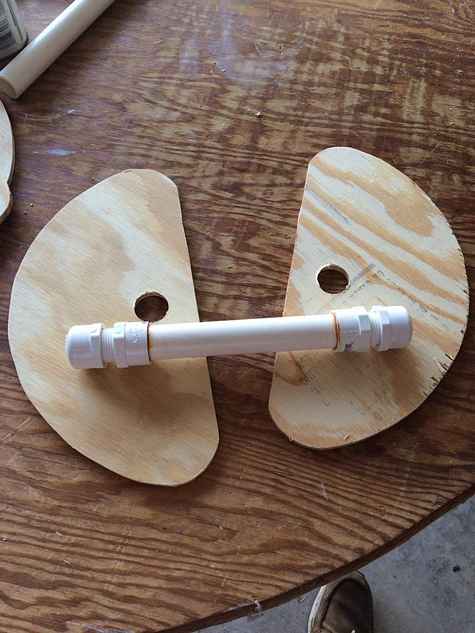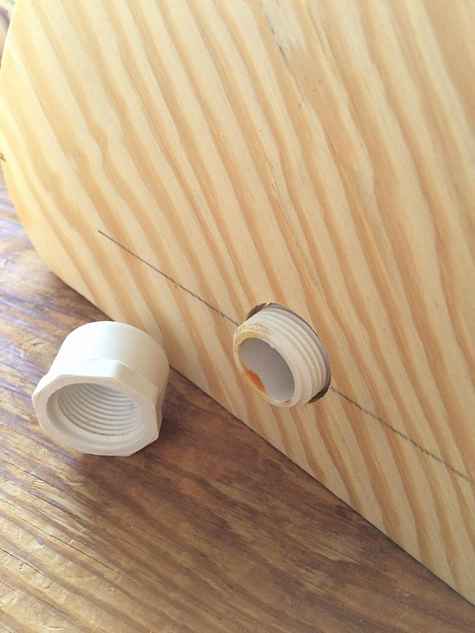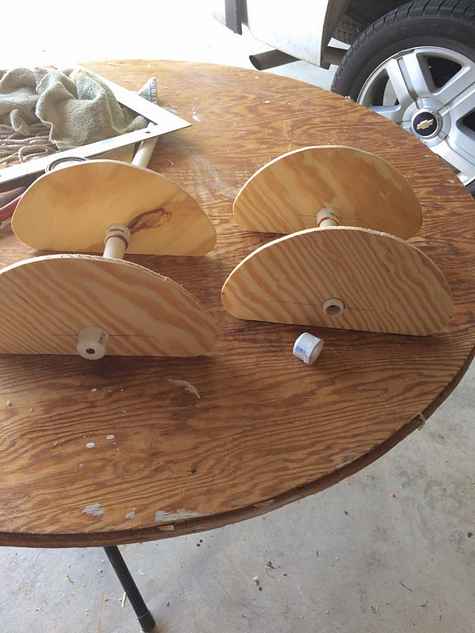 My problem is being able to easily stand up from a sitting position on deck due to not being able to bend my knees past about 90 degrees. Some 3/4" PVC pipe and misc pipe fittings plus some scrap ply pieces will make the ladder. I'll loop it over my anchor cleat on the bow and hold on to the mainmast as I step up on the ladder.
Travis
---
Hatch Holds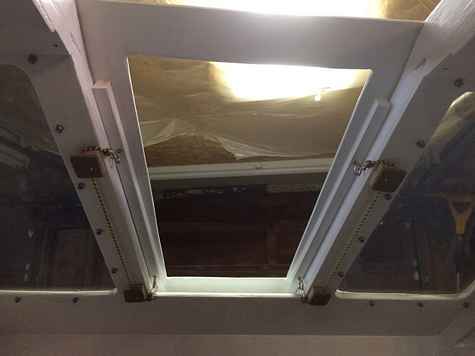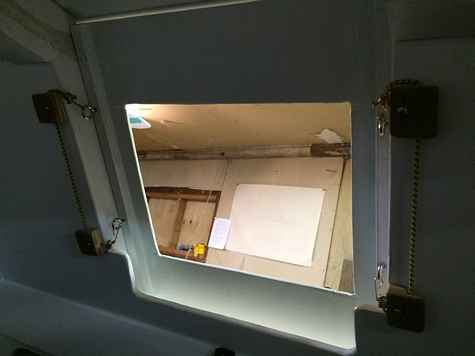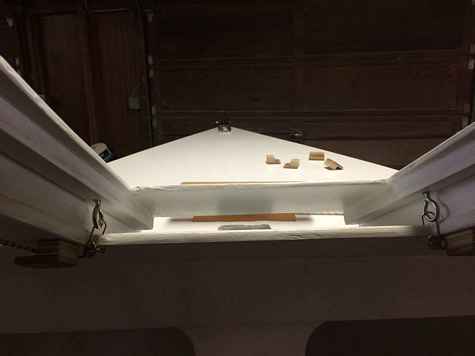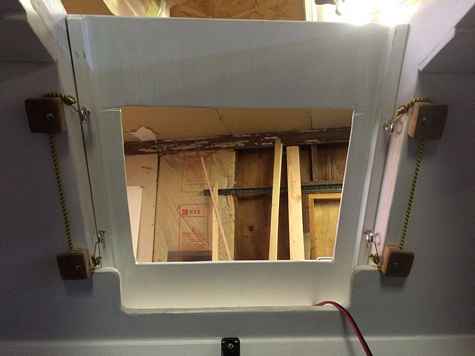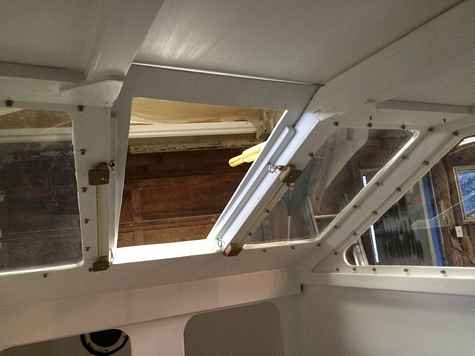 My custom hatch hold downs.
Tom
---
Extension Lead Solutions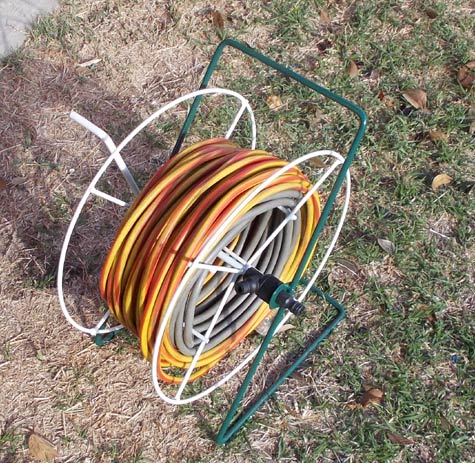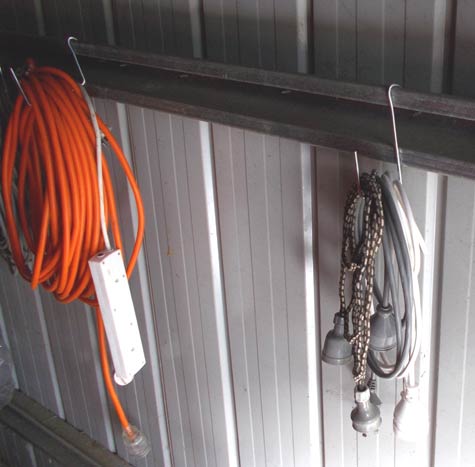 A hose real for long leads. And, cheap tent pegs for bargain stores can be shaped into any shape hook.
Mike John
---
Cooking
We usually cook for just 2 people on Hapscut with a small pot. This year we have an event where we are cooking for 9 hungry sailors. Thanks to the internet I found a simple solution to hold a large heavy pot above my camp stove. The base is (3) 12"x14" shelf brackets bolted together and an aluminium windscreen bent around the brackets.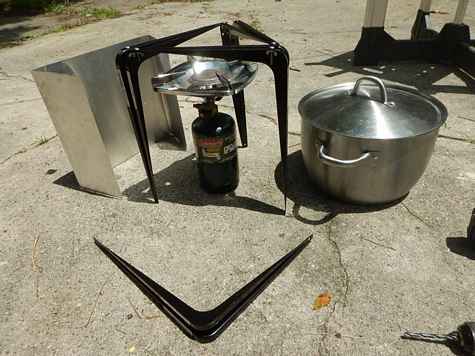 I have wing nuts on the bolts so it can be disassembled and compactly stored. The wind screen is a little clumsy and I am sure it will evolve into something that can be stored flat and out of the way. Just not on this trip.
John Goodman
---
Furler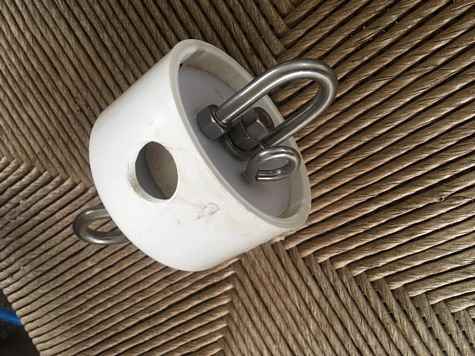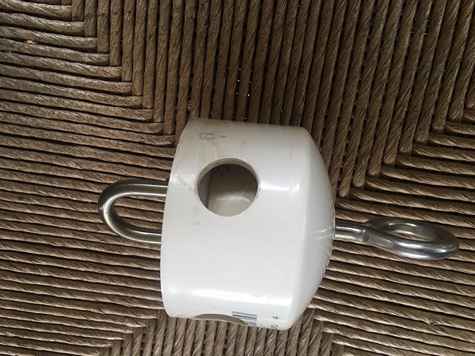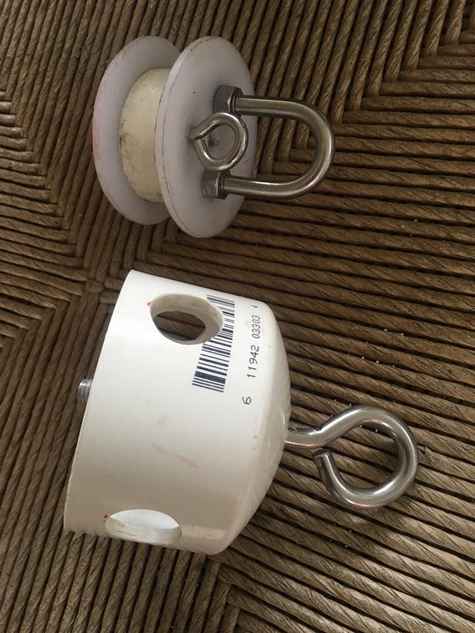 I wasn't happy with the roller furler that was stock on my Hobie 18. It looked cheap and flimsy. It didn't seem very strong so I decided to make my own roller furler for my trimaran conversion. It's similar to the design on Joel's Navigator site (his furler design is also posted as a article in Duckworks Magazine) except I didn't use wood. This one is made with plastic, fiberglass, epoxy and pvc. The center core is made out of epoxy and fiberglass shavings creating a solid core to make it very strong and durable. I'm very pleased with the results.
Travis