Gaff Leathers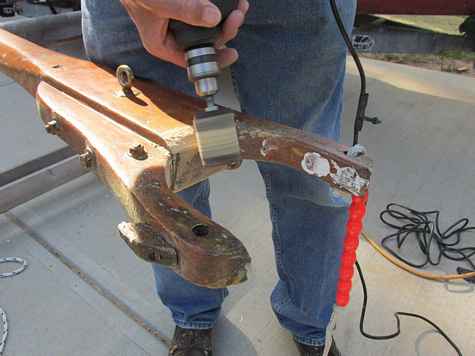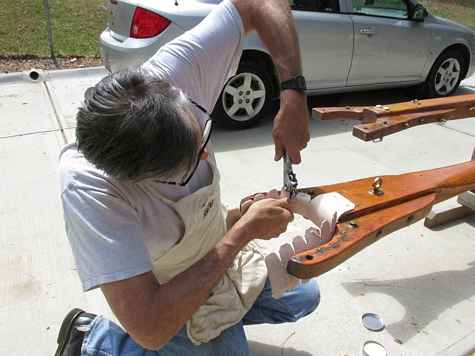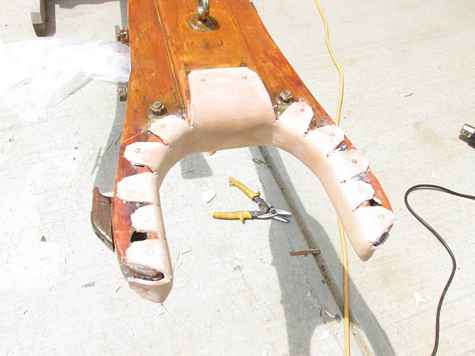 Giving the gaff a re-do with a lot of help from Rodger Swanson and his top quality supplies and advice. This leather is just wonderful and takes its tallow and wax so well. Again, thanks to Rodger for his great supply kit and advice www.oarsmanmarinetallow.com.
Larry
---
---
Stop the Glue Bottle Shake!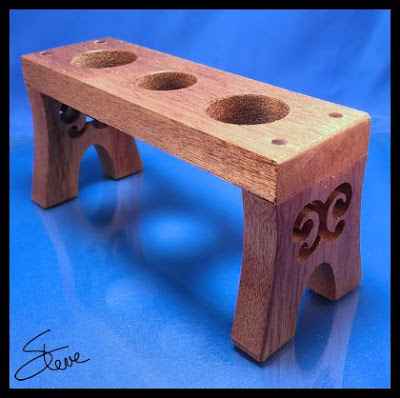 We all know how frustrating glue bottles can be. If you sit them on their bottom the glue settles and makes it difficult to get the glue started next time you need it. It also allows air in the tip. The air causes the glue to dry and clog.
The solutions is to store them tip down. This holder will sit on your workbench and hold the bottle so it is ready to use.
You could obviously make this a very simple design and it would function fine. We are scrollers so we can add a little pizazz. I added a little graphic to the legs and 1/4" dowels to pin the legs.
After I made this prototype I decided it was a little too tall so the final design is 1/2" shorter.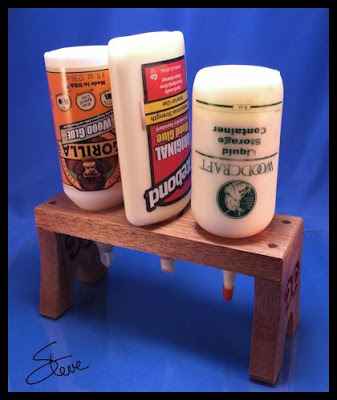 Steve Good
scrollsawworkshop.blogspot.com.au
---
First Mate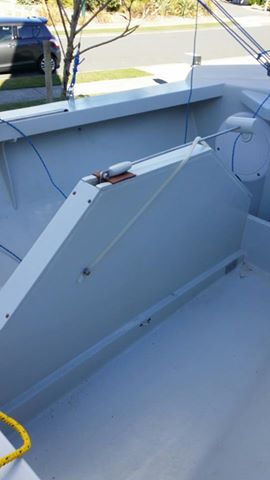 I'm trying a simple approach for holding my First Mate centreboard in intermediate positions between fully up and fully down - Silicone rubber tubing that will take a turn around the S/S rod, before being stretched down to a small saddle on the bed log. I'll post the result after first sail.
I've also posted a photo of the rudder hold-down device I have fitted - canniabalised from a John Spencer Firebird.
Hugh
---
Trailer Skid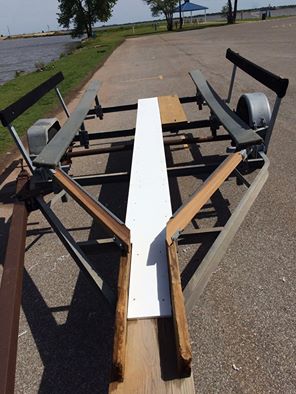 I put the boat in the water today so I could add this white plastic, 1/2" Star Board, down the centerline of the trailer. Pilgrim has a flat horizontal keel 14' long that sits on a 2x12. The board had been covered with carpet which made it difficult for the boat to slide on the trailer for launching or retrieval. It is slick now.
I had to lift one of the bunk boards up about 1/2" to compensate for the boat sitting 1/2" higher on the trailer. But, using a small floor jack made it pretty simple.
I got a good look at the bolts holding my spring assemblies together and they are plenty rusty. They should be replaced soon.
Travis
---
Penelope Down East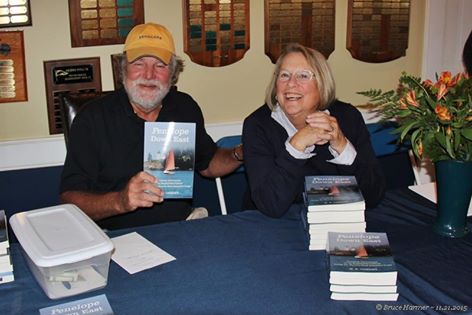 Can this old geezer possibly have written a book you would want to read? Check out the customer reviews on Amazon. "Penelope Down East, Cruising Adventures in an Engineless Catboat Along The World's Most Beautiful Coast" by W. R. Cheney.
William Cheney
---
Old Bike Tires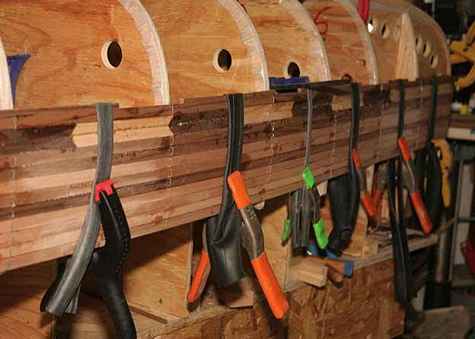 One of several clever ways to use those old bike tires for boat building - watch for this and a bunch of other tips in an upcoming article in Duckworks by Michael Olson.
Chuck
---
Panel Sling
I found some passable quality ply today, and some amazing pine I just couldn't pass up. I already have great fir for the boat, but the pine was just SO nice, and a little blue in spots. Happy, happy wood day. This boat will live!
Here is a picture of my improvised panel sling. I hope you've been using one all along.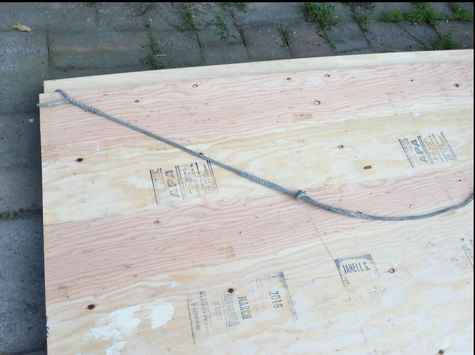 You just reach over the top and carry them like a briefcase.
Robert
---
DIY Scroll Saw
You can check out his YouTube Channel at this link.
This is the link to his web page.
Mike John from a post by Steve Good.