It looks like there are some of us who are tired of roughing it and want to go boating in style and comfort. And not in a bouncy fiberglass motor boat with no style. It people don't take pictures of your boat it's got no style. These next ones have it.
Pat Johnson of Pensacola, Fl is the one who got me thinking about this style of boat. I have "Helen Marie" which is comfortable but only goes 5 or 6 mph. As soon as I saw Pat's boat I knew that he had the right idea. You can still slow down to 5 but you can also throttle up to 25. This boat is 18 feet long. Mine was that length also till I added the three foot extensions at the back to make it run right. Pat built exactly the boat he wanted and after a lifetime on the water he knew what to do to keep the water on the outside.
He can go boating anytime he wants, rain or shine and get there in a reasonable time. That's what we're really after, bad weather won't keep us off the water. Pat's going to take a train trip all over the western US in a week or so. Check out this map to see where he's going. He says that he'll help you with the scheduling if you get the itch to do this.
John Hockings way down under in Brisbane, Australia had the same idea. We've all been boating all of our lives, big boats and small and by this time we sort of know what we want. Which is all weather comfort and dependable speed and power to get where we want to go or get out of trouble. I know, I know the idea is to get out on the water and enjoy mother nature; you can just see more of her in one of these. I still have my Sunfish and Melonseed and kayaks but I think I'm going to love "Lurlyne".
| | |
| --- | --- |
| | |
They don't make boats like this for the mass market; they're not sporty looking and can't show young girls in tiny bathing suits on the deck I guess. Notice that all three of these have standing headroom and comfortable seats. And all are painted with little to no bright work on the outside. I see that John has a sun roof and strakes to deflect spray. I don't know how long this one is, I'd guess 18 to 20 feet. I'll let you know as soon as he tells me. Washington Dan has been after one of these for years but he's too cheap to buy a good motor.
Here's mine taking Kayak Kathy and the dogs out for a demo. I have a spot light and wind shield wipers which I really need. This is an all weather boat and the wipers are a must, it's impossible trying to see through rain or salt spray. I went for the extra money and got the parallel rods that let the wiper blades go back and forth instead of an arc, covers more of the window.
| | |
| --- | --- |
| | |
I can sit on the steps and change the prop without getting my feet wet. I saw these on Pat's boat and thought they were a brilliant idea. I've tried four different props so far and am getting close to the perfect one, a Black Max 10.25 X 12 should be just right. I've always taken props for granted, whoever heard of changing the things. Stock boats already have it figured out, these boats are definitely not stock boats. It turns out that even though she's able to go 25 I'll seldom go that fast but I want to get the maximum performance possible. Wide open throttle with a normal load should spin between 5500 and 6000 rpm. I chose a 60 hp motor instead of a 40 or 50 because they're all exactly the same motor except for the computer inside. Since they're the same everything including the weight why not pay the extra $800 and go big. I'd rather be able to back off the throttle to go the speed I want than have to push a smaller motor. I've taken her out in some bad weather to see how she acts and am really pleased. The high bow and vee bottom allows me to power straight into nasty waves kicked up by 20 mph winds fighting a strong current with no problems at all, as long as I slow down to about 12 mph. Across the waves she's good, rides like a cork without much rolling, maybe it's the narrow beam. Down the waves or with them on the quarter can get hairy unless I adjust the speed a little faster so I'm pushing slightly through them, then it settles down nicely. I don't plan on being out in any surfing waves. I'm still calculating the gas mileage but I think it'll come out to be about 1 1/2 gallons an hour at 4500 rpm which should be about 18 mph. I estimate the hull to be about 1000 pounds, motor 250 and me and the rest another 750 to make the running weight about a ton.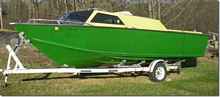 Johnny Mac also has a high speed commuter. Johnny is in to aluminum boats and this one looks like it would make a good commuter that you have to sit down in. I think the color looks good.
I talk about Crazy Steve a lot. Here he is coming to work in his fast commuter. It's a 14 foot open fiberglass boat with a Mercury 15. He still has Chelsea, the air-cool powered Whitehall launch but that one only goes 5 mph and this one goes 25. Slow is great unless you want to get somewhere.
Someone else I mention is Annie Holmes. Helen and her sister just happened to be out in San Diego last month and were wined and dined by Annie and they say that she is a fantastic girl. Just what we all thought.
This is that 15 foot Roger Allen Melonseed from the boat building school that Mark Bayne put out last month and Farley was fast enough to grab up for $4000. This is what the Cortez melonseeds would look like if they were lapstrake. I would have got it for myself except it doesn't have a boot stripe. It'll be at Cedar Key this May.
I suppose as long as I'm talking about Mark I'll show this one. It's the little 13 footer that he built for Judy Blue Eyes and I later modified. Here she is on Christmas Day in Apalachicola Bay (try that one without spell check). No Judy, you can't buy Lurlyne from me, we may bring her to Cedar Key so we can explore some of the farther away places.
So I don't leave you Yankees out, here's Richard Honan pigging out on what looks like a crab sandwich. He sends me lots of pictures of great eating up in the Boston area. The ones that get me the most are the beach clam bakes.