Parts
1- 2 - 3 - 4 - 5 - 6 - 7 - 8 - 9 - 10 - 11 - 12 - 13 - 14
A Time of Pondering
Progress from the Frankenwerks has been a bit limited. I spent a long weekend off towing "Mobius" the stinkpot to and from a couple days' exploration of Lake Roosevelt. Then, for no particular reason, I ran off to the east of here for yet another "last day of the season" with the same boat.
At one point, I hooked her up to Alice the tractor, and somewhat reluctantly began the winterizing process.
We were even across the road and more or less installed in winter quarters, out in the trees. But, that's a bit of a hard sell with daytime temps nudging 80 these past several days. So, we may actually see our way to delay some more dungeon work by delaying boat-building with a little boat-boating. In the meantime, things are getting done on "Miss Kathleen."
For instance, that huge cavern up forward has finally seen the light of day for the very first time. I went ahead and cut some more cockpit sides away to allow me access to where the V-berth, and a foredeck hatch, and maybe even the head will sprout soon. If nothing else, this boat is getting progressively lighter—with all the demolition going on.
In a sort of now you see it, now you don't; here is the new cabin sole - and the old cavern doorway. Then through the courtesy of Sawzall artistry, it went poof.
It was such a tight hole, originally, I hadn't even gone in there yet. All the old paint had peeled and made a "snow drift" of the stuff. Kinda' spookey in there, until I cut it open.
Then, after quite literally, hours of pondering, mock-ups, and swinging cats in various orbits; I finally hit on a scheme to continue with the foundation the still-only-imaginary wheel house will occupy. So, even with the likely interruptions to run off and put boats in the water; this could start shaping up quite most scratchee.
The key to this current genius-at-work moment is the half dozen little brackets that stand like fence posts around the old cockpit lip.
These simple little chunks of plywood will determine the height, the angle, and the thickness - and especially curvature - of the wheel house foundation. Next step is to start building that same foundation to meet up with these little genius-brackets.
First Shift, tomorrow, will dream up the next step. I bet it's something that involves rubber gloves and sticky runny stuff.
Actually, First Shift decided that we could go do a bit more fall boating and took the morning off to put "Mobius" back in the water and go raise a bit more "particular hell." The water was smooth, the leaves just-turned, and the companionship quite superb. So, good old Second Shift got to finish their own problem. And, I'm getting pretty enthused about the prospects.
This is all about creating a hat section stringer/beam/support/bulkhead thing that will slope inward at about 2 degrees from the vertical. It's also supposed to complement the deck curves already in place. It needs to be stuck down well enough that the cabin sitting directly on it doesn't go flying off on its own volition. And, biggest challenge of all, it needs to remain flat on top, while mating with a deck that rises over a foot in eight. That, and I can only sort of guess which way the waterline will lean away from the stem post when all this stuff is sitting in the water. A number of challenges yet to meet.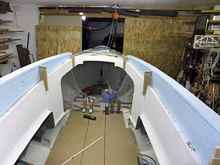 I have, also, been experiencing some small delays while experimenting with several different types of stick-um. There's two different kinds of spray adhesive in there- one that manages to melt the foam. I got some foam panel glue in tubes that I can use with my pneumatic tube squeezer - to save some of the tattered remainder of tendons and stuff called connective tissue in my hands. But, the best stuff does still seem to be, the Lucas-approved, PL Premium. So, prior to doing some more precision work with my two-fisted Shurform (cheese grater thingie), I painfully laid a bead of PL all around the base of these edifices with a mondo tube of PL and manual tube squeezer.
The beads are to give the next-up layer(s) of glass something to go from vertical to horizontal over. The Real Guys call this a fillet. The RG's use expensive and toxic and really messy 'pox with really expensive and (I'm all out of it, and none is on order according to the Supply dept.) specialized little balloons for this job. Me? I use PL and a rounded over stick. Sometimes it works pretty well. Sometimes.
As soon as the PL gets a bit harder, I'll get the foam shaped up. There's a couple more steps in this dream-it-up-as-it-goes process. The glass should become this hat section thing formed over the foam. Then, I'll (probably) imbed a cut-to-fit plywood cap to accept the screws that will anchor the top assembly. And, some quarter inch plywood will get glued up to the side walls to allow for the decorative staves to be stapled and glued on as a sort of final touch. Stuff still to figure out.
In the meantime, Sam and Jim and I are off to attend a lecture. We boys are gonna' go get edified. But, truth be told; I really don't think Second Shift is going to get much of this work done until I get back home. Just a hunch.