Growing up in Ponders End, North London, I had never given a thought to boats or sailing - until one day in 1961 when my father [Henry Thomas Callaghan, 1912-1996] suggested that he might get a small sailing dinghy for my brother Paul and I. I was 14 at the time.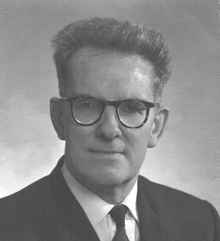 Dad
Henry Thomas Callaghan,
1912-1996
My family lived near yacht designer Robert Tucker and Dad got hold of the first set of plans for his 21ft Ballerina Mk2 sloop. Like many of Tucker's designs, it was a hard chine bilge keeler, and was sold as suitable for amateur construction in plywood.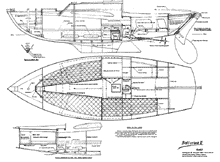 Ballerina Blueprint
The boat was built in a shed in our back garden, which we extended and modified for the purpose. It took my father, my brother and I two years to build the hull of Alicia.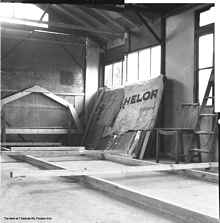 Boat shed, 7 Sedcote Rd
However, the boat was completed at Dad's cousin's boatyard (Seacraft Ltd, Leigh-on-sea, Essex) because we had to move house before the boat was finished.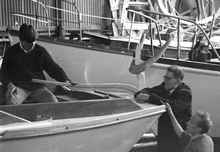 Alicia at Seacraft Ltd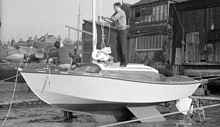 Alicia
The boat was launched from Seacraft's slipway on May 3rd, 1963. Then we learned to sail in her at the Up River Yacht Club, Hullbridge, Essex. Paul and I spent many summer weekends on the boat. Dad would close his newsagent's shop at 9:00 on Sunday and drive down to Hullbridge to join us for the day.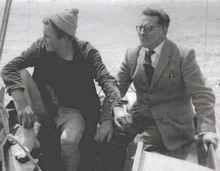 Henry and Paul on Alicia, 1963
As far as I can recall, our Ballerina was made precisely to Robert Tucker's plans, with one exception - the coachroof was raised by 2 inches, to give a little more headroom. We used Afrormosia for the chines, hog, gunwhales and framing - a very hard timber, and difficult to bend round the curves of the serpentine sheer! Aerolite 300 glue was used throughout, but 15 gross of gunmetal screws backed up our glue joints. Our boat had a central ballast keel and steel plate bilge keels and only 155 sq ft of sail area. She floated about 4 inches below her designed waterline, and she was thus a slug in light weather. In a blow, however, and especially to windward, she sailed efficiently enough.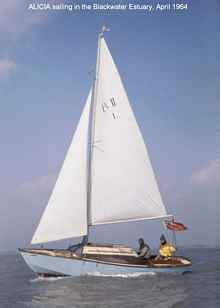 Alicia 1964
Alicia was sold in 1964 but by that time my interest had turned towards racing dinghies.
The last time I saw Alicia was in about 1976 - she was laid up on the Hamble.
The Up River Yacht Club had a growing fleet of Merlin Rocket racing dinghies, and I started crewing occasionally in these. My first experience crewing these delightful boats was in about 1963 in a Proctor MkXIV - when she started planing I knew I wanted more! Because I already had boatbuilding experience, I thought I might build my own Merlin Rocket, so I contacted Ian Proctor and asked him if I could purchase a set of plans of one of his latest designs. He declined, on the grounds that he had commercial agreements with the then builders of his designs. So I set about designing a Merlin Rocket myself. I studied some of the newer boats in the URYC dinghy park and read up on yacht design at the local library. Then I sketched out a set of lines, which after several re-drafts became HEBRON.
Hebron was in several respects a radical departure from the Merlin Rocket designs of the day. She had a beam of 6'6" (2.0m) making her the widest MR built at that time. The garboard planks were flat in the aft run - a feature borrowed from the boats of Michael Jackson, some of whose designs (Rakes Progress, Sugar Plum) were sailed at the Up River Yacht Club.
By the time I started building Hebron, I was working as a computer programmer at H. M. Customs and Excise, Southend, Essex. From December 1965 I lodged at a hotel run by two customs officers. They generously allowed me to build Hebron in the back garden of the hotel. The boat was built in the open and protected by a canvas tarpaulin.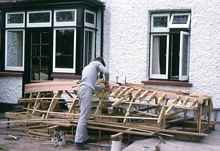 Hebron Build
Good progress was being made with the building of Hebron. However, the owners of the Haven Hotel decided to double the hotel fees - a sum which I could not afford.
Some friends (Don and Eileen Hearn) generously offered to let me finish off the boat in their carport. Hebron was moved out from the Haven on June 5th, 1966.
Hebron
At the age of 20, I had a bicycle and a racing dinghy, but I didn't have a car until I was 21.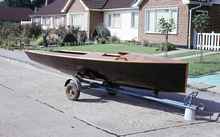 Hebron on trailer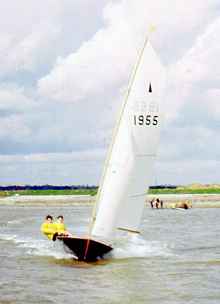 Hebron at URYC
In about August 1967, a member of the URYC, Bernard Wormald, asked me to supply him with a set of plans to build a Merlin Rocket. By November I had revised the lines of Hebron into a new design, which I called HOTSPUR.
I gave Hebron's building frames to Bernard and he modified these for the building of his boat. He built it in his garage at Vange, Essex. The boat was completed by July 1968.
An article was published in Yachts and Yachting in July 1969 which described the design and building of this boat.
From January 1969, all my spare time was devoted to building a slightly modified version of HOTSPUR for clubmate Tony Ceretti.
Every day I worked 4-6 hours, which meant that I got about 6 hours sleep per night, as I was commuting to London from South Woodham Ferrers, Essex.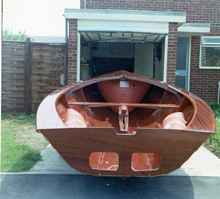 Hydra Nears Completion
The boat, named Hydra (MR2209), was launched in May 1969.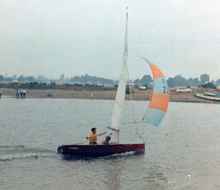 Hydra sailed by Ian Perkin and KC.
I crewed for Tony at the National Championships at Whitstable, Kent, in June - my first Nationals.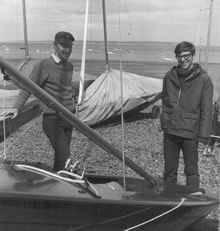 Tony Ceretti & KC Whitstable 1969
The boat attracted a lot of interest and ultimately 33 Hotspurs were built. One of these won the Merlin Rocket Silver Tiller Trophy for the best over all results at major open meetings throughout the year. My 'career' as a boat designer had kicked off.
Footnote about Hydra
In 2012 a friend told me that Hydra was on sale on eBay. I bought her, for £127. Here she is in our back garden. (I think I had charged Tony Ceretti £220 for the boat when new).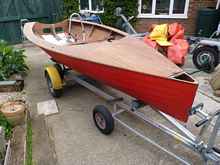 Hydra 2012
HYDRA was built using Aerodux 500 glue, which is much more durable that the Aerolite 306 used on Alicia and Hebron. Thus the hull is in good shape - where it has not rotted. The garboards and second planks are in a poor state and will need to be replaced. The repairs to the decks have been done inexpertly and they will have to be replaced. The bow tank is a retro fit and is poorly made.
I have the original frame drawings, of course, so it would probably be quicker to build a new boat than repair the old. But that would take away the essence of the boat that I built nearly 45 years ago.
So I am still undecided as to what to do with her.