Every boat is beautiful to its owner, you won't find anyone who will admit that their boat is a dog, but what is beautiful to one eye is not to another.
If you're designing for yourself this little problem isn't a problem, but if you're designing for someone else, then it can be.
Phil Bolger designed some very square boats, I happen to think that they are beautiful because they meet the design purpose. Similarly, Jim Michalak designs squareish boats and I like the look of them too. Other people don't.
I recently entered a design contest for Off Center Harbour which asked for a design for a houseboat without really setting out the parameters. What they did was ask for was a design and your reasons for selecting that particular design and how you would use it.
Here is the profile that I submitted,

I like the sheer to be at its lowest about 2/3rds of the way from the bow, unless I'm doing a junk style design then it's the other way around.
In order to get the design started, I imagined a young, somewhat penniless, couple with a small child who wanted a weekend getaway. The idea was to use the vessel as a cottage for two on a large wilderness lake and it shouldn't cost a lot to build nor be too difficult. They also wanted it to be trailerable so they could use it as a travel trailer ala Dianne's Rose. The boat is essentially a trimaran with a large center hull for storage under the cabin and two smaller hulls for flotation. It's not meant to go fast, but it is meant to be beachable. It's 24 feet by 8 foot 6 inches, which is the maximum trailerable width.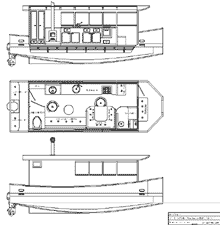 I like George Buehler's idea that a boat that's meant to be lived on should do drinks for 6, feed 4, and sleep two. So the two chairs and the sofa bed seat six for drinks, the dinette table plus one chair is room for four for lunch or dinner and the sofa bed sleeps two. Because of the small child I made the dinette table able to  lower to make a small bed. There is ample play space on the foredeck and high bulwarks to keep the child on the boat and not in the water.

My wife says that if you're going to do dishes by hand then you should be able to look out the window and, since part of the reason for having this boat was to take a gander at nature in the wild, we have lots of windows where they count.

The toilet is a composting one to keep the  non-potable tankage to grey water only and eliminate the need to do major pump outs.

Now you may think that this little square houseboat is downright ugly, and you're entitled to think that, but my imaginary couple don't because it meets their needs and budget.

After I submitted my design I used it in my blog, kmnsmallboatdesigns to talk about design concepts and then I received a request for full plans so I've been hard at work doing all those things you need to do in order to get the thing to market.

Drawings, Specs & Requirements

The idea is to use easily available lumberyard materials and simple construction. 1X4 doubled and faced with 1/4" ply (or if you want to save more weight, 3/16 ply) forms the building frames. Each frame is a watertight bulkhead, 3' on center. The frames are built up square and the bevels cut on a table saw afterward. The sheer is flat so the hulls can be built upside down on a ladder frame and then decked later. There are three hulls, one main hull for storage and tankage accessible through deck hatches and two smaller hulls mainly for flotation. The hulls are connected by through bolted 2x4 to which is attached a 1/2" deck built up of two layers of 1/4" ply. The cabin is built on top of that using pretty standard house building techniques. Wiring and water lines can be run under the deck in PVC pipe chases. Windows could be from the recycling depot.

Propulsion

Since electric motors are not yet up to multi-day trips, propulsion will have to be by the ubiquitous outboard. A Tohatsu 15hp would push this boat along at a sedate trot which is about what you really want if you're out for relaxation. 20hp would probably overpower it as the bearing aft is limited.

Interior layout

The interior is primarily designed for two people, see George Beuhler above. From the bow, navigation and steering to starboard and a seat which doubles as propane storage to port. What? Propane inside! The seat is a closed box with openings in the bottom to the outside. Propane is heavier than air and would not enter the cabin. Lines to the stove/oven are enclosed in PVC chases and sloped back to the storage box.

Aft of the steering station is the dining area which could double as a small bunk for little children. Aft of that is a pullout/down double bed which is also the entertaining area. Also included are two chairs, one of which can be brought to the dining table to make seating for four. Aft of that is the head, a composting toilet which reduces waste in the water.

On the starboard side aft of the propane storage is the galley with lots of storage. Then a solid fuel stove for those chilly fall and early spring days. And more storage.

Windows, windows, windows. The point is to be able to look out at nature not in at your navel.



Tankage

The center hull is for tankage and more storage. A 3'x2' by 9" water tank in the centre of the hull would weigh 281 lbs approximately, 28 gals Imp., good for two weeks for two people. Increase it to 3x2x1 and you have 36 gals. A second tank would be required for grey water if you're on a lake.

Materials list

Hull and bare cabin
1/4" ply 55 sheets 1375 lbs
3/16" ply 17 sheets 213 lbs
1x4 120' 120 lbs
1x2 180' 90 lbs
1x1 300' 75 lbs
2x4 200' 400 lbs
2x6 10' 30 lbs
2x10 12' 60 lbs
Windows 10 225 lbs
Fastenings and glue 200 lbs
Total hull and cabin weight (bare) 2788 lbs
Displacement (from calculations) 6388 lbs
Available for propulsion, tankage, stores, furnishings and people 3600 lbs

The full plans, at an outrageously cheap frugal price will be available at,
kmndesigns.weebly.com shortly.

Kevin McNeill

KMN Designs