I remember years ago when I was in my 20's (okay, decades ago) reading a new book by a guy named Larry Brown. The book was called "Sailing On A Micro Budget".
I saw the book in "The Nautical Mind Bookstore" in Toronto in about 1985 and definitely judged it by its cover – I figured it was for me and it was. It was at a time when I was young and didn't have a lot of money (as opposed to now when I'm old and don't) but wanted to sail off on adventures. One of the things I remember specifically was his advice to get a boat you can afford and make do. If you feel guilty that you aren't sailing your boat enough, grudgingly making payments in the winter when you can't use it etc. you don't have the boat – the boat has you. He showed a picture of himself pushing his little Potter into his garage and closing the door and then not having to worry about it. Great advice.
Fast forward through years of owning many small boats; some built by me, others restored still others just cleaned up and used for a while, I began to yearn for that bigger boat…
I was sailing a 15' Sirocco at the time – a fun little cuddy cabin sailboat. I outfitted it with a 2hp outboard, furling jib, reefable mainsail – it was great for singlehanded sailing and "micro-cruising"… but if only I could sit up inside the cabin and maybe have a head on board…
That's when I saw the ad for the "deal of a lifetime" on a Siren – a 17 footer that met those extra criteria and still fit in the garage – if I kind of squinched it in a bit sideways. Quickly I sold the Sirocco to a co-worker too cheaply and it was on to the Siren. Again a nice little boat – but the mast was getting to be a handful to raise and lower on my own which is how I sailed a lot. I found I was thinking twice about those daysails … was it really worth trying to raise that mast on my own? Rigging it every time?
I know guys claim they can rig one in 20 minutes and have a system for easily stepping the mast etc… I just couldn't ever seem to get the set up time and effort trimmed down enough to be comfortable. I began thinking maybe I should just get a slip at a marina. That way I would just be able to pull up, hoist the sails and go. Well if I was going to do that, the slip for a 17 footer was the same price as one up to 24 feet … .(you can see where this is headed – I can tell).
Wouldn't you know it?? The "deal of a lifetime" came up on a CS22 shoal/swing keel – right at that moment! Beautiful little boat – nice new Honda 4 stroke longshaft, interior like new, easily singlehanded etc… I sold my Siren and booked a slip at a Georgian Bay Marina.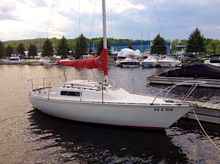 I kept that boat for a year before I realized I wasn't that into the marina social scene, that I was worrying about not sailing it enough, the hour and a half drive to the marina I had it at up north, the gas for the truck getting there and back, the coming winter storage fees … and spring fees that were just around the corner. For what I was paying to keep the boat at the marina for a year plus the mandatory insurance etc I could buy another pretty good small boat … every year. A boat like that was like buying a horse – buying it wasn't the hard part; keeping it was … It was then that I remembered Larry Brown's sage advice from so many years ago … I realized I didn't have the boat, the boat had me…
I missed the ability to go out to the garage and "visit the boat" as he put it – to tinker with little things on it – to sit in my moaning chair and just listen to the ball game on the radio while figuring out how to work my way around the next little repair or addition. I missed having the ability to hook the boat up to the truck and head to one location one week and another miles away, the next – and not worrying about it if I didn't do either.
I have to admit selling my CS22 was bittersweet. It was a great boat to sail and it was in really nice shape. For me though, it was the right decision. I don't regret buying it because I think I would've felt like I missed something if I'd never owned a keel boat. Now I'd had one. It's a lot more "prestigious" to own a boat like that than a small homebuilt boat but truth be told I'm getting to that point in life where I wear stripes and plaid and don't really give a crap what people think.
That's the balance of living a full life I guess – you need to experience some things yourself to earn some "been there done that" confidence. At the same time learning from others' experience/advice keeps you from getting too beaten down by the school of hard knocks.
I've been restoring some old Mirror Dinghies lately. I re-launched one a little while ago and got to talking to a young couple at the dock who were out for the first time in a little 13 ft daysailer they had just picked up used. I complimented them on how nice their new boat was. The lady commented that it was only small and that one day they would have a bigger boat. I just nodded and with a grin I said "I just sold mine. It's okay to like small boats too."
About a week later I happened to notice the couple's little daysailer for sale … maybe they found the "deal of a lifetime" on a bigger boat - or maybe someone else will with theirs …