Part One - Part Two
One advantage of being a Uni student is the long Summer break. Often it's wasted eating corn chips and binging on terrible TV. As the winter of 2015 began to pass, my mind turned to the summer break. I was scared the break I looked forward to, would be wasted eating and watching. So I hatched a plan. I would build a small wooden boat, and row it down the Murray River; from Albury/Wodonga, to its mouth at Goolwa beach, raising money for charity along the way.
Having set my mind to the challenge, I started looking for suitable plans online. After many hours searching, I decided on a CLC Chester Yawl for a few reasons. They're easy to build, relatively fast, stable, and are big enough to carry all my camping gear. I ordered a Chester Yawl kit, drop in sliding seat unit, and Croker oars. Having never built a boat before, or rowed a sliding seat boat, I knew I was in for a challenge. My schedule was tight, Uni was becoming busier, and most people I shared my plan with, thought I was joking or mad.
Before I even started I was behind schedule. The kit turned up two weeks late, without the oars or sliding seat unit. It looked like a giant jigsaw. Then the fun began. I followed the instructions studiously, gluing the rub rails together, and preparing the planks for stitching. Then stitched the hull together with copper ties. At this point I realised small cable ties would have been far easier, and began to treat the plans as a guide, rather than a decree. The most satisfying part of the build was when I stitched in the aft, and suddenly the shape of a boat appeared. However, I still wasn't sure it would float, or even hold my weight.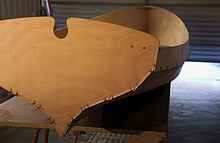 Spending the evenings after work and Uni stitching, filling, epoxing and sanding was therapeutic for me, but I'm not sure anyone else in the block of flats shared the feeling. I soon realised that "boatbuilding" is just a fancy way of saying "lots of sanding". Soon the boat was starting to look complete, I could imagine myself rowing peacefully down a glassy meandering river. The hull had become stronger with every fillet, and layer of glass. With one week before the launch date of the voyage, the hull had become a boat, and the boat was ready for paint. I decided on the name Carp Eye Diem as a nod to both the latin saying "seize the day" (carpe diem), and to the noxious introduced species of fish in the Murray River (Carp). A friend, Sam, was recruited to paint her in a creative way. He delivered the goods, painting Scales on her fore, name on her aft, and web address on her port and starboard quarters.
30 second video of painting:
Once painted, I fitted the row unit, a few stickers, and bought a sack truck to roll her down the beach at the end of my street. Her maiden voyage was a nervy but joyous affair. The paint was very nearly dry, and I had less than a week to ensure she was seaworthy, learn to row, and get my camping gear together ready for the 2,224km voyage I had committed myself to.
Three minute video of the launch:
Stay tuned for Part 2- The 2,224km Voyage.

https://www.facebook.com/OCkerDan