There are many, many options available to build a boat from plywood plans. If you want to build a small fiberglass boat as an amateur, the choices are much more limited.
There are ways to go about it and occasionally someone does. Phil Coveny bought plans for our smallest design, the 8ft Dixi Dinghy. It is a plywood 3:1 dinghy intended as a yacht tender or a child's first boat. It just happens to also be a fun little boat for older children to sail (read that as Dad or Grandpa).
Phil wanted to build his boat from sandwich fiberglass for various reasons that included an available supply of the needed materials. He built her with perforated 9mm foam with a density of 80kg/cu. m, glassed both sides with 9oz E-glass fabric in polyester resin. You can replace the polyester resin with epoxy for a more durable boat but at higher cost. He worked with the foam panels in much the same way as he would have with plywood except that, instead of doing stitch-&-tape joints, he used a hot-glue gun to do joints, then filled the joints with polyester putty before glassing over the whole boat, inside and -out.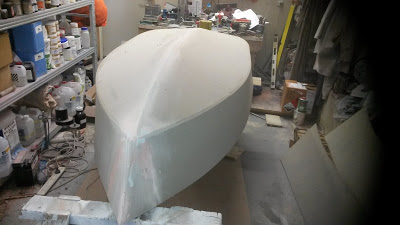 Bare foam hull with joints glued then filled with epoxy putty,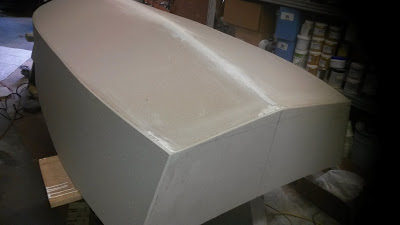 Closer view of the perforated foam, with glued and puttied joints.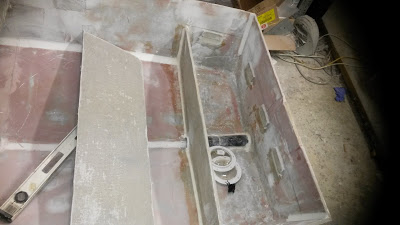 Hull has been glassed and seats are being bonded in.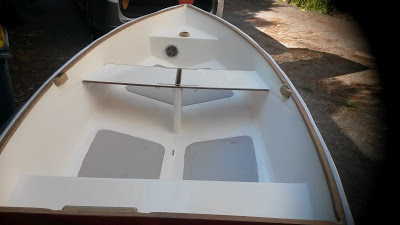 Interior view of finished boat, with wood rubrail and rubber bumper.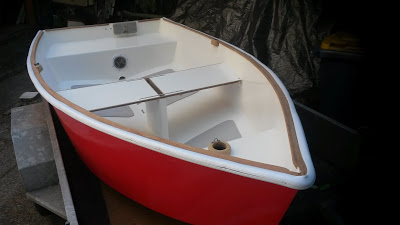 Bow view of completed boat.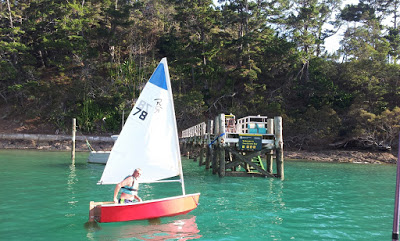 Phil sailing his new tender. This rig is from another boat that Phil built, a bit smaller than the Dixi rig.
Phil's boat came out at 65lb (29.5kg), somewhat heavier than he had hoped, primarily because he didn't use a squeegee to remove excess resin from the laminate. Removing excess resin binds the glass fabric closer to the foam, reduces resin usage, reduces weight, increases strength and improves the finish. If you don't have prior experience with glassing then it is worthwhile to practice the technique before you start to glass the hull.
If your motivation to build a small sandwich fiberglass boat is to build it lighter than with plywood, you are unlikely to achieve what you want. Modern okoume plywood produces a very light boat (about 48lb for the Dixi Dinghy) and the foam sandwich fiberglass boat will need very light skins (max 6oz for the Dixi Dinghy) to have similar weight to plywood.
Our other plywood dinghies can also be built in the way shown in this post but they are only detailed for plywood construction.
Website dixdesign.com & dixdesign.com/mobile
Blogs dudleydix.blogspot.com & boatbuilder-tips.blogspot.com
Facebook facebook.com/DudleyDixYachtDesign