Notice
 
Eric Henseval is closing his plans business and by French law must cease selling plans, so we will no longer be able to sell plans such as his "Sardine Run" shown above.  Check out all Eric's plans HERE.
Chuck
---
---
Micro Auray Punt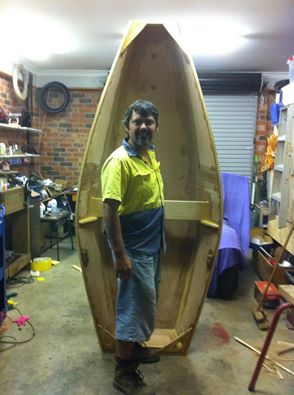 This was day 2 of my Micro Auray Punt build, great first boat project. If I was to do it again, I would lower the seat and add a small keel from the start. Single sheet of 1/4" marine ply.
Charley
---
CROW
A bit more progress on CROW, my new, scow, beach cruiser design...
Roy
---
Phoenix III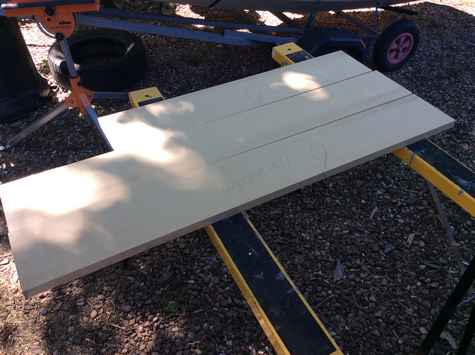 I am a first time builder and started Phoenix III about 9 months ago. I have been taking loads of photos and started writing about my experiences in a blog although I am a fair bit behind. Work is a bit slow at the moment because of the cold weather but I am just about to start the hull. Ross has been extremely helpful and I think this site is a brilliant idea and feel sure it will be another source of great information. Any Phoenix III builders in the UK?
Jonathan
---
New Design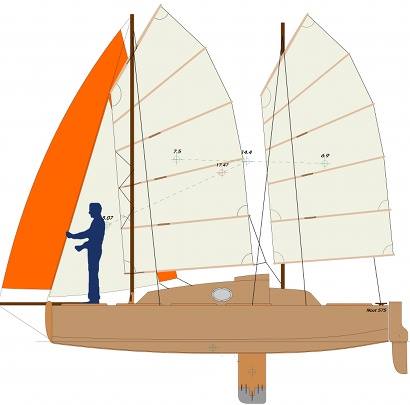 A new design from Jérôme Delaunay:
https://duckworksbbs.com/plans/delaunay/naut575/index.htm
Chuck
---
Community Boathouse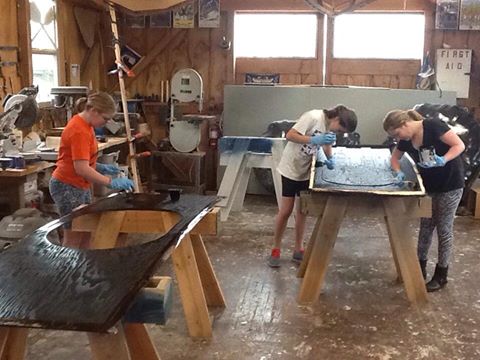 Fifth grade girls hard at work painting a Tik Tak Kayak they have built for a silent auction. This is the Toledo Community Boathouse in action.
Andy
---
Flint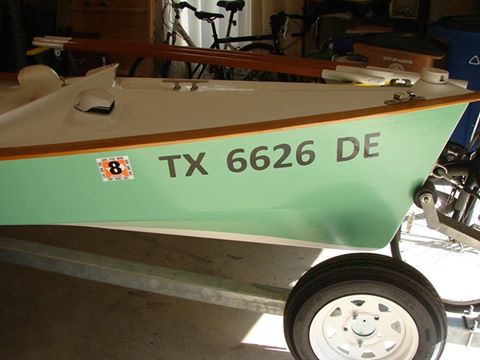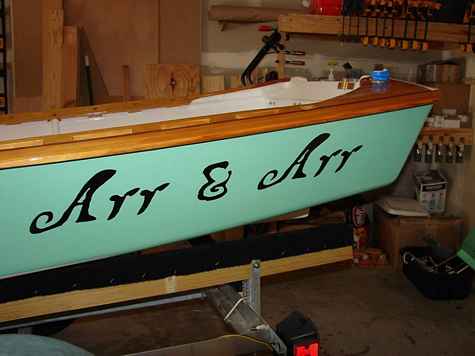 The Flint is varnished, inspected, registered, and named. One more round of attaching fittings to go, then rigging, and then splash. So two, maybe three weekends to launch.
Roger S
---
Galley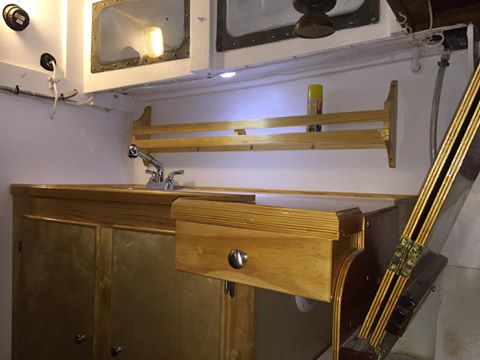 Galley project moves toward the finish with spice rack.
Larry
---
DIANNE'S ROSE
Here's an updated build video of DIANNE'S ROSE you all may find interesting...
Roy S
---
Nearly Done

I think that once over with scotch brite pad and a final coat of varnish will be enough to call it done.
Timothy A
---
Strike 20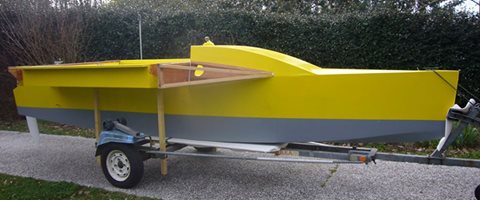 There has been some discussion recently about the Strike 20 trimaran, so I thought you might like this update The first Strike 20 trimaran is now nearing completion in France. The main hull is built in plywood, the outriggers and rig are from a F18 (or similar) catamaran. Launching is in April. I approve the colour!
Richard Woods
---
Ariel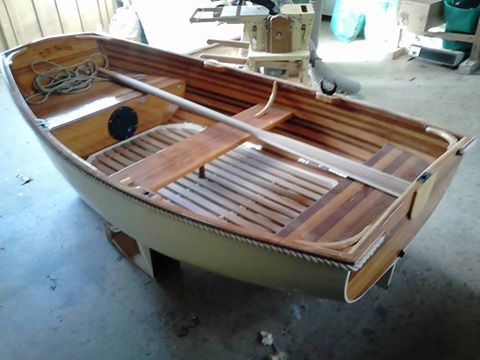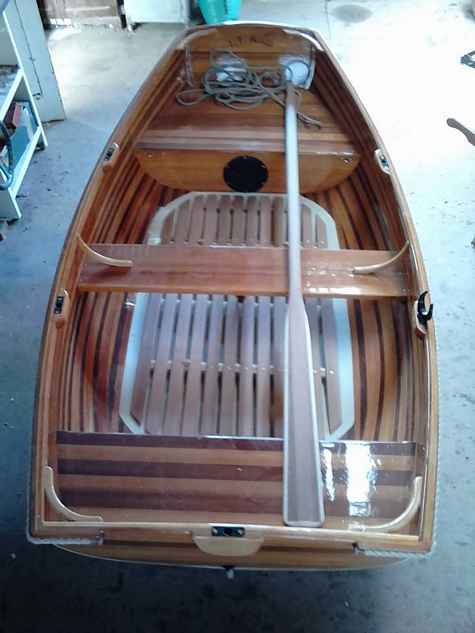 As a follow up to the posts about Iain Tolhurst's 34' Pinky Naida, Iain has now finished Naida's tender - a Selway Fisher Ariel strip planked dinghy. Like the parent vessel, she looks beautiful.
Paul Fisher
---
PC23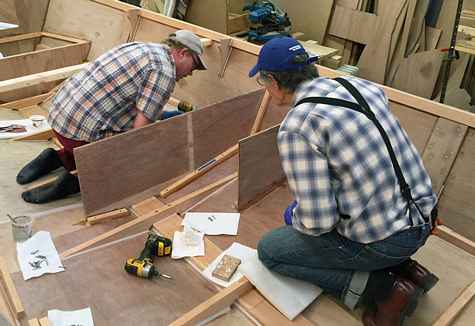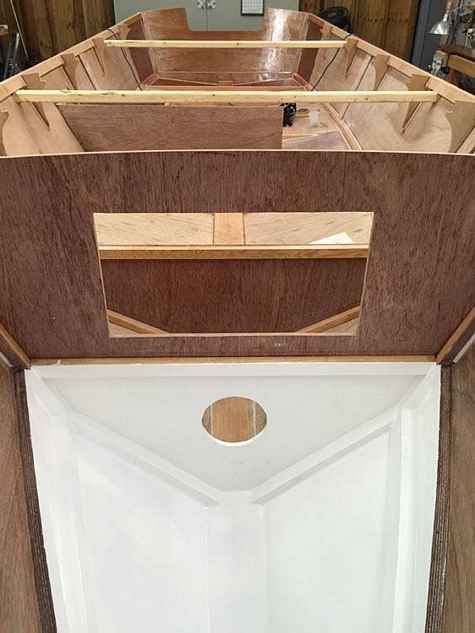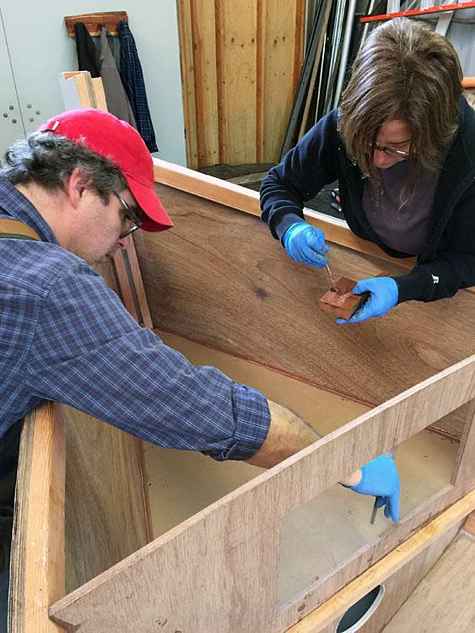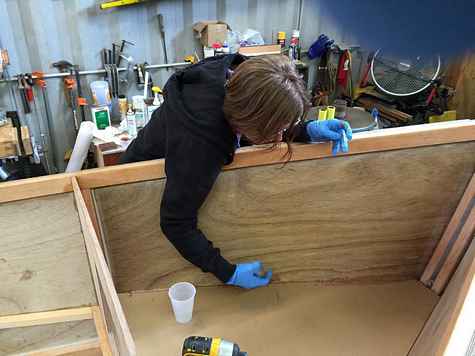 Still moving forward with the PC23. We are disassembling all the previously dry fit parts, epoxy coating, sanding, and gluing them back in permanently. The lower deck up in the bow compartment went in, and we epoxy back filled the seams. The seat structure around the console went back in, as well as the splashwell parts. Forgot to photo that, but I will next weekend.
Jim