Holiday Specials from Off Center Harbor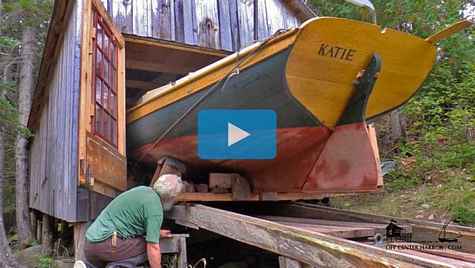 We think you're going to love this new video from OffCenterHarbor.com — you get to travel back to a time when a family could haul their boat with old-school ingenuity (no Travel Lift or $1,000 bills from the boat yard). There's not even electricity! And did we mention there's a 24-foot tide that leaves a rocky beach 300 yards wide?

After watching this video from OffCenterHarbor.com, you can sign up to get 10 more of their best videos for free while you learn more about their site.

You can also CLICK HERE to join OCH as a member with the special rates available to Duckworks Readers — these are the lowest rates we've ever seen from OCH.
Chuck
---
---
 Mast Step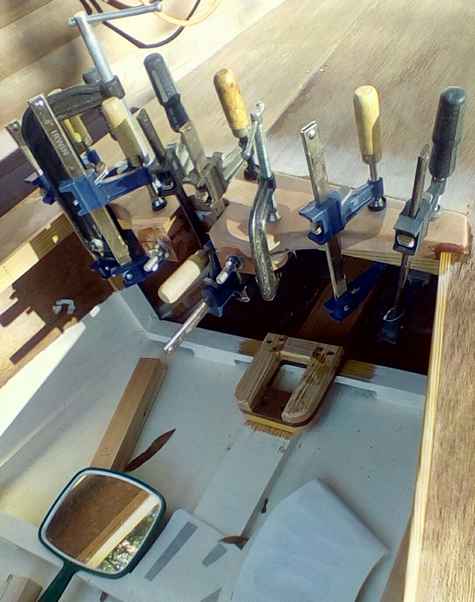 Installed the Mast step and mast partners on the Uncle Gabe's Skiff project, several days of rain stopped us dead in our tracks; we'll tilt the mast up tomorrow.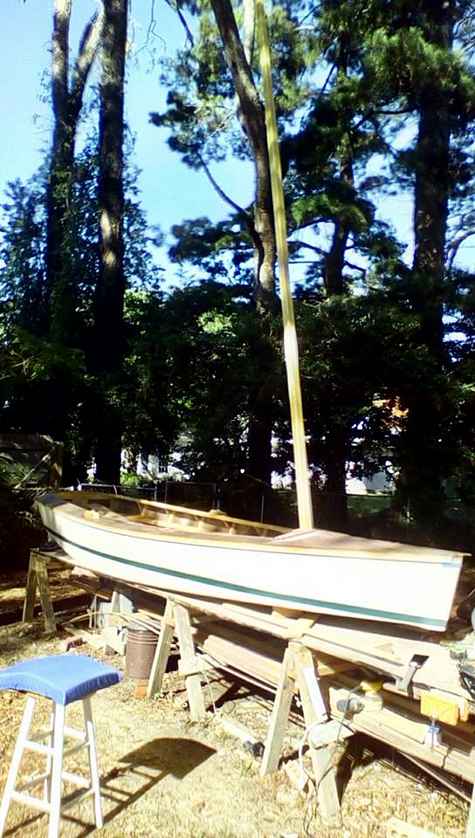 Raised the Mast on the Uncle Gabe's Skiff project today, still have some fitting to do for the the mast to be at the proper rake.
Tim
---
Pins, Blocks and Ropes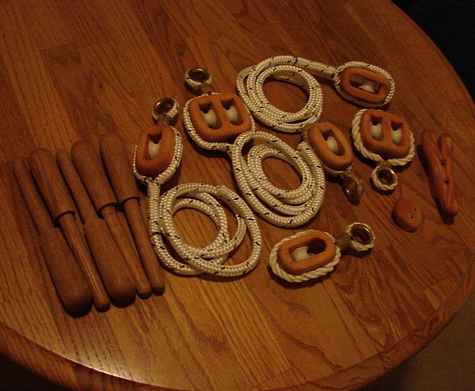 Finished up some belaying pins, rope-stropped blocks, and cleats (rope and thimbles from Duckworks, of course).
Roger
---
Port Pegasus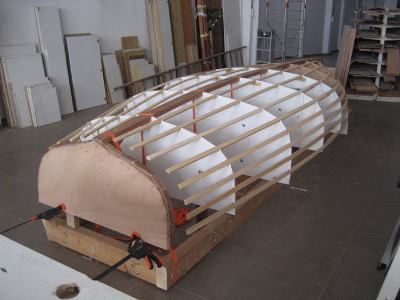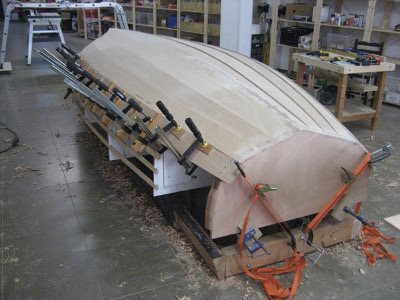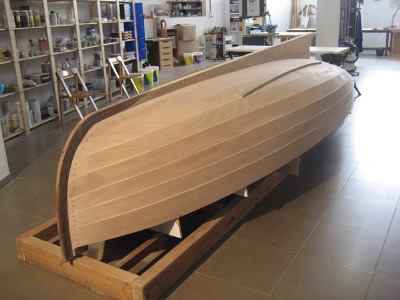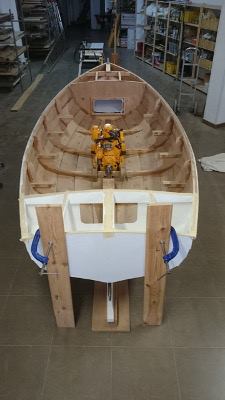 The Port Pegasus (a 15' clinker motorboat) has proven to be a popular design - originally drawn for someone who could remember messing about in such a boat in the 1950's as a lad and who had nothing more than a few photos of the boat to go by. David Arthur sent me photos recently of his nicely built example.
Paul Fisher
---
Navigator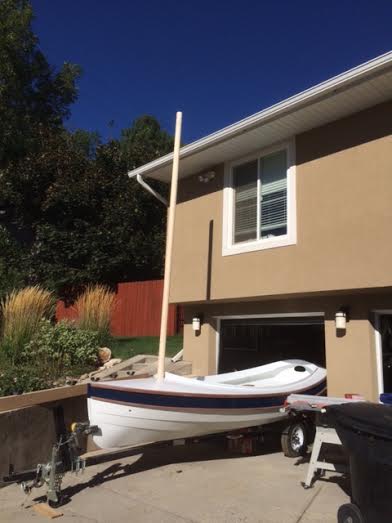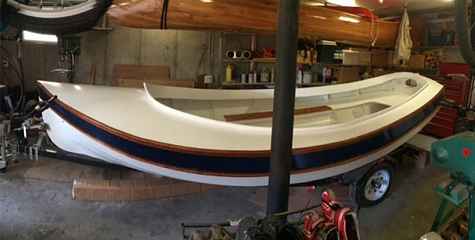 Its the slowest boat build I have ever heard of, I think I'm in my 8th year now. I attached a couple of pics of my Navigator.
Dan
---
Lillie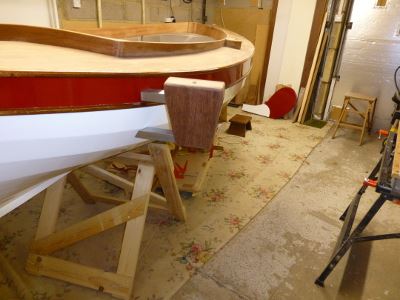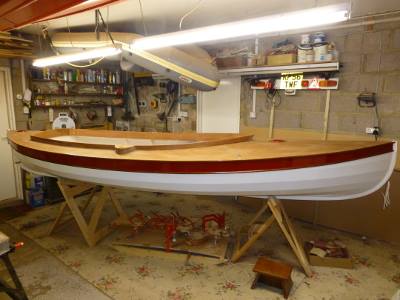 The trad' English canoe yawl of the Kemp/Holmes era are beautiful craft - here are a couple of photos just received of one of my Lillie designs based on the Edwardian/Victorian designs, this one in build by Tony Darrah using the stitch and tape method (she has also been built in clinker and strip plank).
Paul Fisher
---
The Naut 450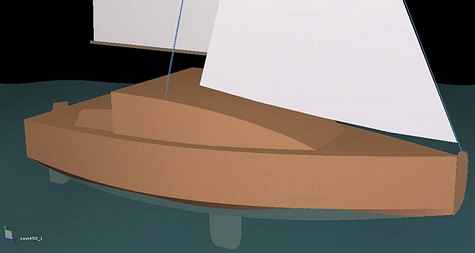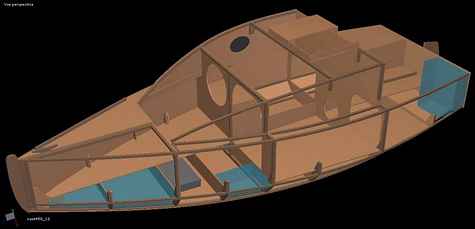 My next project: The Naut 450, a more complex pocket cruiser design with two chines.
Jérôme Delaunay
---
SCAMP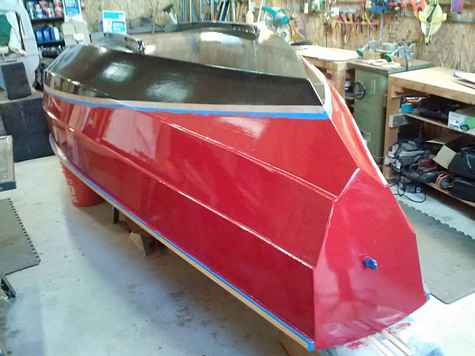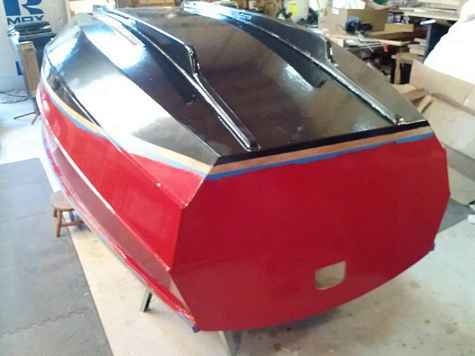 New Scamp being painted by Melissa Denny in Port Townsend, Puget Sound, WA area. She took John Welsford and Howard Rice Scamp Camp a couple years ago and is now finishing her hull. Another red Scamp, what we started with that very first Red Scamp! The Scamp is so jaunty, so perky, so make your whole face smile that she begs for these toy boat paint jobs. Like my housekeeper said to me with our Red Scamp "Jackie, I don't want to hurt your feelings but I bought one just like that for a bath toy for my son." Look where Scamp has been and where she is going!
Jackie
---
Sundowners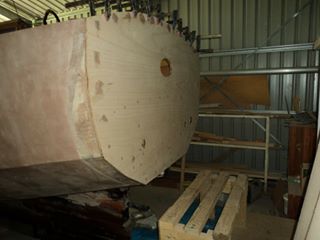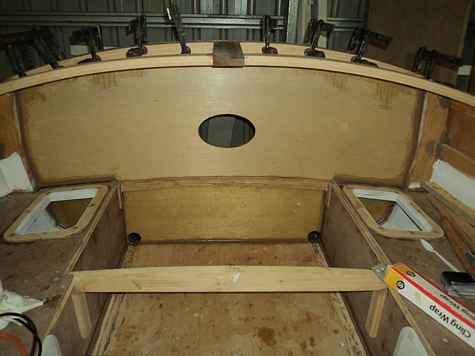 These photos are from Mal in Australia, also known as Quest. This is one of the new Sundowners being built. These are from his most recent blog post as he got the transom attached and got a complete hull earlier this month.
Go to sundownerbuild.blogspot.com to read his extremely well documented build with hundreds of photos. Also read about it on John's blog jwboatdesigns.blogspot.com in the "New Sundowner" article John wrote which has links also to the Wooden Boat magazine forum discussion and more photos.
Jackie
---
Highlander 14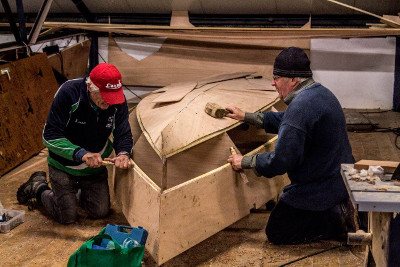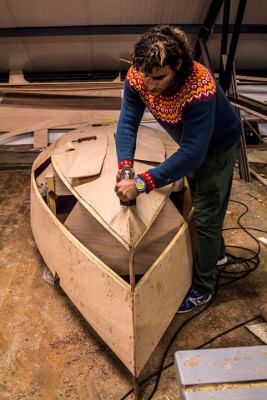 I love having my designs used for unusual or different projects and several have been used as teaching/training exercises - here is a nice one - go to:
www.facebook.com/sligometalmariners/?ref=ts&fref=ts -
A group of Sligo men with no experience set out to build a fleet of Selway Fisher Highlander 14s.
Instead of the standard stitch and tape method they are building using a jig and the ply over frame technique and as with other 14's the planks have been extended forward to give a sharp bow.
Paul Fisher
---
Canoe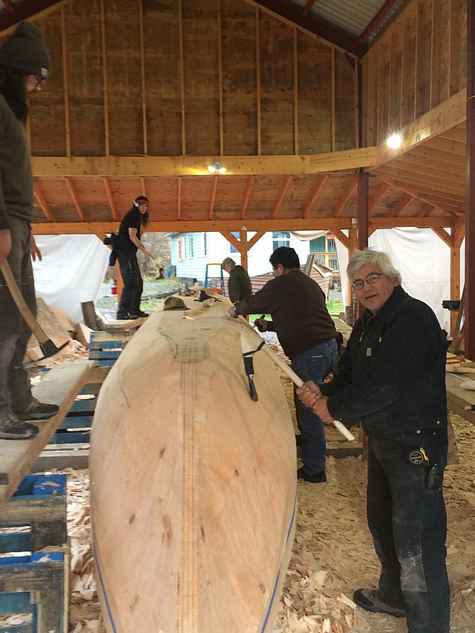 A different way to build boat. Sorry I don't have more photos, I'll try to come up with more. I work at Glacier Bay National Park. More on Facebook.
Fritz
---
Motor Launch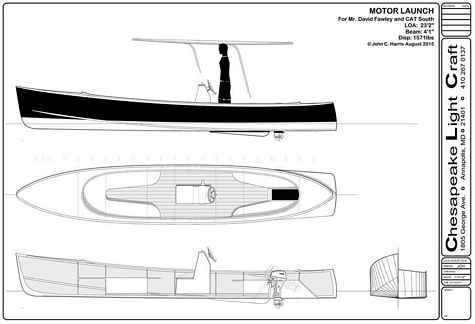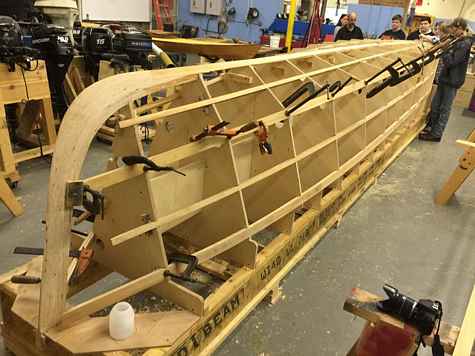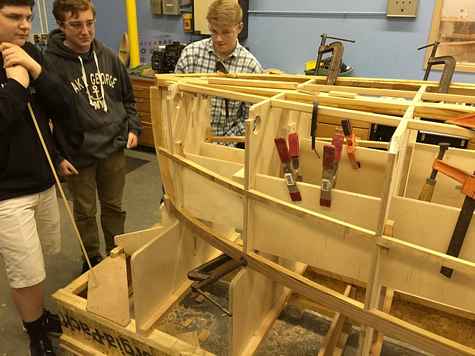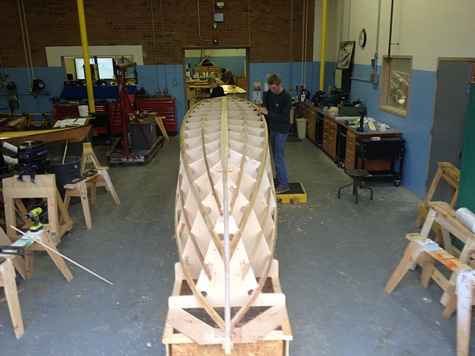 Thought the membership might appreciate this efficient 23-foot motor launch design. I drew it as a one-off for the high school students in the Marine Service Technology program at the Center for Applied Technology in Edgewater, Maryland. The kids are doing a first-class job putting the boat together under David Fawley's guidance. Powered by a 20hp Honda 4-stroke in a well, and with a beam of 48", it should glide right along, sipping fuel. It's a canoe, but there's a "planing plate" astern to keep her from squatting. Quite a lot of shape in this hull, so it's not stitch-and-glue! It will be planked with two layers of 6mm okoume.
John
---
Saturday Night Special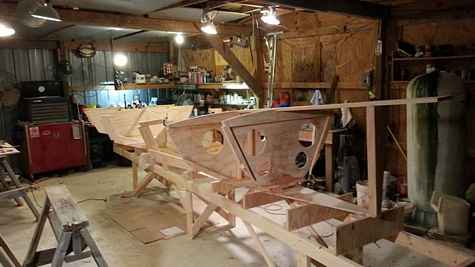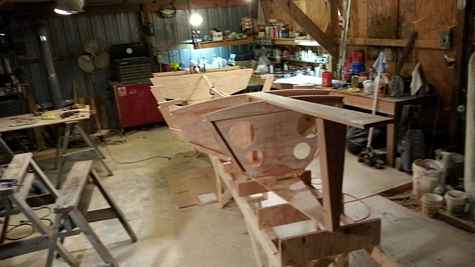 Yes! Photos of Bobby Chilek building one of the first Saturday Night Special boats down in Texas. Phil McCowin has his almost finished in Utah as does Rick Landreville up in British Columbia. How about you guys send us some more SNS build photos. It sure makes others want to think of building one!
Jackie