Arr & Arr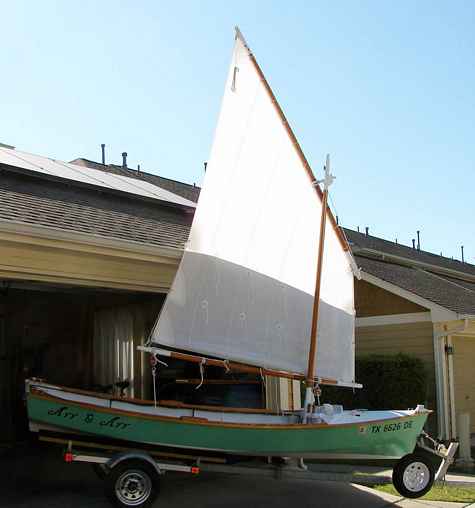 Raised Arr & Arr's sail for the first time this week. Actually, I raised it three or four times, tweaking the rigging to get the sail to set properly. This photo is from the final time, when everything finally seemed right.
Roger
---
---
Messing About in Boats for May 2016 - Our 34th Year
(Boldface Type Indicates Regular Features)

Commentary: Ongoing discussions of our small boat world. By Bob Hicks.

From the Journals of Constant Waterman: 1st sail of 2016 on MoonWind on a balmy 43º day. By Matthew Goldman.

You write to us about… Seabright Skiff, Maggie Duff, Praise for Oar Boat, Lost Contributors, Classifieds Work, & more. By our readers.
Red Cedar River Project: Cleaning up a Michigan River.
Jamestown Centerfold: Making it big in Jamestown Distributors catalog.
American Corporate Miscalculations: Chris Craft blows it at 1958 Paris boat show.

Book Reviews: Celebrating the Emma C. Berry and The Rangeley and Its Region.
The Riddle of the Sands: Revisiting the scene of the famous novel.
Remembering Robert DeGast: Remembering the author of the Chesapeake's Five Fair Rivers.
The Nipper: Nostalgic small boating adventures of a long ago youth.
Chesapeake Bay Maritime Museum News: Rebuilding the nine-log bugeye Edna E.Lockwood gets underway.

Norumbega Chapter WCHA News: Progress report on a 1915 Kennebec Charles River canoe restoration. By Steve Lapey.

The Mainsheet: News from the Delaware River Chapter TSCA. By Frank Stauss.

JGTSCA: News from the John Gardner Chapter TSCA. By Bill Rutherford.
Over the Horizon: Ongoing overview of the world of really big boats. By Doc Regan.

From the Tiki Hut: Ongoing action at this Florida west coast hobby boatshop.  By Dave Lucas.
Tumblehome Boatshop: Saturday Shop Talks are back in this Adirondack boatshop.

Lonely Splendor & First Day of Spring: Latest reports on ongoing boatbuilding projects in Almostcanada.  By Dan Rogers.
Just Build the Boat, Why Don't Ya: Progress report on building a Salish canoe.
Carol Jeane: A shallow water powerboat.
In Praise of Small Boats: Where have they all gone, the view from the UK's Dinghy Cruising Association.
American Canoes and Canoeists:  Canoeing in 1894 was very big.
Warren Jordan of Jordan Wood Boats: Profile of a creative designer/builder of small boats.

Phil Bolger & Friends on Boat Design: Ongoing discussion of small boat designing. By Susanne Altenburger.
A Beginner's Guide to Handy Shop Tools: Looking at some unanticipated functions of familiar shop tools.

From the Lee Rail: Ongoing monthly commentary on a variety of small boat topics.  By C. Henry Depew
Painting from Photographs: Capturing nautical scenes on canvas.

Advertising Directory: Five pages of ads offering goods and services you may need.
The NYYC Digs in the 1880s; Photo essay on where the rich yachties went to play on shore.

Classified Marketplace: Free ads from readers for anything nautical.

Shiver Me Timbers: Cartoons depicting small boaters in all sorts of circumstances.

Order your subscription for twelve monthly 60-page issues now. Orders received by April 15 will start with this May issue.
Credit  Card Orders from Duckworks, Print or Online $36.

For 3-Issue Trial Subscription: $8 Check Payable to Messing About in Boats, 29 Burley St. Wenham, MA 01984.

Bob
---
A Stunning Photo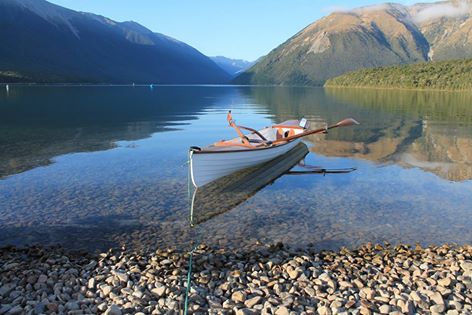 This photo is stunning.
Peter Murton said:
"Lake Rotoiti NZ birds every were trout jumping eels at the jetty waiting to be fed perfect morning for a row."
Mike John
---
First Mate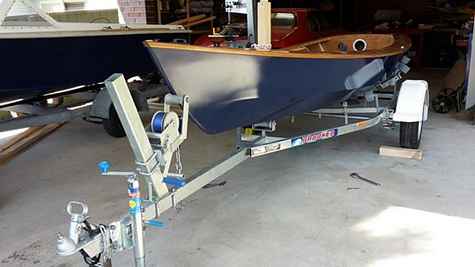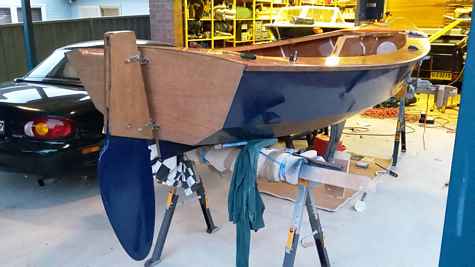 First Mate ready to go into the water this week for the first time.
*****
Alby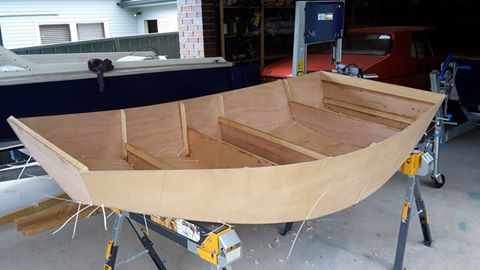 An Alby is taking shape in Sydney.
Robert
---
Seagull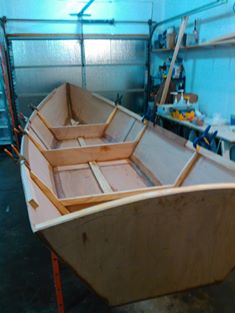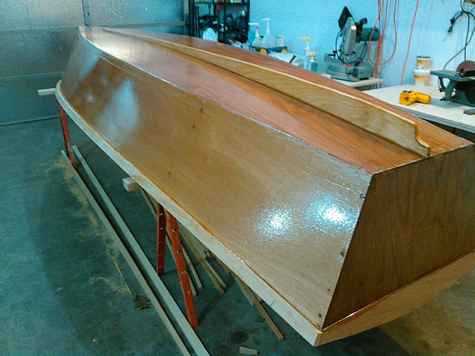 Jerry's Seagull/Mollyhawk.
Chuck
---
Slingshot 16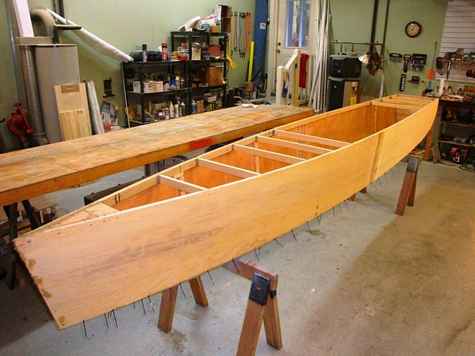 Progress Report: Slingshot 16 Trimaran being built for Jeremy Eisler. The sittches are out, the crossbraces and bulhkeads are in (some just temporarily), and I plan to glass the hull exterior tomorrow! Lots more prep and sanding before that, though.
Frank Smoot
---
Alpha Dory Flip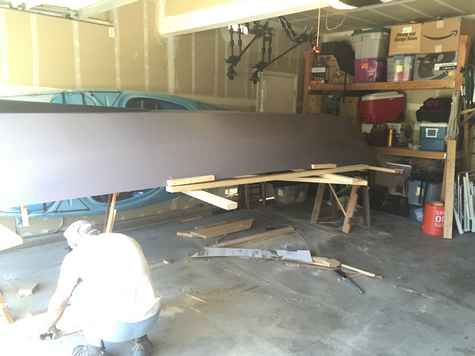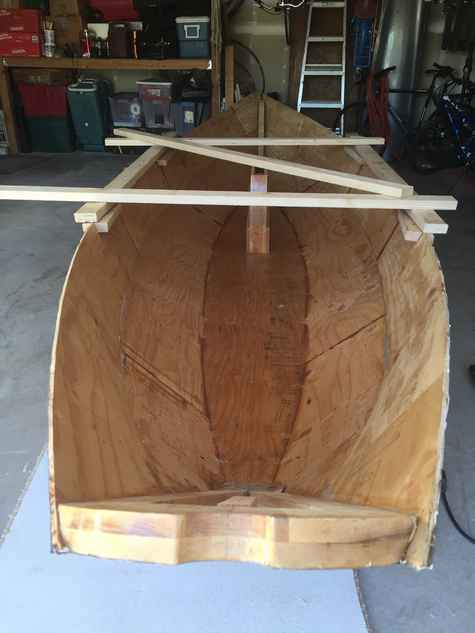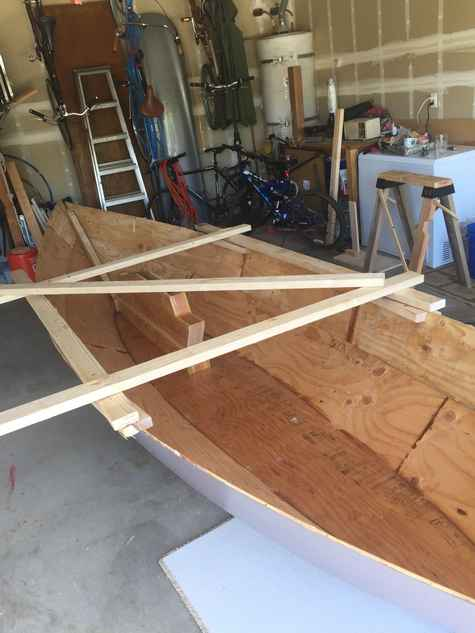 I am building the Glen-l Alpha Dory for the 2018 Everglades challenge. Using locally sourced plywood, fiberglass cloth and epoxy. How to flip this 18' beast? Bribes of beer & pizza failed to bring willing minions. I built a frame that attached at the sheer. It had legs that extended beyond the sheer just enough that when the boat is flipped it will first settle on its side and not the unreinforced joint between the bottom and side or the side and sheer panels. It took just three of us to lift the boat onto saw horses to allow removal of the strong back. We then lowered it off the sawhorses onto milk crates. Then two of us raised on side up to 90 degrees, one held it and two caught it as it went over the top and was lowered gently down. Minimal damage to boat and crew.
From the garage of Lewis deWitt
---
Sat Night Special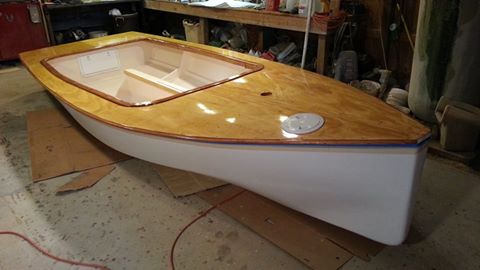 I am getting close, the final coat of varnish is done. I am working on finishing the spars, rudder and CB. I hope to start assembly next week, first test sail is scheduled for April 23.
Bobby
---
The TEN Foot Boat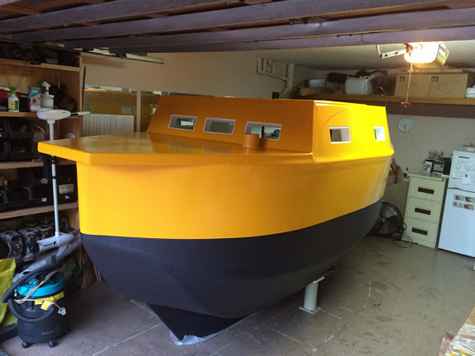 Here is the latest update on the blog with some nice pics.
Manie
---
Trimaran
I am a woodworker in Richmond, Va, and here is some info/documentation about my boat (my design), which is almost finished.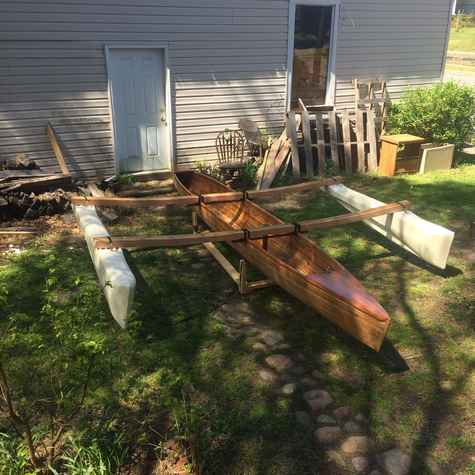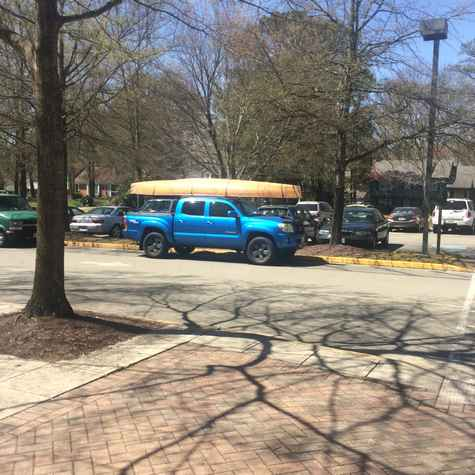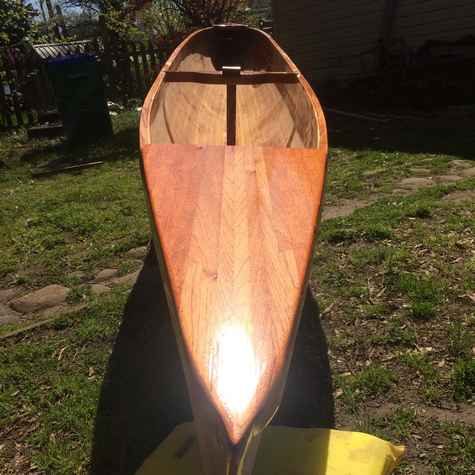 First though, a bit of background: Three years ago, I was on a canoe camping trip at False Cape State Park, a location one must reach by beach trail or by boat. The way there was calm, but the way back was stormy, and getting battered by the wind and waves in Back Bay was enough of an experience to infect me with the obsession to sail, to harness the power of the wind rather than be battered by it. I made a fairly bootleg clamp-on sailing rig for my canoe, complete with small stitch and glue outriggers and a lateen tarpsail. This venture led to the purchase of a few secondhand boats on craigslist, none of which was perfect for me. I wanted something cartoppable, that could be paddled and sailed, controlled by one person (me), but yet could accommodate two or three, like my canoe. I got this crazy idea in my head that I could build this perfect boat.
I settled on a trimaran design, with cedar strip canoe center hull, curved box beam akas, and glass-on-foam amas.
Noah Todras
---
Keel Modification Storer Quick Canoe 155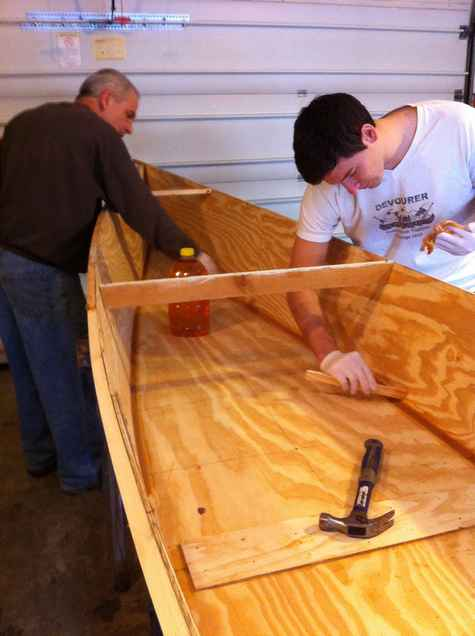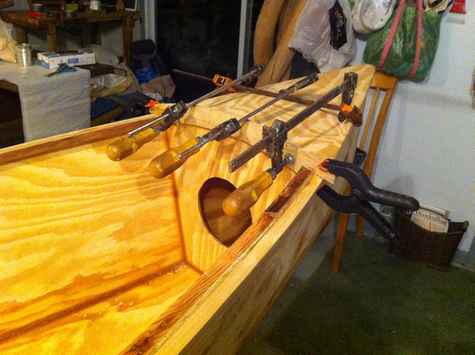 Airtight compartments bow and stern for flotation.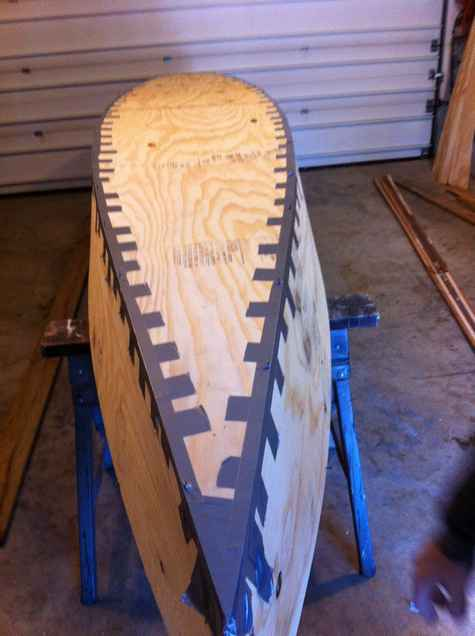 Taped together ready for fillets.
Christmas of 2014 my gift to my kids (then aged 20, 18 & 16) was plans and materials to build the Quick Canoe. We did it over the Christmas break, we had a great time together. Now after two seasons of use it became clear that for our use and skills it was too slow to turn. We had built the keel as shown in the plans. This worked great on the lake, however on the Conestoga River not so great.

This afternoon I put the canoe upside down on saw horses and sawed off most of the keel on either end. Now it is 1 1/2" deep the length of the boat.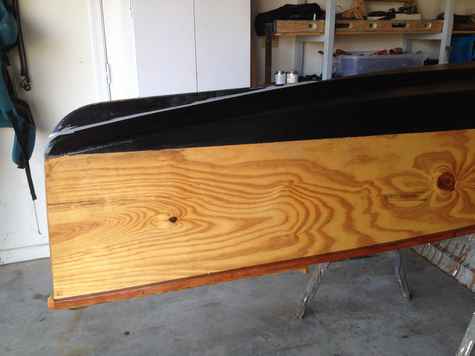 After I cut off the piece and repainted the bottom, I painted the edge of the cutoff and set it on the boat to show clearly what and how much I removed.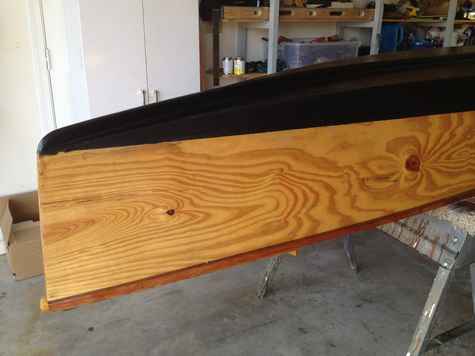 Close up of the new keel.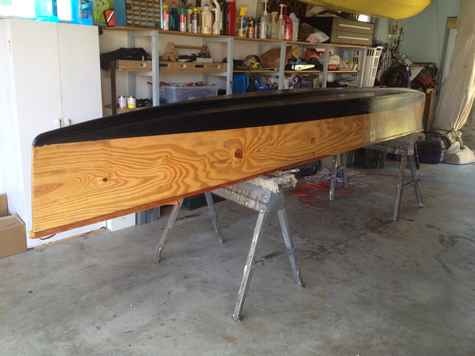 Looking forward to a summer of canoeing, ask me in Oct. if I like the modification.

Jonathan Bornman
---