EPA 6000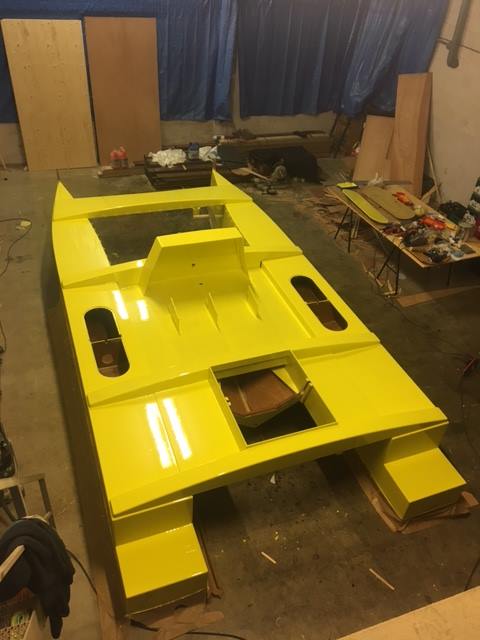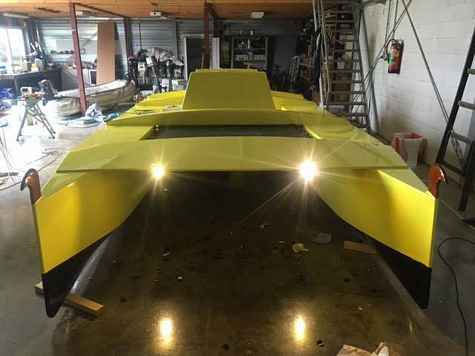 The IPA 6000 almost ready. I add also a picture how the finished Dynema eyes look.
Bernd Kohler
---
---
Baluchon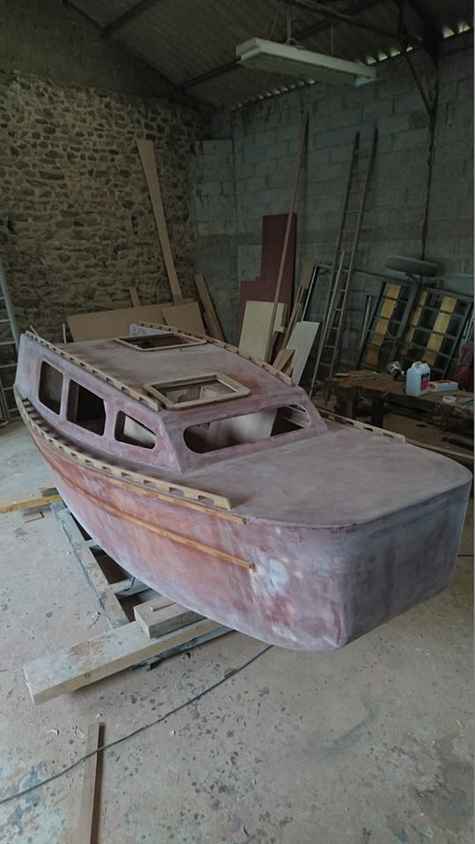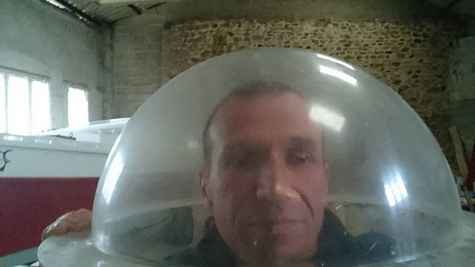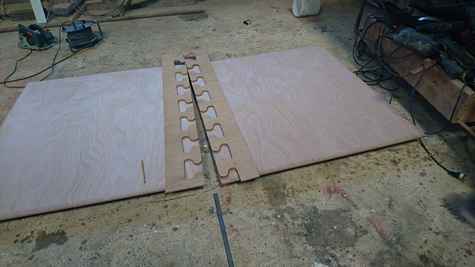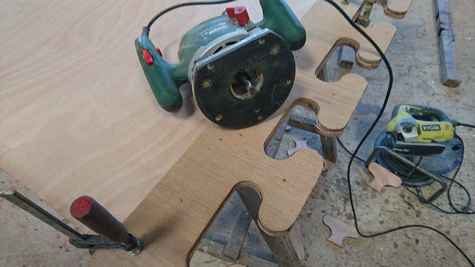 Pictures of building of Baluchon my new boat , micro-yacht 4m (13'12 '') for an Atlantic crossing.
Yann
---
First Mate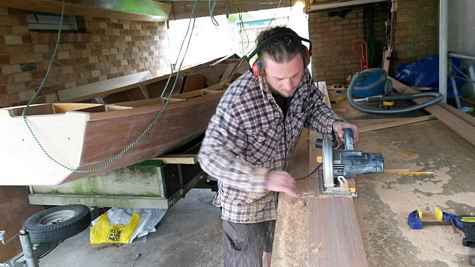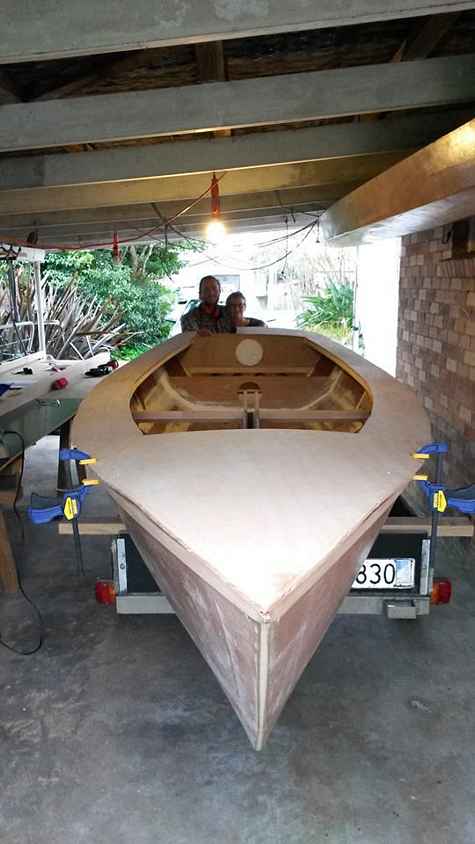 My son came up for a long weekend so made some progress on my First Mate build. Mast laminated from 3 lengths of Malaysian Kauri and marked out for shaping and decking cut out and screwed in place ready for final trim.
Tim
---
6M Whaler
One of the real pleasures in the designing boats business is seeing the pictures that people post of their builds, and their adventures.
I've had a bit of correspondence with Jeff McElhinney in Thailand over a couple of years while he's been building his 6M Whaler in Thailand.  He's had a few issues sourcing materials and fittings as this is not a country where amateurs build themselves boats for the pleasure of it, or use boats for fun so there are no "West Marine" branches, no "Fishermans Supply" or even "Harbour Freight".
But mail order from Duckworks works, he's persevered, and here's the result.  Doesn't it look sweet! Nice job Jeff, well done.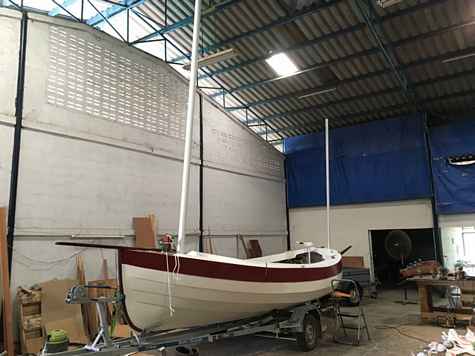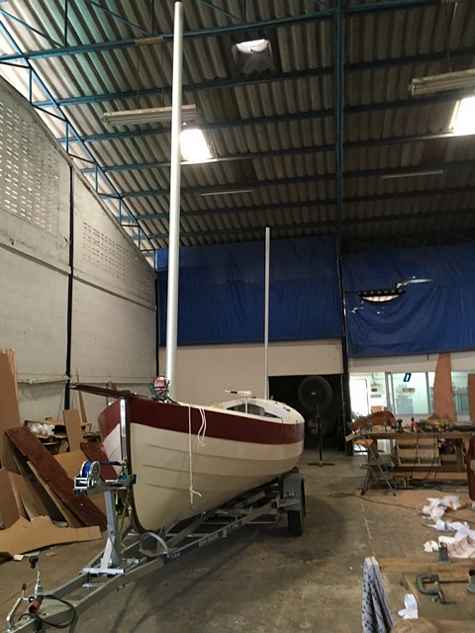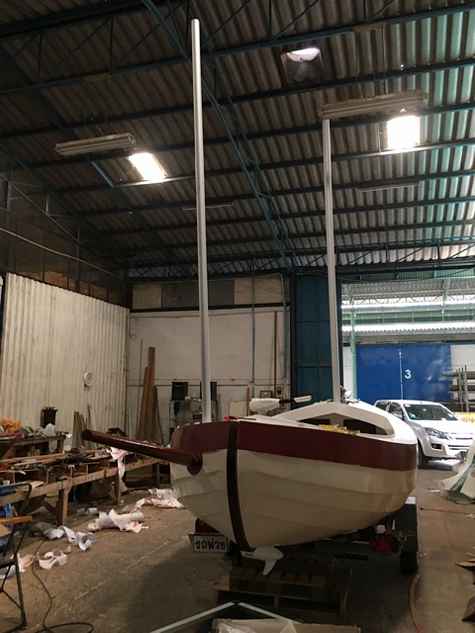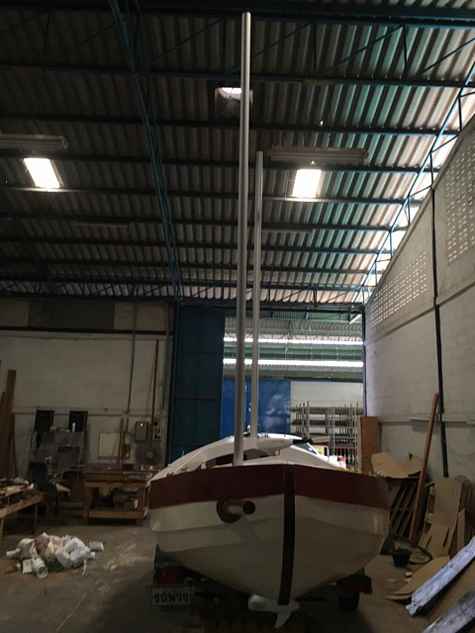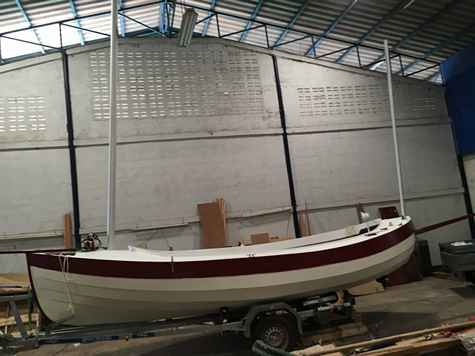 About the boat, 6m long, that's just under 20 ft, she's a big roomy daysailer that can be singlehanded but which has room for up to 8 people, with the yawl rig she's a sail trainer intended for the likes of outdoor education groups, with the  alternative sloop rig she will foot it with the smaller cabin yachts in club level racing.
The trainees would row her or course, but there is an outboard motor hidden in a well at the after end of the cockpit, and for those wanting to go camp cruising there is considerable locker space and its not a problem to organise space to stretch out and sleep under a boom tent.
Yes she's trailerable, can be rigged by one person, draws less than a foot with the centerboard raised, and although quite a lot of boat shes' light enough to tow with one of the bigger four cylinder cars so you don't need a monster pickup to pull her to wherever you want to sail.
From spending a week away camping,  just sitting watching a sunset or thrashing along in a good breeze,  Jeffs got a lot of adventures ahead of him.  Good luck with that sir. Please do write for us and tell us about those.
Plans available in the duckworks store.
John Welsford
---
Naut 450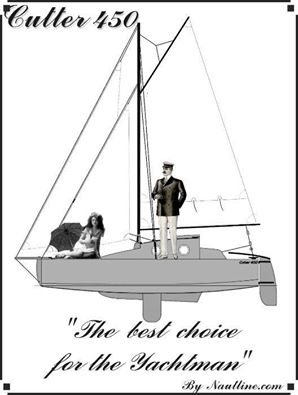 Naut 450 Cutter version.
Jérôme Delaunay
---
15' 7" Raven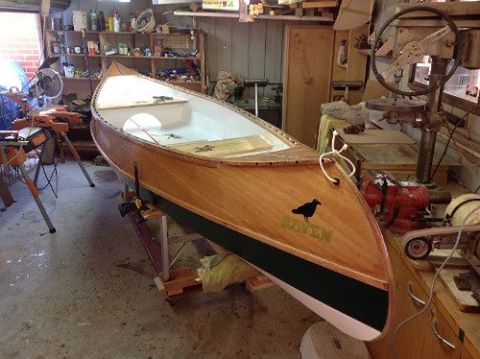 Marcel Kievet recently finished a Selway Fisher 15'7" Raven canoe to a very high standard - it is going to be raffled to raise funds for Cancer Research.
Paul Fisher
---
One Sheet Canoe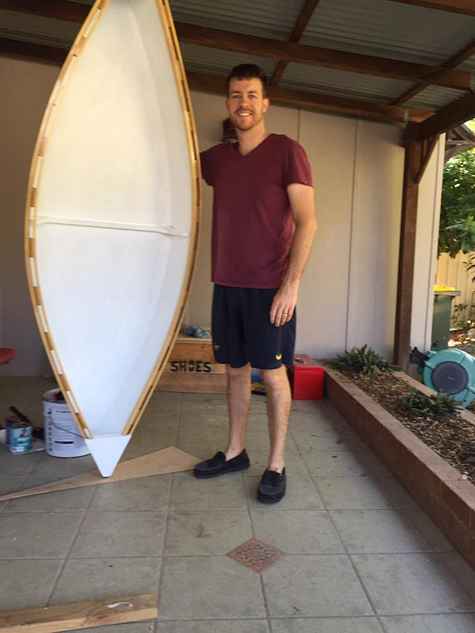 My first boatbuilding effort - a little one sheet canoe for my boys to play with in our local creeks and rivers. I used one sheet on 4mm marine ply, PL Premium and Titebond III, dressed pine from the local hardware store, and a little Tasmanian Oak for the spacers and false stem. Finished with exterior latex semi-gloss and exterior varnish.
If the weather holds up, launch will be Monday!
Next up (after another baby arrives - eek, and I redo the deck, the floors, paint the spare room, etc) will be something small and sailable.
Jesse
---
Alby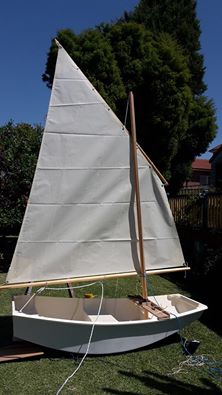 The snow is melting and summer is coming. Time to add the finishing touches to little Alby. Final coat of Admiralty Blue to go on and then off to the launching ramp.
Robert
---
Mandarin 15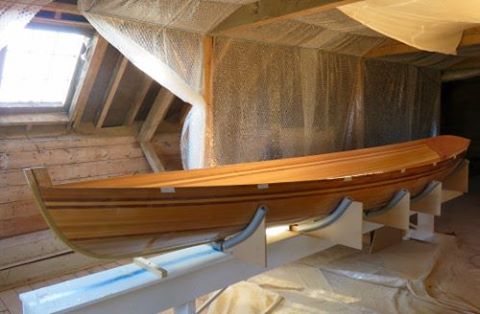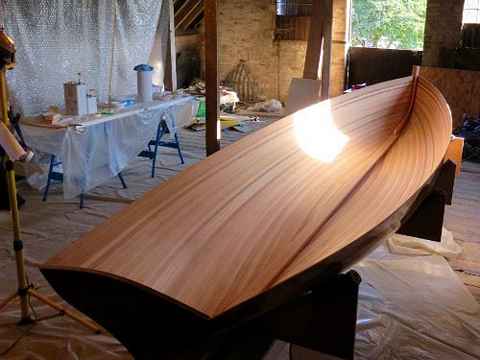 Latest pictures of Bill Martin's strip planked Selway Fisher Mandarin 15' rowing skiff after the inside has been sheathed.
Paul Fisher
---
Catbox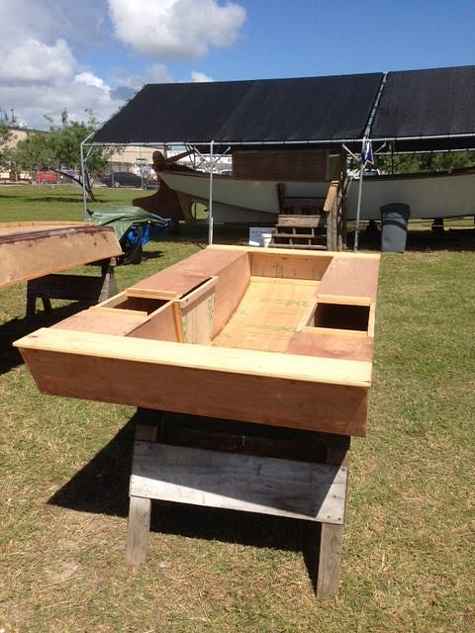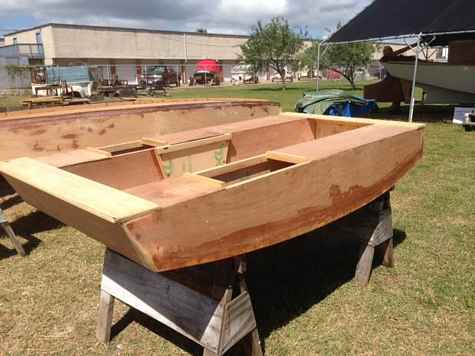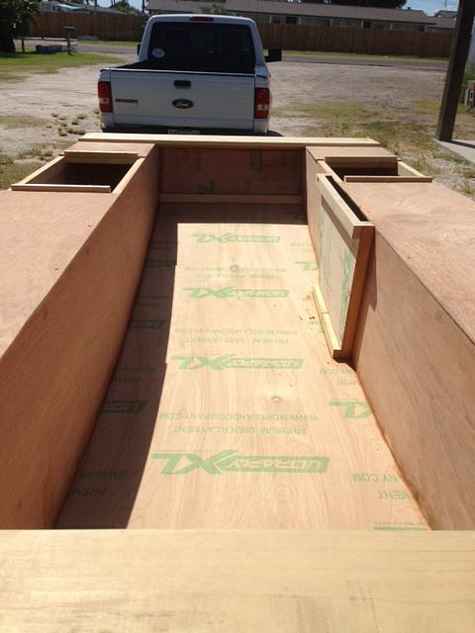 Mostly complete Michalak Catbox PDR built by the late Mike Monies is for sale. She's nicely built with Ultraply plywood and has been stored in doors. The picture shown is current. There is no rudder, dagger board, spars or sails. Jackie Monies donated this boat to the Farley Boat Works in Port Aransas, TX. We are asking $100. Proceeds go to support the Farley Boat Works, a non-profit boat building school.
Frank
---