18' Veracruz Panga
Keith Prager just sent me these pictures and email about his recently completed 18' Veracruz Panga:
Hi Jeff,

This has been a great project. It still needs a few odds and ends, but we couldn't of asked for a better design for our boating purposes. Everybody has asked where we got the plans from, law enforcement to random people pulling into a cove and asking. I had to give your web address out at least 50 times.

There are no leaks and our little 50lb trolling motor moves her 3 mph into a headwind, steers great, incredibly stable, and most importantly, it floats!

Thank you again for taking the time to design such easy to build boats and always being just an email away, we can't wait to start our next vessel, we are thinking about your tug design; it just looks and sounds like a lot of fun.

Thank you again for everything,

Keith Prager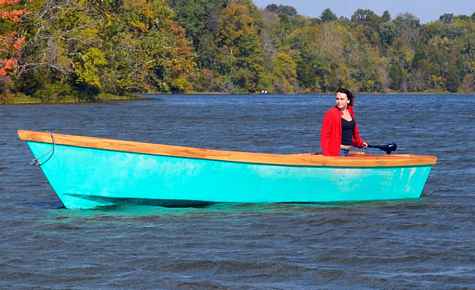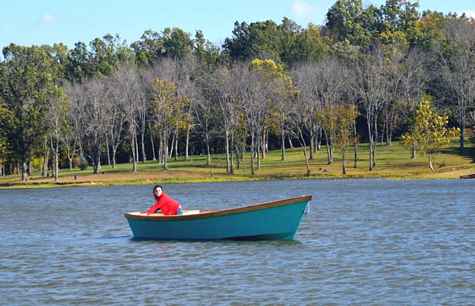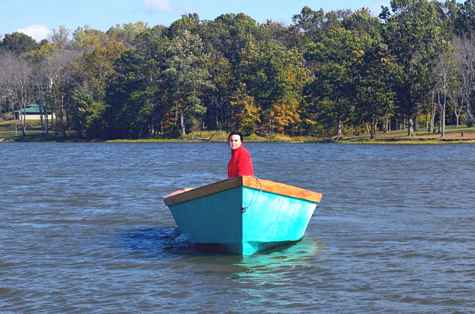 I'm always surprised when first time buatbuilders are surprised when their homebuilt boats actually float! The boat looks like you did a great job with it. I'd love to see what it will do with a 40 hp motor or so.
Free study prints and more information is available at: 18' Veracruz Panga Boat Plans: spirainternational.com/hp_vera.php
*****
The Tiburon Panga
This one was built in Alabama, but these shots are of it in Florida.
More info here: spirainternational.com/hp_tibu.php
14' Riverman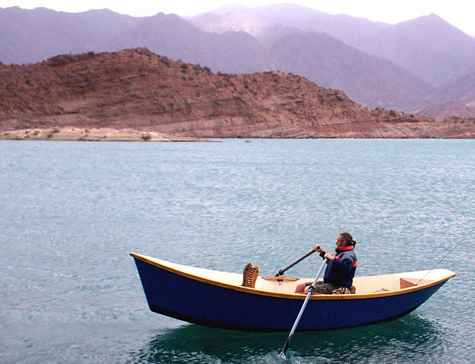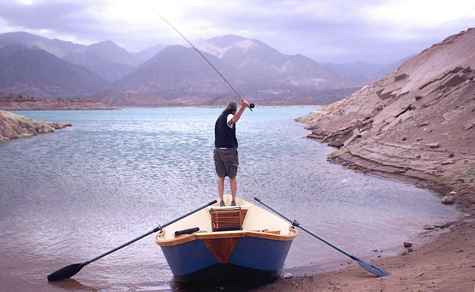 The 14' Riverman, stitch-and-glue drift boat, the fly fishermen's dream. This one was built in Argentina for the great mountain streams and lakes in the high country.
More info, including free downloadable study prints may be found here: spirainternational.com/hp_rive.php
Jeff Spira
---
---
Periwinkle
Periwinkle's long awaited launching day on the Clarence River Grafton took place on Friday 21 October 2016.
Aptly named NOMAD slipped through the water in a breeze ranging from 8 to 11 knots and was totally controllable.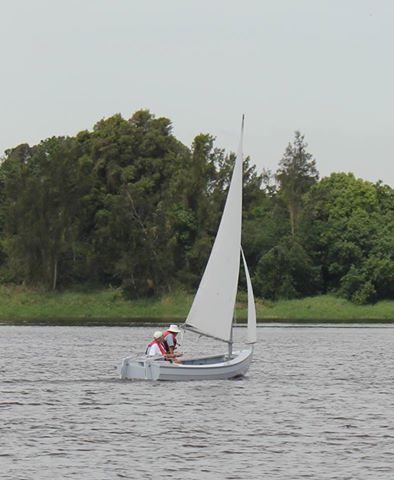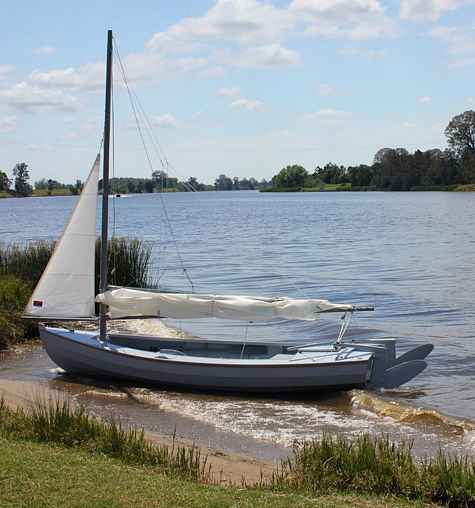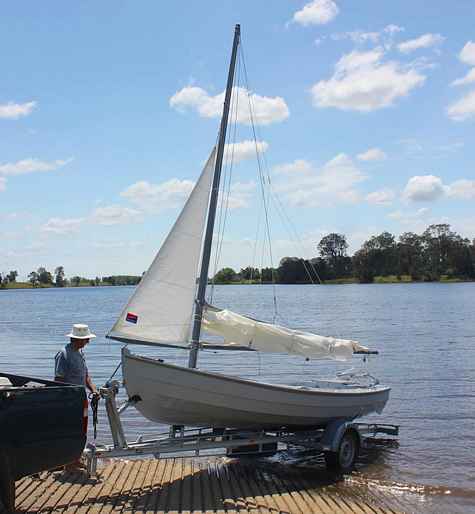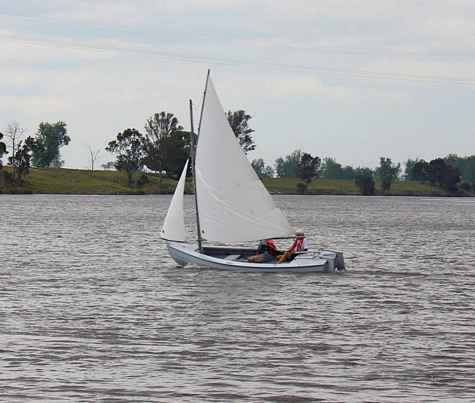 Thanks to Ross for permission to alter the rear end to accommodate twin rudders to allow for a central motor mounting. Reason for this modification was:
Motor central in case of a capsize;
Motor in the water whilst motor sailing;
Central weight distribution;
Motor to be stored in the rear compartment on the central line of the boat, this will enable an easy access if required due to lack of wind especially on long trips away from the boat ramp.
The oars will get used for launching and close return to the bank.
Bruce
---
Alby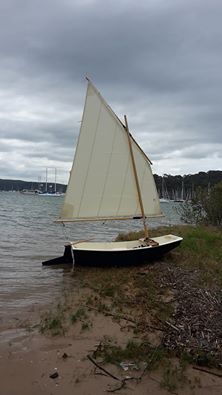 Alby finally had its first sail today. What a success! A shipwright stopped what he was doing a motored over wanting to know about the boat. He told me it looked awesome. I'd still be out there but I forgot my bailer.
Robert
---
DUO 480C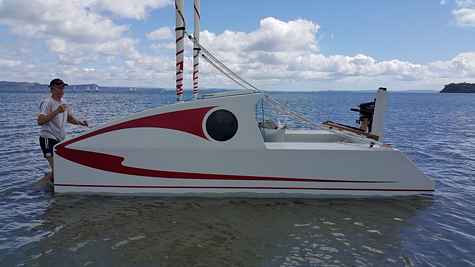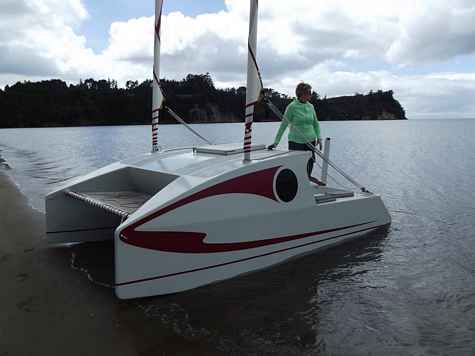 Here the first summer shots from down under from Brian's DUO 480C ready to go. A matter of seconds with this rig.
Bernd Kohler
---
Jon Boat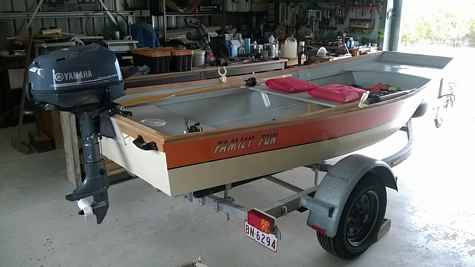 Almost ready to go on the trailer with the Yamaha 4hp outboard fitted. After a couple of hours of discussion with Suze, Gail and Harry one Saturday we decided to call the boat Family Fun as it describes why it was built. It was a name three year old Harry liked so we applied the letters with his help and interest.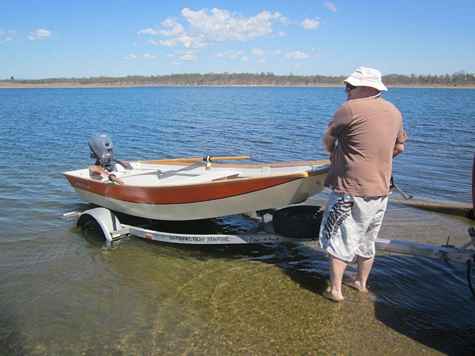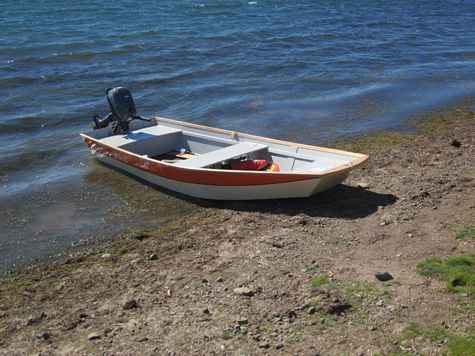 Thoughts to ponder on reflection.
If I was doing it again I would use a better grade of plywood with a smoother finish to give a nicer appearance.
I would move the rear seat forward and leave a 10 inch space between the transom and the seat for better storage of the fuel can, anchor etc.
I would pre-coat the main pieces with the epoxy sealer prior to assembly.
I would use a couple of layers of a wider tape on the outside chines, not just one.
I would cover the inside floor with a very light glass cloth and epoxy for better abrasion resistance.
I would increase the hull depth from 16 inches to 20 inches at least.
The Jon Boat was launched and successfully cruised the lake. Several short cruises were done over the day logging over three hours on the Yamaha. Mostly the boat was happy to cruise along at half throttle.
Mal McKenzie