Like Tennessee Whiskey, Ogeechee River Boats
I may possibly be the slowest living boat builder, but I like to think that you build boats like you make a fine Tennessee Whiskey, slow and steady. And you enjoy the boats and whisky like life, slow steady and by the drop.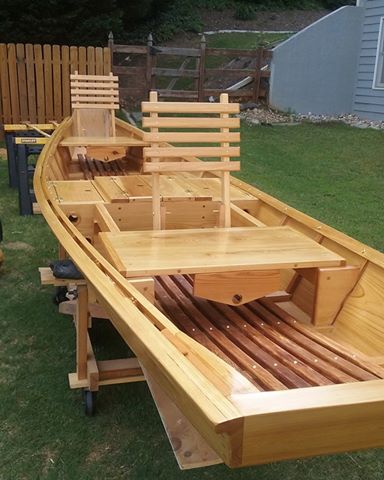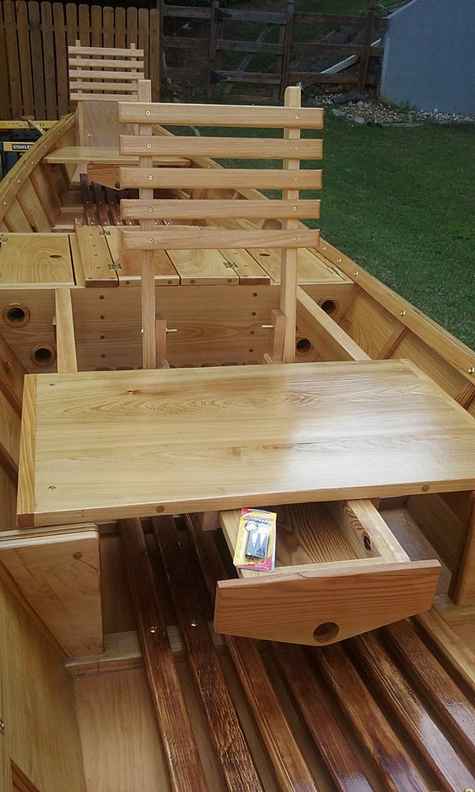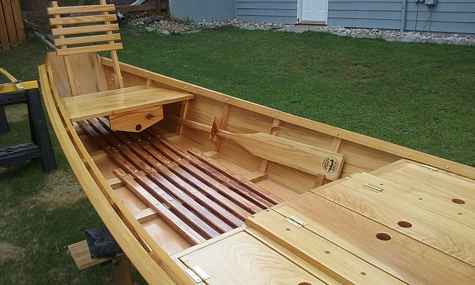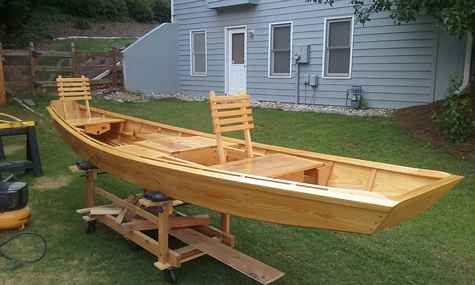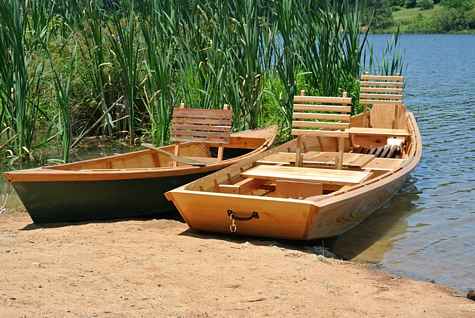 Finally, got it in the water today with the first boat I built 14 years ago.
Jeff
---
---
Lazy Weekend Canoe 2.0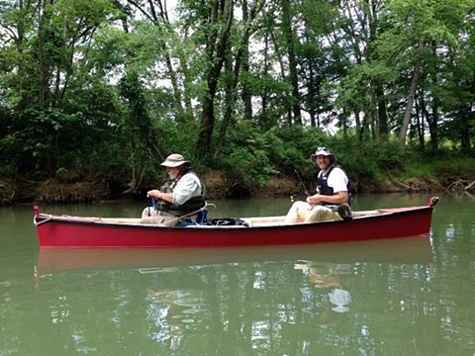 Bill H of Georgia had emailed me a couple times about the Lazy Weekend canoe. He said he'd built his "after working on it for 4 days, over a couple of years." Here it is on a small creek in northern Georgia.
Duckworks epoxy and graphite on the bottom He said he likes how it works. Plans are free from the Toledo Community Boathouse.
toledocommunityboathouse.com/plans/lz2/
Andy Linn
---
14' Kayak-Trimaran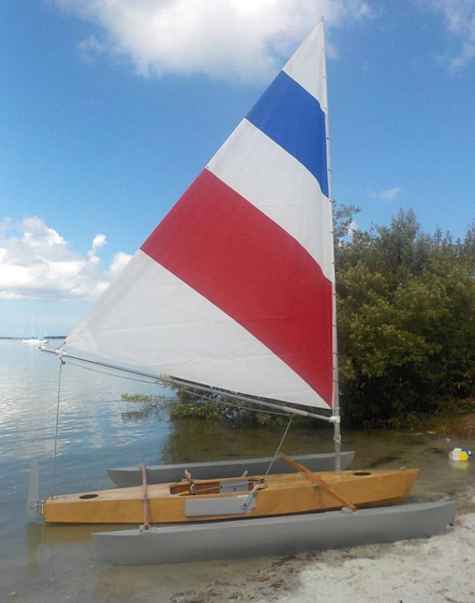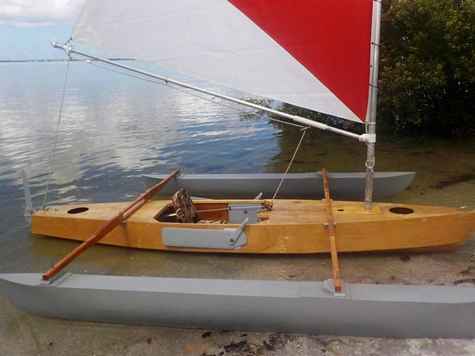 Took out the new 14' kayak-trimaran as a "bigger" tri, this time with the bigger (12') amas, the bigger (85sf) sail, and the much sturdier akas (made from an 8' 2x4 "stretched" to 10'.) Took 9 minutes to assemble it on the beach. I'd estimate the all-up weight at around 140 lbs. Managed to eke out 7 mph of boat speed in the brief interval where I had 5 mph amount of "wind." I have to say, this thing flies amazingly well in little-to-no-wind conditions. (I did manage to take a short video, which I'll post a bit later). Sure wish I'd had more wind. Next time!
With more winid, well, I gotta say, there are plusses and minuses to report. The new 14' kayak-trimaran worked pretty well as a kayak and very well as a tri - until it hit 10 mph. Then it kicked up WAY too much water for my taste. I blame the sharp bow. Needless to say, Version 2 will have some changes. V1 is so stable that I'll be narrowing the beam by 2" on V2. And I'm dumping the V hull in favor of the virtually splash-free 5-panel hull I use on all my tris. Here are a few photos of V1 that we took yesterday. (see video below.)
Very nimble, but last nite I hacked 8" of the aft end of the foredeck and moved everything 8" fwd. It should sit and balance much better now.
Frank Smoot
---
DUO 480C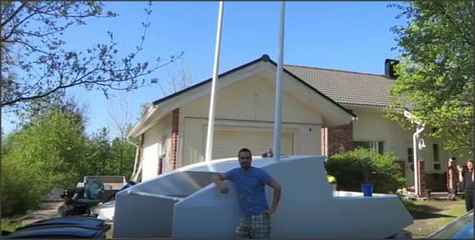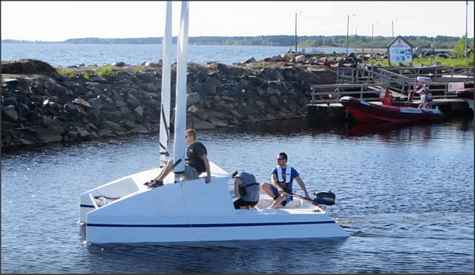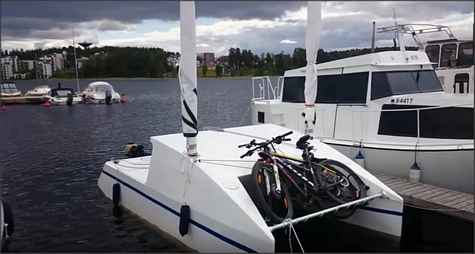 Mikael has finished his parallel rig DUO 480 C. He built the boat in around 500 hours. A little cruiser with surprising room.
Bernd Kohler
---
Michalak Mayfly 14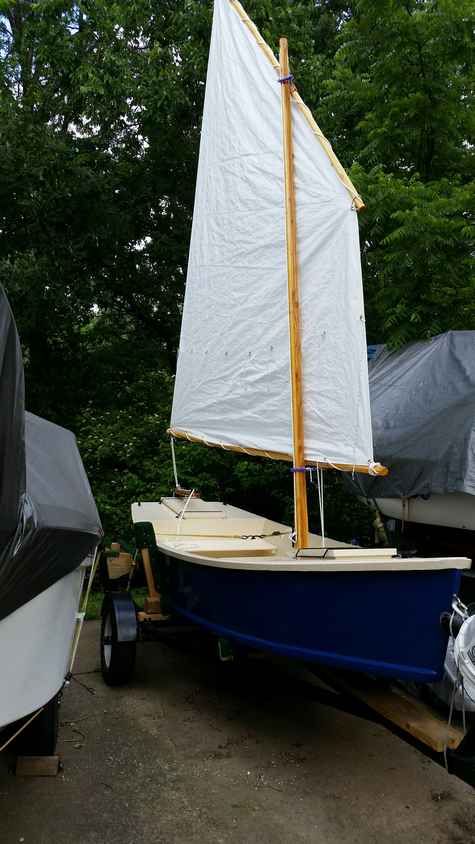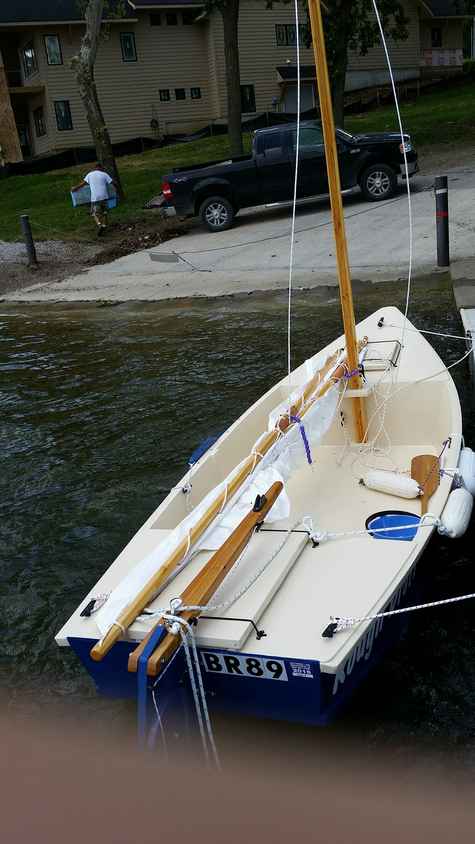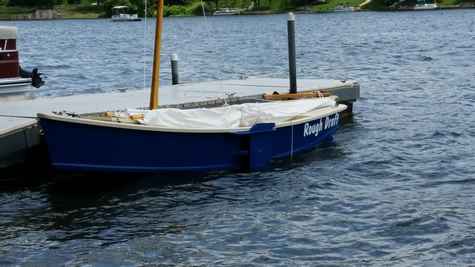 Attached are some mediocre pictures of the Michalak Mayfly 14 (named "Rough Draft") I have just finished and launched. Sorry I don't have any pictures of it underway. The paint, epoxy, fiberglass and most of the hardware and rigging are from Duckworks.
S Hender
---
Michalak Mixer2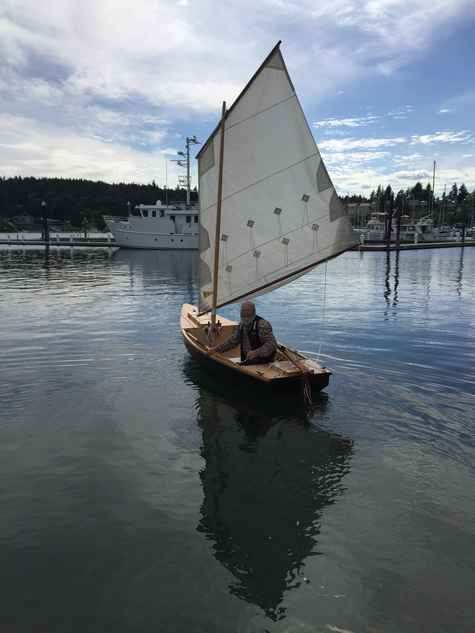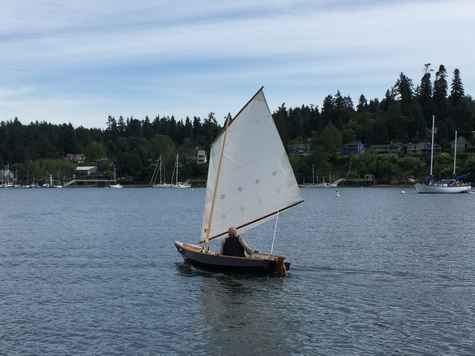 She wasn't completely ready (mainsheet cleat? Oar stowage tiedowns? Helm impeder? huh?)  but it was close and she sailed and rowed well.  Very quick, heels readily at first then firms right up as the upper chine finds the water.  Lots of nice comments.  Jim can draw a pretty boat.  The sail is borrowed (long term?) from my Puddle Duck of the past 3 years, a cut down jib from a 21' something or other.  So the mast is a few inches longer than designed and the center of effort is a little higher than designed, but otherwise she's pretty close.  I'll bet she spends a lot of time with one reef down this summer.  We'll see.  If we made a new sail the size of the one-reef version, then we could cut down the mast 18 inches and. h'mm.
Ken
---
15' Ilur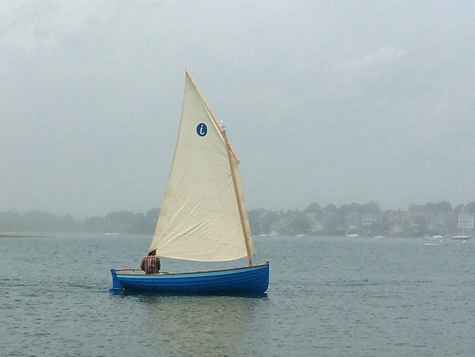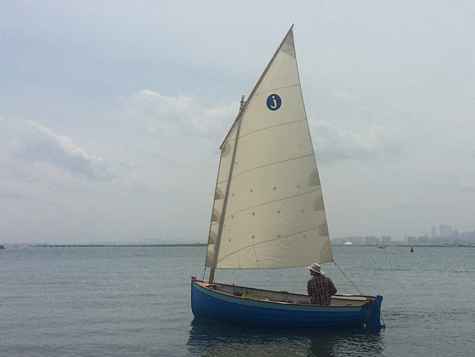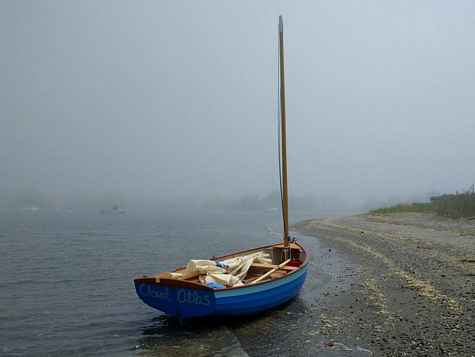 My new trailer sailer: a 15' Ilur by Francois Vivier. Hooray for sail and oar!
Peter
---
Ladybug
I attached a pic of my ladybug build on our first sail this Sunday ... I'm still trying to get the lug rig adjusted right, sail looks a little funny & it has a reef in it for about 8 knots breeze because I was a big chicken on the inaugural sail :)
Jason
---
Robbsboat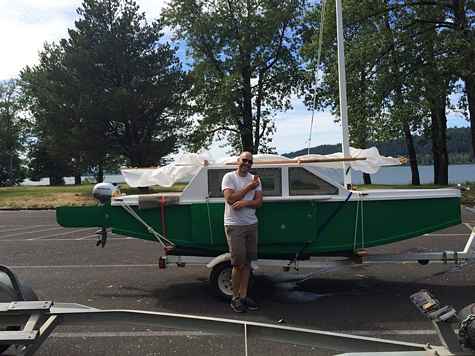 I finished my Michalak Robbsboat. I got her wet. I sculled her, ran her on the trolling motor, tipped her over on purpose at the ramp, sailed her and ran her with a 2.3HP honda. I had 2 full grown men in the boat for all of the sailing. I'll go into depth on all of it, but to summarize she worked just great.
The man with the back turned on the dock is Greg. He came out with me for the first sail and was a lot of help. It's nice to have backup on a brand new boat as you try everything for the first time.
After 8 years on a 4.5' draft, 12-ton twin diesel trawler, it's nice to have a boat that can just go to the beach.
This is Dave Pierce, a huge help for the entire day. Greg above is his cousin.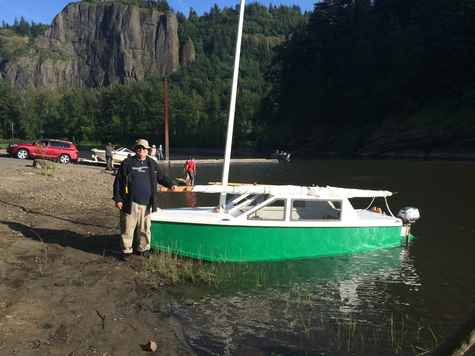 Not much time for camera work when you're having a blast sailing the boat you built for the first time in the wind and current of the Columbia River gorge.
I'm a really happy guy :-)
Tom
---
One Sheet Skiff
I've been at it again, trying to pass my love for boating on to some of the youngsters around me...
Over this past winter I modified my grandson's original 7' 3" paddle OSS one sheet skiff build.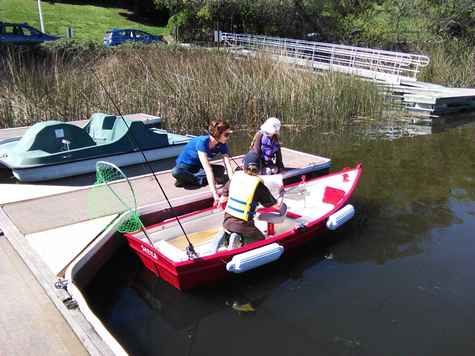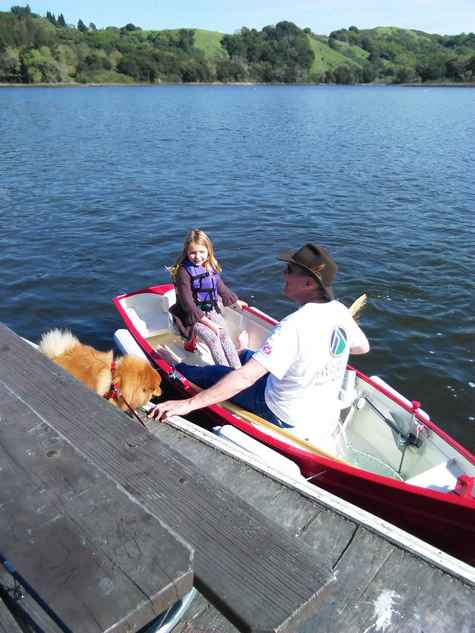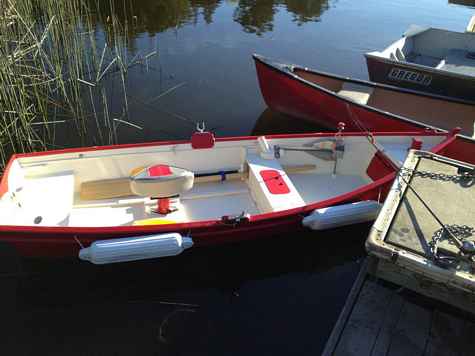 I added over two feet in length, some width and some height to the gunnels. She's now 9'8", but still a car-topper. He was six when we first launched her, he's now 10 and needed a larger fish boat. It's got all the bells and whistles for hours of adventure; even has a small fish well in the seat. I'm so pleased he's become the boatman he has. Launch was in March.
Eric
---
Trimaran
I wanted to do a launch with just John and me, so we could work out any problems that might arise. Fortunately, nothing major. It was an exciting morning for me, marking the end of a four-month-long project (a kind of birthing). Check it out at the blog.
Tentative official launch is tomorrow (Monday) morning at 10:00 a. m. at the Oak Bay public ramp. Some might see me on this webcam a bit later, hopefully flitting about in a sweet breeze.
My last niggling doubt was dispelled as I drove cautiously into my underground parking (6' 8" clearance) after the pre-launch for the first time (a day of firsts!), waiting to hear a little "crunch" from above as I inched forward. She fits!! YAY! Turns out, the bow is the highest point, and I could see it. I was thinking that the forward end of the coaming, which I couldn't see, was what might hit. There were inches to spare.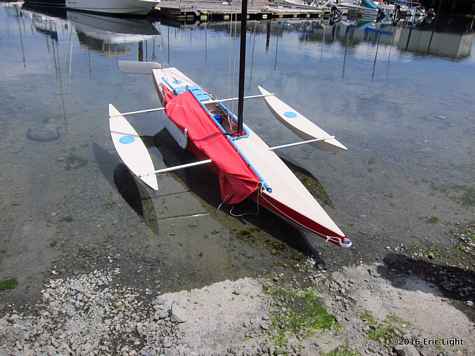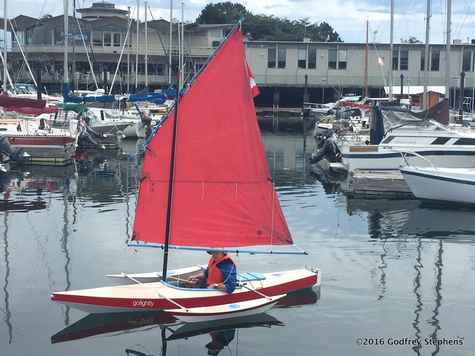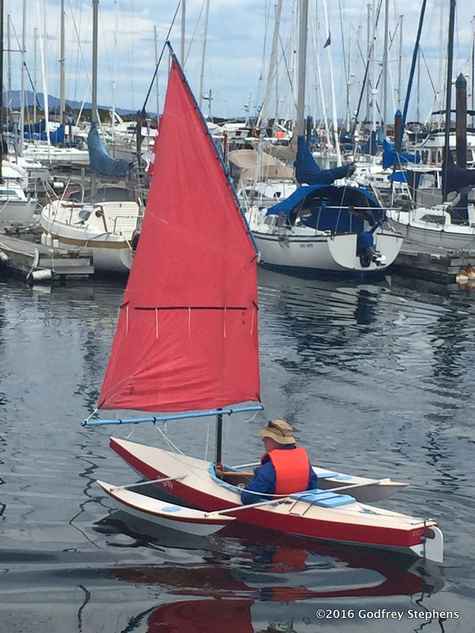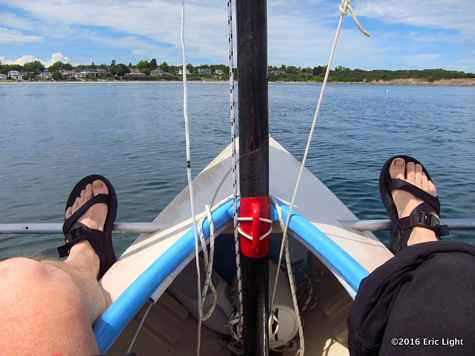 I'm very happy with my build, and can hardly wait to go sailing again! Looking at the photos John took this morning, I can't believe I did what I did in building this boat (with John's help)! Everything just seemed to fall together and to work out right, down to finding the rudder blade that happened to make a perfect leeboard, and the broken paddle that fits perfectly and is ultralight.
Thanks once again to John Booth, Victoria's Mr. Maker Man and my hero! John had a lot of input to this build; in materials, know-how, boating savvy, and metal work.
P. S. - I've already been asked if I'm doing the R2AK! I knew it would happen, hahaha! Not this guy. I might go camp-cruising, once I've got more confidence in the boat and familiarity with how it handles, but that will probably be the extent of my boating adventures this summer.
Eric