Mouseboat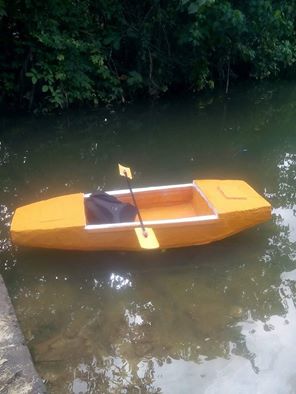 Another foam mouseboat, this one is in Nigeria. He used 4 cm foam.
Josh
---
---
Flint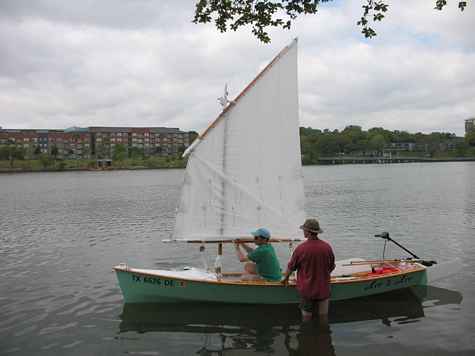 Launched Arr & Arr (a Ross Lillistone Flint) this weekend. Thanks for the picture from Lance Turner, and thanks for the help from him, Christofur Mackay (pictured), and Steve Lansdowne.
Roger S
---
The Five Dollar Skiff, 1876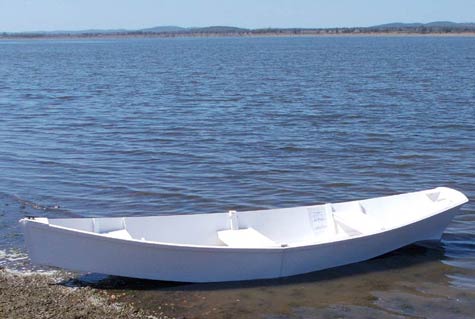 I decided to build the Five Dollar Skiff drawn by "Paddlefast", who I think was Dan Beard, and published in the Scientific American in 1876. Why? Well because the design is 140 years old this year (I like old) and I could not find another built on the Internet and I should have. And, because the boat does not look like the one illustrated and I wanted to show how nice and simple its shape is. The sides are simply straight boards bent around a simple middle frame to create a nice shapely boat.
I came across the design here:
www.thecheappages.com/short/sci_am/skiff_1876.html
And with a little searching I found the original article online. The design is left of page. The rig is right of page. And the reference to figure six is right of page. The alternative rig left of page.
| | |
| --- | --- |
| | This is what the shape is said to look like. |
| | |
| --- | --- |
| | This is the true shape. |
The main different between sketch of the boat and the real shape is the transom. It is more dory transom in shape.
Article to follow this week.
Mike John
---
Mouseboat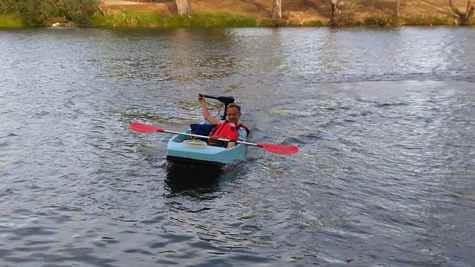 Looks like the motor controls could be easier to reach.
Josh
---
Re-Launching - Bolger Hope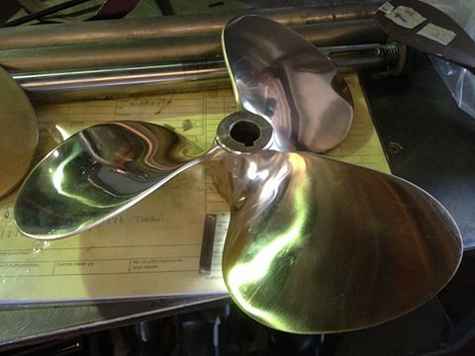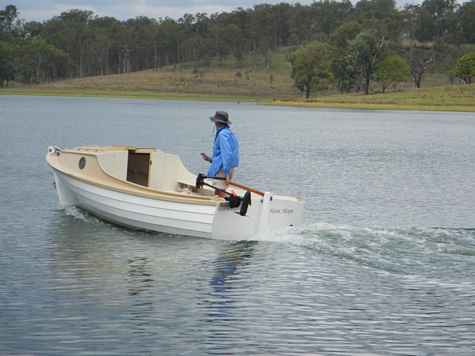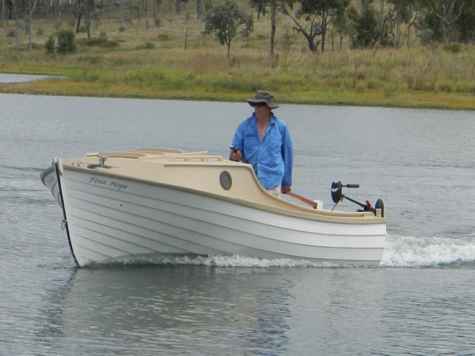 Here is a photo of the new propeller for our Phil Bolger-designed 'Hope', which we built twelve years ago, but which has come home to live with us again. This propeller is a 12" x 8" design with a disc area ratio of 0.55.
Thanks to Wm. Olds & Sons Pty. Ltd. (Olds Engineering) www.olds.com.au and to Austral Propellers www.australpropeller.com.au
Just waiting for some final machining work on the taper on the propeller shaft before installing the new prop and seeing whether the 'Hope' gains an extra knot!
*****
The Bolger 'Hope' I've been working on (with help from some friends including son, David, and Robert Olds from Wm. Olds and Sons) has now been declared operational. Next stage is a re-finishing job.
Ross Lillistone