17' Tillamook Pacific Power Dory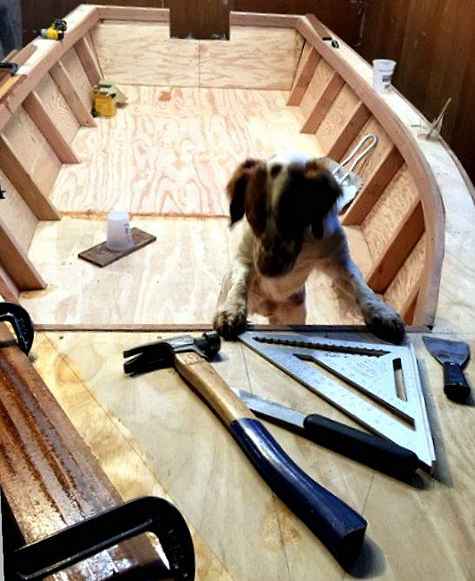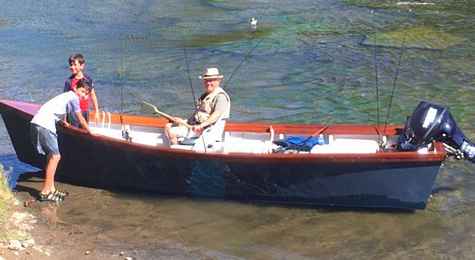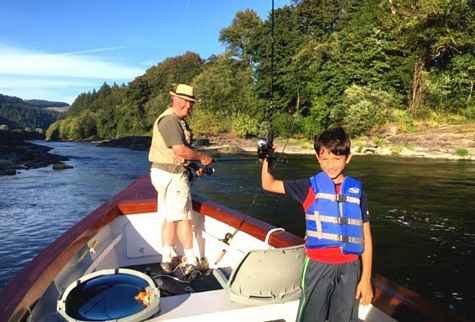 New Tillamook Pacific Dory Completed in Oregon.
I received this email and pictures a couple days ago:
Hello Jeff,

Finally, I launched my boat, thanks for the beautiful design. In the first picture you can see my helper being a little picky.

Juan
Nice job, Juan! It looks like everyone is having fun.
More information, pictures, videos, and free downloadable study prints to build this 17' Tillamook Pacific Power Dory.
*****
Caladesi Carolina Dory Launched in North Carolina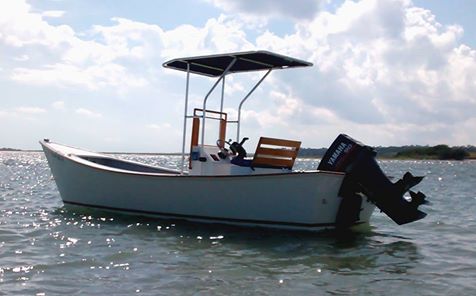 I just received this note and picture:
Hi Jeff,

I finished my Caladesi a few weeks ago and launched her in Bogue Sound. My wife and I have really enjoyed the weekends boating, and fishing. The construction took about 18 months, but I must say, I enjoyed every minute. As you can see I have rigged and painted the boat in a traditional coastal North Carolina style and get a lot compliments every time we take her out. This is a great boat for the Bogue, Core, and Pamlico sounds where I live. The flat bottom allows me to fish the shallows, and the high bow and transom makes it a safe boat for when the water gets a little rough.

Thanks for a great design.

Stead Mills
Nice job, Stead. It looks great.
More information, pictures, videos, and free downloadable study prints to build this 20' Caladesi Carolina Dory.
Jeff Spira
---
---
CATAPROA®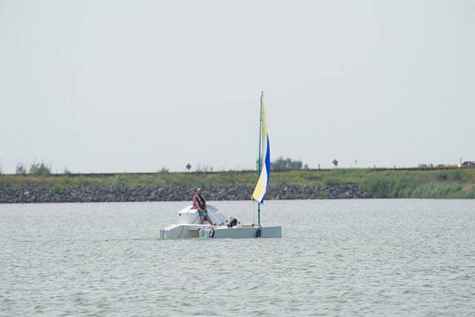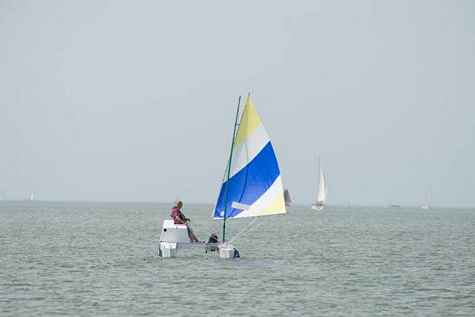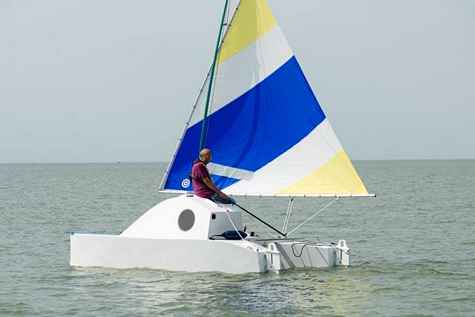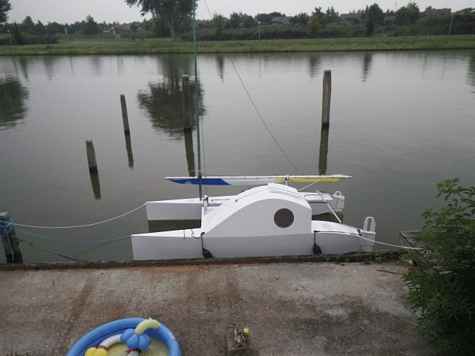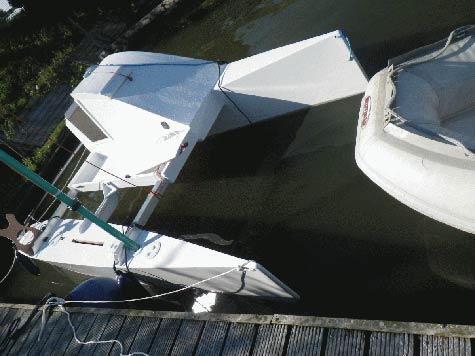 After three months, Cataproa is in the water. I was a bit nervous because it is a new design and unproven. It was easy enough to put the very light craft in the water. The weight of the craft is a mere 82 kg.
Down the ramp and here we are. Minutes later, first encounter with a big barge on the channel towards the lock to get on the Markenerwaard. There was not a lot of wind. But the interesting question was how will she sail and maneuver. To my big relief, the system worked. Coming about is more dingy like. Speed as expected, with the low wind, was about 2 Beaufort as measured by my friend who sailed parallel 4,5 to 5 knots. On the photo you can see, the mast is too weak. I changed it to a carbon mast.
As you can see, she is a small boat. Length is a mere 4,2m (14 ft). It is a minimalistic "cruiser" for one person or day sailor for two. Next step? - preparing plans and have a sailing holiday in Spain.
Bernd Kohler
CATAPROA is a registered trade mark by B. Kohler of K-designs.
---
Kayak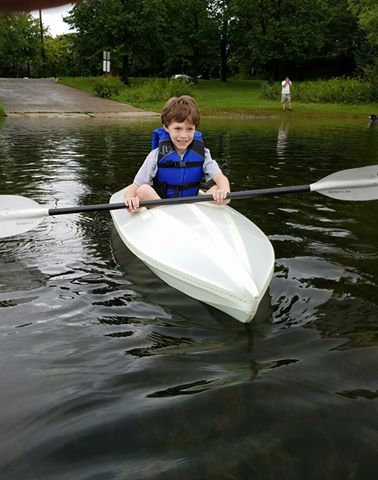 A successful launch! About a cup of water seeped in over about 45 minutes of paddling.
Seth Miller
---
Key Largo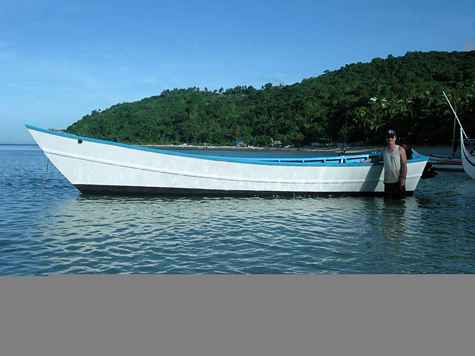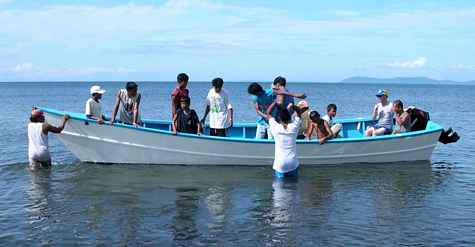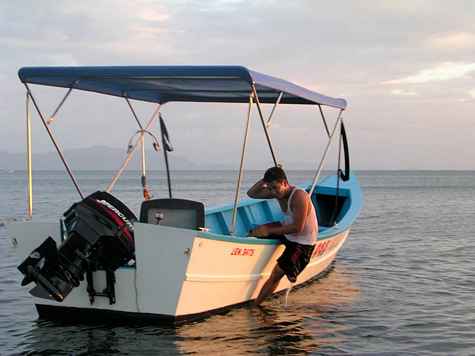 This 24' Key Largo was built in the Philippines, by an American living there with his Filipina wife. It'll carry 15 people, and will get up and plane with 6 people aboard with its 40 hp motor, is probably the cheapest and fastest 24 footer to build and it can make sea passages in rough water.
More info including free downloadable study prints.
Jeff Spira
---
Viola 14
Finally, got the prototype Viola 14 canoe in the water this afternoon after some final outfitting in front of the house in the morning.
Perfect wind for a first short test sail (Bft. 2/3). Very impressed with the boat's handling. Obviously, some minor things need to be sorted out. Only bigger issue is the very slippery cockpit floor (I had glued in place some neoprene (Pro Grip) but unfortunately the glue did not hold, even though I had taken the appropriate measures and the same glue as on one of my other boats). I will need to take care of this either having another try with the neoprene or something else.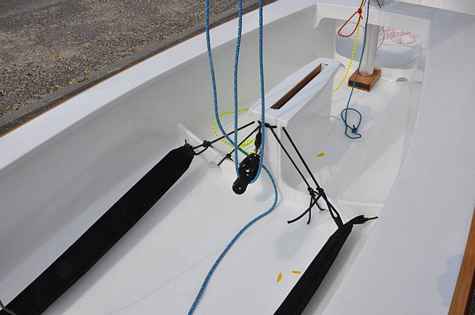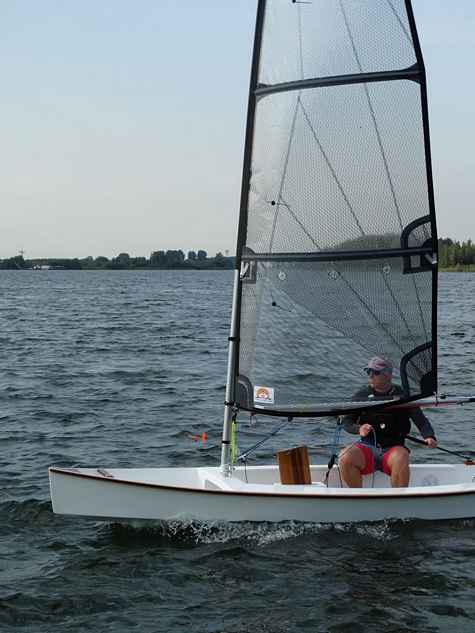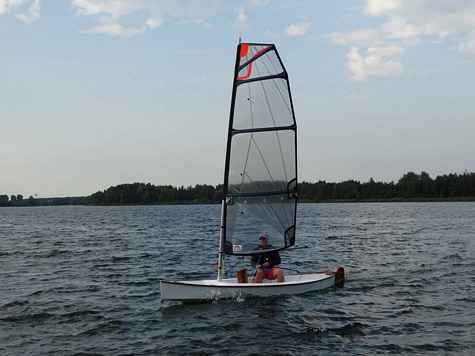 The boat is very light on the tiller and the daggerboard case allows the foil to be tilted so it is very easy to get a good balance. The rig is the same as Koos Winnips has on his boat (Really Simple Sails). Also paddled a bit and have come to the conclusion that I need some practice to perfect my J-stroke! A longer paddle (I was using one from the GIS which is only 125 cm to fit in between 2 side arms) wouldn't hurt either and nor a more refined blade. The kids also loved to paddle. Also practiced some SUPping (is that a word yet). I can easily stand up in the boat, also at the front end of the cockpit.
I will let the pictures speak for themselves now. Very very happy!
Joost
from Facebook
---
Quick Canoe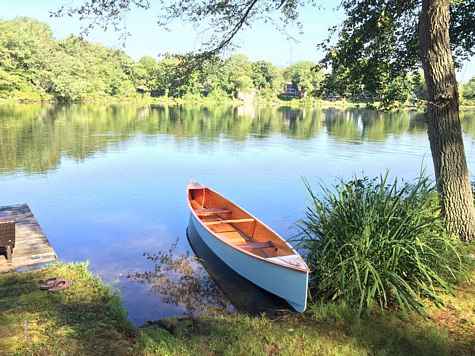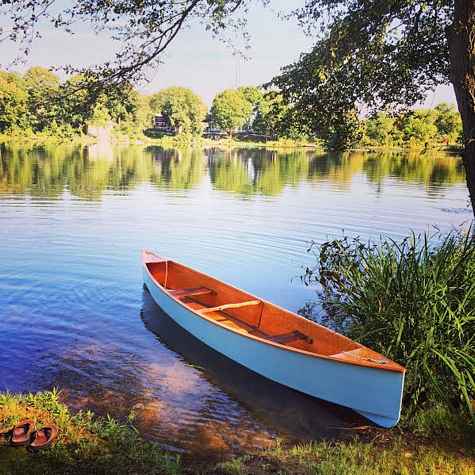 Chuck, thanks for talking me through my paint job.
Here's a couple shot of her.
Dan Doherty
---
Trimaran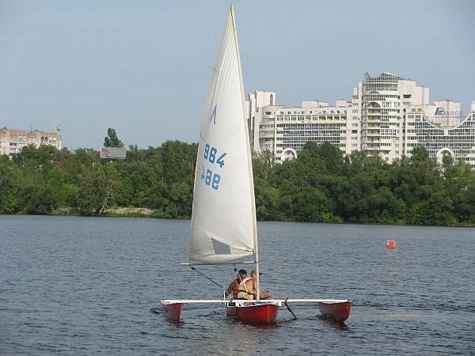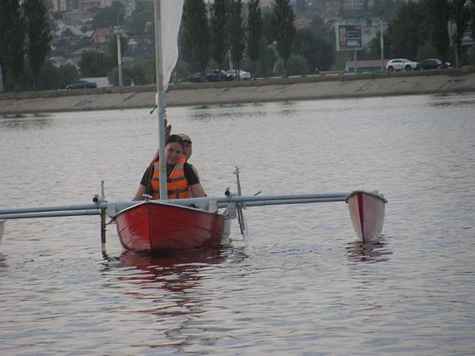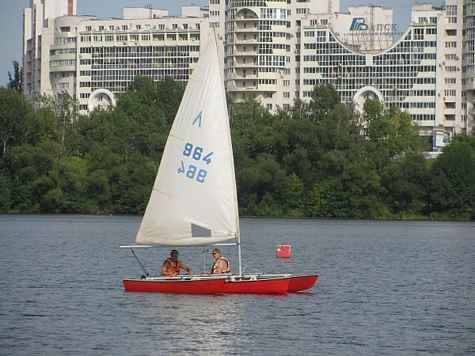 My new job finished.
Vyacheslav Naumov
---
Hi Chuck,
It has been a while since I've written, I hope all is well with you and your family! We are well and excited to tell you there are now clones of our Dianne's Rose and several are taking their builders out on extended adventures. I would not want you to receive erroneous reports of us cruising in such destinations as Australia, Florida, England, Holland, Belarus, The North West Territories, and The Ivory Coast, Africa! These are some of the locations you may soon see the boat. Then again it may not be that easy to spot as many have modified the design and built to their wishes. One has stretched the boat to 24'!!! Here is a recent email I received from Tim Summers from Indiana that inspired me to write...
Roy
Hi Roy,

Hope all is going well with you and Diannne. I wanted to send you a few pictures of our boat since we have finished. It has been a really fun project to work on and we are more than satisfied with the outcome. As you will be able to see I made a few changes and added a few things that we thought we would like. I installed awnings over the windows so during rain storms we would be able to leave the windows open so the cabin would not get so hot (works really well). I put in a Jabsco marine head and installed the holding tank under the rear deck (the holding tank has a panel that installs in front of it. Not shown), I also cut the door opening to the head lower to make it easier to enter, the storage box that you see in the picture serves as the rear step and the lid is removed to make up the bed. In the rear deck area I made shelves that attached to the transom to hold the gas tank and battery box thus freeing up deck space where we can put our two coolers. I added a table top with cup holders that is easily removed to access storage compartment. I also put in a fresh water and a grey water tank under the sink area. On both the front and rear deck I put a product called SeaDek that is manufactured by a company out of Florida to give us a non slip surface.

I would like to take the time to say Thank-you for making these plans available and helping me to be able to do something that I have wanted to do for years. My wife and I have already taken the boat out 3 times and we love it. We have plans to take it to lake Cumberland in Ky. in the next few weeks and from there who knows, which is the greatest thing about this boat, you can take it anywhere. We look forward to many fun trips in the years to come, your plans were easy to read and very detailed which made the build fun and easy. I am so glad that you made them available to the public, Thanks Again.

Tim
Here's some pics.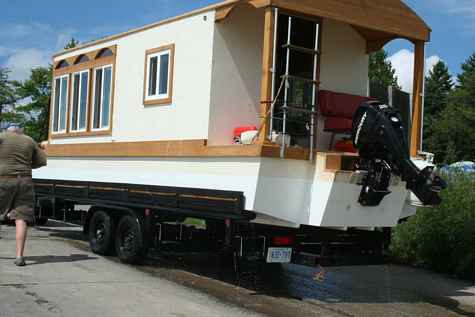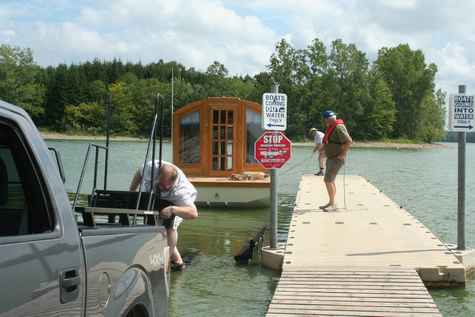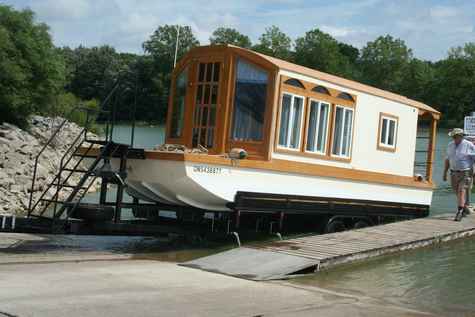 *****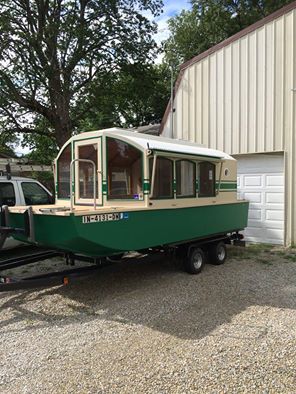 A brand new "Dianne's Rose" hits the water. You can read more about this in an upcoming article in Duckworks Magazine.
*****
Roy
---
BTD Frej Kayak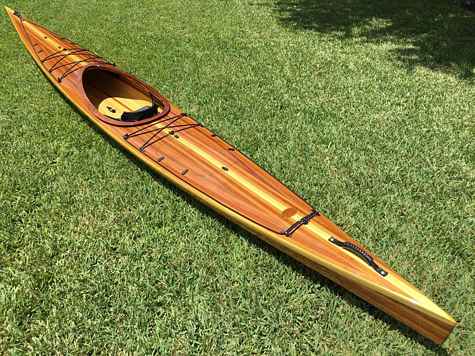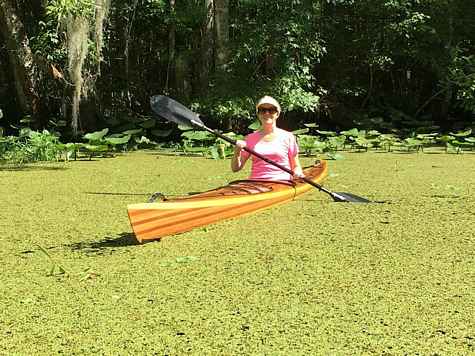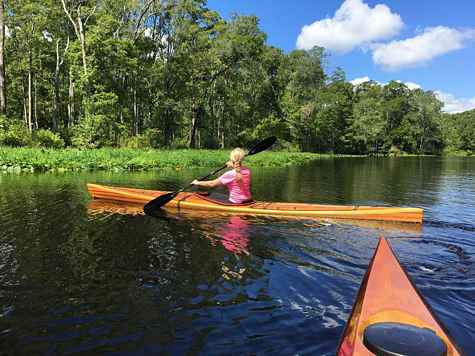 Some pictures of the launch of my wife's BTD Frej kayak (15' x 19.1"). We scaled the boat down to 90% of the original size in order to better match her small stature. Constriction took 5 months and the fully rigged boat weighs 39#.
Mark
---
Mayfly 16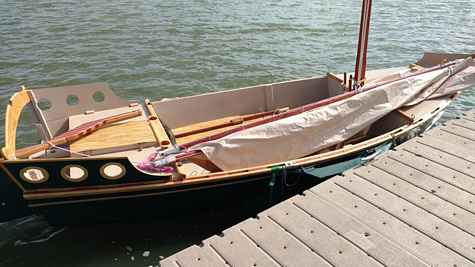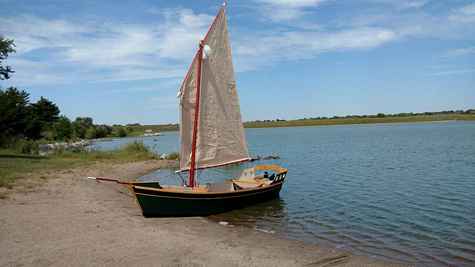 Launching "Bliss Seeker" today at Holmes lake. First time in the water. A great first sail of my new Michalak Mayfly 16.
David
---
Phoenix III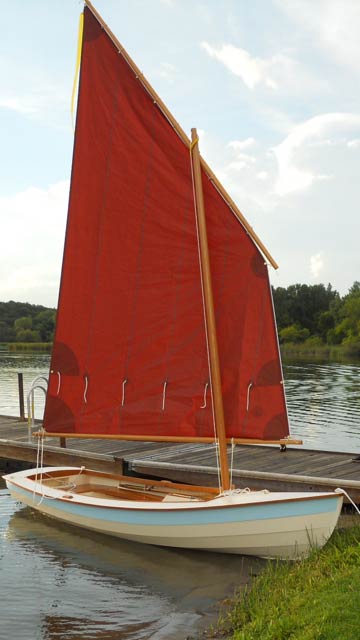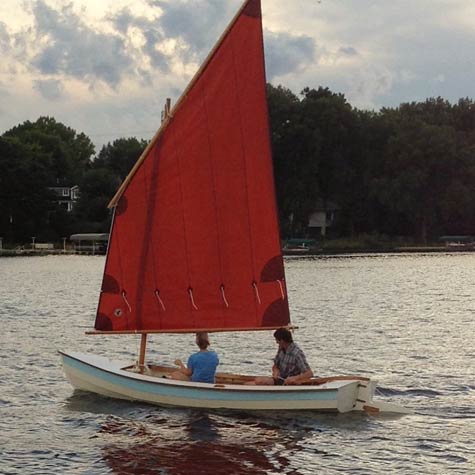 I recently launched WREN, a Ross Lillistone designed Phoenix III glued lapstrake beach cruiser, in Eden Prairie, MN. Plans and rigging were purchased from Duckworks. Special thanks to Ross Lillistone and Tom Pamperin for their help and input along the way.
Tim Marpe
---
24-Foot Canoe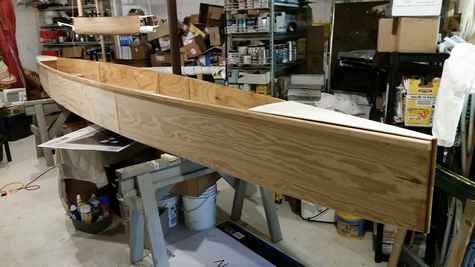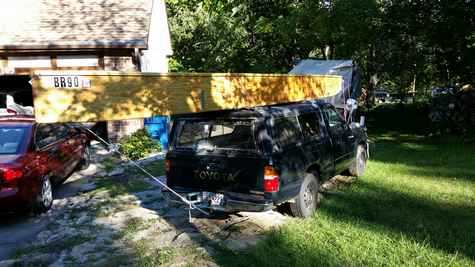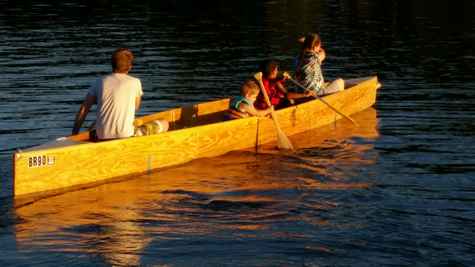 This 24-foot canoe was designed (using the word loosely) and built by Steve Henderson of Weatherby Lake, MO. The impetus for the project is the intention of Steve, daughter Emily, son Ian, and son-in-law Al to participate in the Missouri River 340 in August 2017. The MR340 is an annual 340-mile canoe/kayak race from Kansas City to St. Louis. Plywood and lumber are from a box store that rhymes with "Goes." Epoxy, fiberglass, hatch access port and silcone bronze nails are from Duckworks. There are three fixed seats. The fourth is adjustable for trim and removable to create a sleeping space. In the MR340 the clock does not stop ticking if you stop to sleep. So, there is a real advantage in keeping the boat on the river. The canoe has 1.5 cubic feet of enclosed foam flotation forward and a similar sized air-tight storage compartment aft. Initial tests were favorable: tracks true, reasonable stability, no leaks (thanks to the wonders of plywood and epoxy) and does 3 knots with three adults paddling in a leisurely manner. Hoping for 4 knots or maybe a tad more with 4 paddlers. Theoretical max should be close to 6 knots. Cost of materials was about $400 and the build took approximately 100 hours. It looked so loooong while in the basement workshop, not so long when on the water.
Steve Henderson
---
Whittier Dory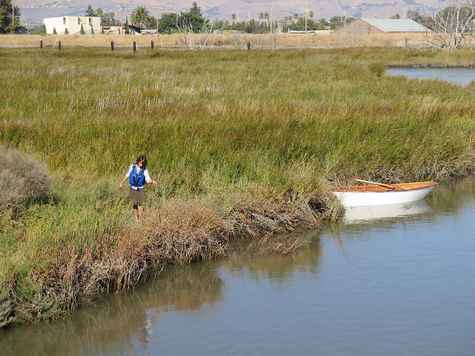 My modified Whittier Dory build. It is a stitch and glue affair based on the public domain plans from your site. It has been a long haul, not because of difficulty with the build, but because of life steam rolling this kind of endeavor.
The final push was to achieve either a splash or a bonfire, it was 50/50 there for a while. I have documented the build on my blog which is interspersed with other activities, sailboat races and cycling. Here is the link for the first test (in the real world as opposed to my brothers pool ).
Keay Edwards