Sharper
John M. Foster foster.john@excite.com
https://www.geocities.com/sailor_68123/sharper.html?978667128720
Notes on Sharper
32' LOD Sharpie Cruiser
The following design is based what I have learned from other designs close to the same size. If I build her I will first consult a architect, the hull lines and specs. were developed by me thanks to Gregg Carlson's Chine Hull Designer shareware.
I designed Sharper for myself, building a sailboat can be undaunting, doing it large enough for all around use is my goal. Sharper is large enough for extended cruising, simple enouph for single handling and just small enouph to be trailered to save never ending marina costs.
One of the best hull styles I've found for trailering is the Sharpie, but usually the traditional designs are very low profile and cramped. Everthing being trade-off, Sharper has increased freeboard (which is windage), but I'm quite pleased to have standing cabin headroom for my 74" height. But, traditional Sharpies also have a significant flaw, normally if capsized they are not self righting. I've added a vertical lifting, 800lb. bottom-weighted daggerboard that also has kick-up ability (just in case) and can be locked down. The bottom weighted daggerboard in combination with interior ballast should be quite stable and self-righting. This daggerboard design also saves interior space by being winched up into a center wall that also incorporates the mast post.
The sailing characteristics of Sharper should be impressive, downwind planing with the keel up Sharper should be a rocket ship, planing to speeds that will compete with multi-hulls. Upwind with the bottom-weighted daggerboard lowered she should be safely heeled allowing plenty of sail to be carried with ease and able to point. She may pound a bit when running or reaching against a short steep chop, but when heeled beating to windward she presents a V to the water eliminating pounding. In close quarters the self tacking staysail should be a joy, making singlehandling easy. An optional motor, located in a cockpit well should push her planing hull along with ease.
Space aboard is divided up into 3 cabins allowing some personal space for extended cruising and watertight safety. The rear cabin is comfortable and well lit due to the rear facing windows. The nav. station is also suitably located in the rear cabin. The main cabin has standing headroom, the dinning table is elevated for window viewing with stowage below. The forward cabin is spacious with two berths. Seperated by a watertight bulkhead in the bow area is a large sail stowage area with a foam filled crash protected floor. The cockpit is self-draining into the motor well, with no interior access stowage for safety.
For this LARGE trailerable sailboat to be built for less than 10k will be a challenge, but I believe it can be done if kept ultra simple, the ample room aboard allows for modifications later when budget dictates (on the trailer in your backyard). The hull is built from exterior plywood, epoxy is used for fillets and interior taped joints, the exterior is sealed with two layers 8oz. Glass and Vynlester resin outside, and the interior gets painted. The bunks are simple pipe berths, table seats use flotation cushions, and storage spaces use large Rubbermaid style covered storage bins placed under births. The galley uses a typical propane camp stove, a plastic basin for a sink and a jerry can holder above the sink. Even a spacious head is included. The rigging is simple, the mainsail uses a top batten that looks like a topsail and mast hoops, the spars are laminated fir. Construction is as simple as can be. Towing may require a larger than average vehicle capable of 6,000lbs+.
I probably will someday build this boat, it's cheap, fast, easy to build, trailerable, safe, and comfortably spacious. What more could you ask?
Features of Sharper Stem to Stern
Light 150% Genoa or Drifter hanked to headstay for light to 15 knots of wind.
Bowsprit built from laminated 2" thick plywood, galvanized chain attaches sprit to stem 12" above waterline. Decorative cutwater permanently attached to stem built from laminated ply to 11/2" thick.
Self draining stowage (for sails and ground tackle) from stem to first bulkhead, lower 18" filled with foam and capped with ½" ply. Access hatch located on deck 30" back from stem, also sampson post running from 12" above deck to bottom of hull, staysail boom attached to top of sampson post. Small 18"x18" watertight access hatch at center of first bulkhead.
Forward berths built as adjustable pipe berths for calm or rough conditions, built from canvas and pipe or wood dowels, stowage below bunks for removable plastic bins.
Heavyweight staysail hanked to inner headstay suitable for most wind conditions with three sets of reef points.
Mastpost on forward end of centerboard box.
Head enclosed on port side of centerboard, bucket with seat or better based on budget.
Unique daggerboard design (see illustration). Daggerboard rotates on 1" SS pin located above waterline in a tapered notch, centerboard is bottom weighted by filling window with lead and glassing in place. The board is raised with a 2:1 tackle using a typical trailer winch. The pin slides up and down in a oak framed groove and can be locked up or down as needed. Daggerboard will provide added stability to the already stable Sharpie giving good upwind capability as well as selfrighting capability not usually found in traditional Sharpie designs. The daggerboard will weigh approximately 800lbs bottom weighted with lead. The remainder of the ballast aprox. 700lbs will be laid in ingots of lead, steel or poured concrete, attached along the centerline out of site.
Main cabin features an elevated seating area with a drop leaf table, stowage under table and seats, built from 3/8 plywood. Galley built simple to accommodate propane camp stove mounted on gimbaled platform. Water provided from spigot on 5-gallon jerry can mounted above plastic removable basin. Space for 64quart cooler under galley. More table/work area facing forward against bulkhead.
Mast mounted in tabernacle made from 2" Oak or welded steel or aluminum. Tabernacle built tall enough to accommodate attachment of boom and enough space below the pivot for the flaked sail and batten. Mainsail is attached to mast using 2' tall hoops cut from 8" PVC pipe. Mast hand built from laminated fir capable of being self supporting yet with upper stays.
Significant stowage connecting to main cabin under forward half of cockpit or even single berth if desired.
Cockpit is selfdraining into motor well, all sail control lines are led into cockpit to facilitate single handling. If motor is installed it will be mounted on typical sailboat bracket and lifted straight up and down. Small hatch (not watertight) at bottom of well for reduced drag. Fuel stowage/locker self -draining into motor well locker bottom elevated 12"above cockpit floor, locker located on port side of motor well.
Entry hatch for rear cabin located on the port side, tiller centered on rear cabin bulkhead with control lines led to it using a bell crank device built simple from aluminum or oak and two joining cables.
Inside of aft cabin, (the Captain's Lounge) is a large L shaped couch and pilot berth. Navigation station is built facing forward on center of bulkhead. Storage under couch and birth. Large aft facing windows, good light, nice space! Cables and bell cranks for tiller, mounted close to ceiling of aft cabin. The cabin is seperated from the rest of the boat by watertight bulkhead located under center of the cockpit.
Rudder built from aluminum or stainless cheek plate sandwich, 30% balanced, pivot pin kick-up rudder hole drilled through aft end of cheeck plates and rudder to hold up while transporting. Skeg in front of rudder assembly for added downwind control during high-speed sleigh rides.
The hull is ultra simple construction, built first upside down on it's bulkheads and centerboard box, and up the side 1 1/2' to a butt strap. She is then rolled over, and the sides are finished, the interior next. The deck, cockpit, coach ect, follows. All exterior surfaces glassed, two layers 9oz bellow waterline, and one layer above. Thick plexyglass for widows or Lexen as budget dictates.
The rigging is kept simple, one set of stanchions, two headstays, three halyards, and a topping lift. Blocks are used at the masthead attached to stainless tangs, total of four apropriately shared tangs.The mast is three thick, laminated 2x6 fir, then planed to a octagon 28' long.
Oak 11/2' half rounds are used for rub rails placed at a suitable height for typical docking.
The trailor can be used, dual axels recommended. Ussually several can be found sitting around local marinas. Sharper's flat bottom doesn't require anything fancy, except some side posts to keep it strait while loading
Drawings:
General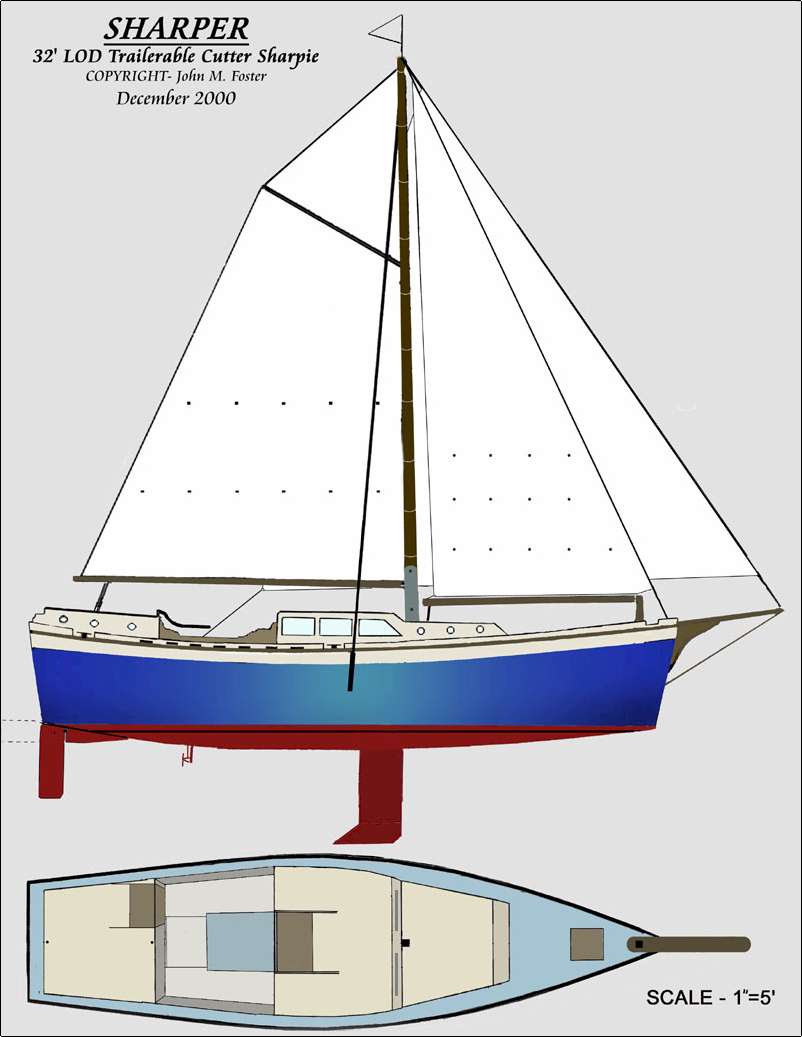 Profile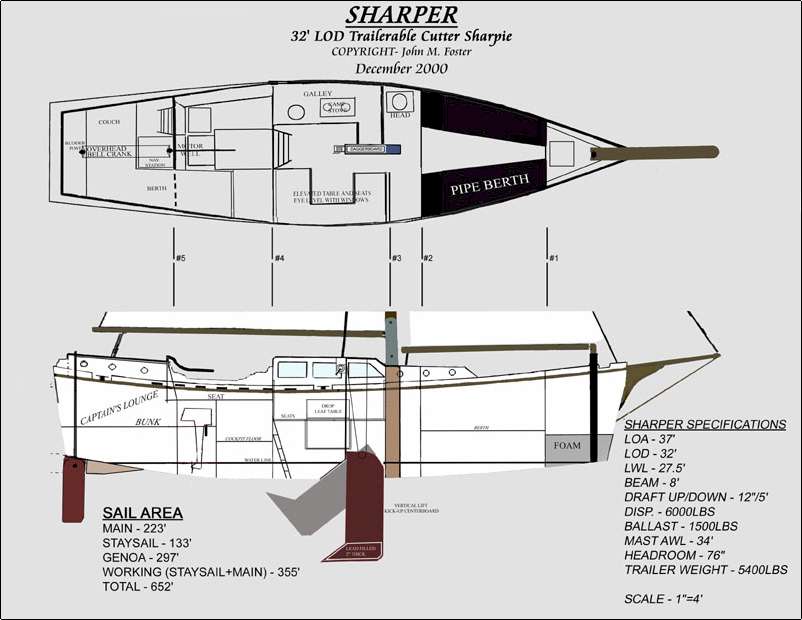 Details