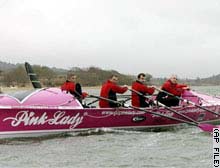 Four rowers rescued in Atlantic
Sunday, August 8, 2004 Posted: 9:11 AM EDT (1311 GMT)

LONDON, England (AP) -- Four Britons attempting to break the world trans-Atlantic rowing record were rescued Sunday after their boat broke up in heavy storms, the coastguard said.
A Swedish vessel picked up the crew of the Pink Lady, who were clinging to a life raft some 300 miles (482 kms) west of the Isles of Scilly, off England's southwestern tip.
The four oarsmen, who left Newfoundland in Canada on June 30, were trying to beat the current 55-day record when their boat was caught in a hurricane and split in two.
Falmouth Coastguard said one of the rowers was suffering from hypothermia and another had slight head injuries, but they did not need urgent hospital treatment.
The Swedish ship, Scandinavian Reefer, is scheduled to arrive at the port of Foynes on the west coast of Ireland on Monday.
The current record for the 2,100-mile (3,380-kilometer) journey was set in 1896 by two Norwegian fishermen and was equaled 17 years ago by Briton Tom McClean.
The Pink Lady team, which was raising money for the British Heart Foundation charity, hoped to complete the crossing in 35 to 40 days. Firefighter Mark Stubbs, 40, led the crew, which included journalist Jonathan Gornall, 48, digital mapping specialist John Wills, 33, and former special forces diver Pete Bray, 48.
Gornall told the British Broadcasting Corp. how the boat was battered by 30 feet (9 meter) high waves before being smashed into two pieces.
"The next thing we knew we were under water, fighting to escape the rear part of the vessel, which, on inspection afterward when we surfaced, appeared to be completely smashed by a tremendous wave," he said, via telephone from the Swedish ship.
The men activated their distress beacon at 0130 GMT Sunday and clambered into their life raft wearing survival suits. The coastguard initially scrambled a rescue helicopter, but it turned back because of the weather.
The coastguard stayed in contact with the crew via satellite phone and broadcast a mayday signal to alert nearby ships.
"We are all very grateful to be alive. It is a shame we didn't make it, but at least we can assure ourselves it wasn't anything we did wrong," Gornall told the BBC. "It was just, you know, you take on nature and you take what she delivers and on this particular occasion she delivered a killer blow."