An event exploring the Mississippi Barrier Islands
Friday Sept 25th
Steve and Dave left early bound for Cat Island. Murray's left to work his way back east along Horn Island. Pilgrim was going to go to Ship Islands.
Mike and I left shortly after Steve and Dave headed north to Biloxi and Deer Island. It was obvious that the northern shore of the Ship Islands would be somewhat inhospitable until later in the day when the winds were forecast to lay down so we thought we'd explore Deer in the meantime. After an uneventful passage we arrived at Deer Island from the east end and topped up our fuel at the eastern most marina. We then traveled along the northern side of Deer Island to the west and the other end of the Island scouting the anchorage opportunities along the way. We decided the western most end of Deer Island right across from the boat ramp looked best. The casinos were only a few hundred yards away but the protection was good. It was early and the wind had calmed so we decided to take a ride out to Ship Island to see Fort Massachusetts.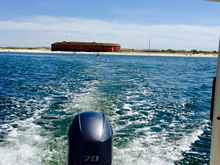 We were watching to see the others but never saw any of them as we approached the east end of West Ship Island. Since we didn't see the others anywhere, we chose to snap a quick picture and head west to circumnavigate Cat Island while the winds were calm. We made the passage at almost 20 mph and rounded the southernmost tip into previously unexplored territory (for me). We found a Hidey-Hole anchorage with great protection south of the lagoon on the sandy spit that juts out to the south. We had hoped to find an entrance into the large lagoon from its southeast end but it was not there. We had to travel 2 or 3 miles west to gain entrance to the lagoon. Once inside it was deep and we traveled all the way to the eastern end exploring along the way. There was plenty of great protection from the wind and waves but no sandy spot for tents. The marsh grasses would almost certainly be a nightmare with regard to bugs at night in the warmer months but if you could sleep aboard and protect yourself from the mosquitoes it was a great anchorage as far as being protected from wind and waves. We motored back out to the west being careful due to the shallow waters that extend a long way out from the island's western tip in all directions. After a long wide loop around the shallow waters on the western tip we spotted Steve and Dave as they rounded the Northern tip and angled to meet them as they traveled south along the western side of the northern tip.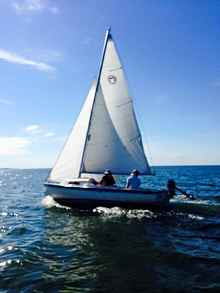 Just as we motored up a pod of dolphins began playing and jumping between our boats and Dave was taking videos - David's video.  We chatted for a few minutes and then Mike and I motored on. We had decided we would anchor at Deer Island for the night so pointed our bow towards the Beau Rivage Casino which is a landmark visible from all the islands and located right beside where we wanted to anchor. An hour later and we entered the channel north of Deer Island to discover Pilgrim anchored at the exact same area we had thought might be best. We pulled in beside them and had a great evening chatting and enjoying the night. The channel between Deer Island and the Casinos/marinas on the mainland is not a No-Wake zone so there were some boat wakes but most of those were done with by the time we retired for the night. There were virtually no bugs and we had a light breeze. The casino/mainland noise was surprisingly low key. The lights were bright but we had a Super Moon that weekend too so bright lights were a given regardless of the anchorage. We all got a great night's sleep for the first time in a couple days.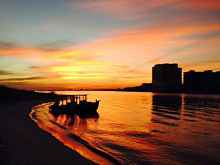 Saturday Sept 26th
Mike and I left Pilgrim and headed east towards Round Island 25 miles to the east of us. The easterly winds were light and It was a nice ride. We did a quick scout of Round before I took Mike the remaining 5 or 6 miles back to the ramp to drop him off. He figured he might as well get started home and the last anchorage was a quick hop for me to drop him. After saying goodbye to Mike and making sure all the vehicles looked like they were OK, I took advantage of the "air conditioned" bathrooms at Point Park and then headed back out to Round Island where everyone planned to anchor for the night. When I got there I saw Murray White anchored in the cove. I had seen a tent earlier but no boat so had decided it must belong to a motor boat. It turned out Murray had sailed back to Round Island from Horn Island Friday and had been out on his boat exploring the Island's shoreline when Mike and I had passed. Murray and I visited for quite a while and did some exploration.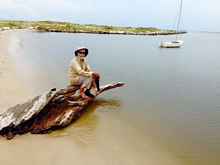 Pilgrim had posted that they were heading straight into the winds towards Round Island. Pilgrim was going to be late even if they used the outboard cause the winds were right on their nose and it was 23 miles from Deer Island. Steve and Dave had said they would probably have to spend Saturday night at Horn Island Hidey-Hole if the winds were as low Saturday as they were forecast to be. But Steve posted a Facebook message late afternoon saying they were on their way to Round Island and would be there before dark. They had gotten an early start from Cat Island and tacked out to the area between Horn and East Ship Island and were inbound on their northeasterly tack. That sail from Cat Island to Round Island had to be an epic sail with the easterly winds and easterly seas and a 40 mile slog to windward! Turns out the winds had clocked around to the southeast as they had pretty much done all week and they only need to make a couple tacks to go the entire 40 miles. Pilgrim arrived well before dark and we all had a great evening reminiscing with no bugs at all on Round Island.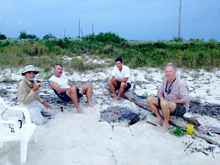 Sunday Sept 27th
Everyone was gearing up to push on to Point park and recover their boats because the weather was supposed to get nasty and rain was definitely going to be a factor. The wind had craned back up to 15+ mph out of the east so the chop was back and rounding the south end of Round island meant driving straight into it for a couple miles. Since I had the motor I knew I was going to get back quickly and I did. I loaded up my boat, took all the stuff off and put it inside my van and went to MacDonalds for a Senior Coffee and a Sausage MacMuffin before returning to Point Park and waiting on the boys. Finally, I saw Pilgrim pulling in and kept watch for Murray. Steve and Dave had decided in route that it was too fun to stop and headed out to Petit Bois Island just to say they had. They made a great sail and in record time arriving back at the ramp about the same time as Murray White.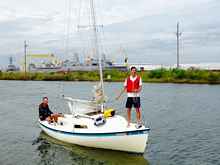 Murray too had not had enough so instead of turning into the channel where the ramp is he circumnavigated the area south of the US#90 bridge and around the Ingalls Shipyard before coming back to the ramp.  Everyone spent an hour or so loading up and preparing for their trips home. It ended up raining nearly 8 inches that afternoon and continued off & on for the next day too! I for one was glad we got off the water before that deluge!
Post Event
Given the predominantly east winds/waves I think the event was a huge success. Any south at all in the winds & waves would have made the entire south sides of the islands hospitable for anchoring but even so we were able to find enough Hidey-Holes and anchorages to accommodate us. We rarely used VHF radios to communicate. However, we did find that forming a "Facebook Message Group" allowed us to post our status via a Facebook message to the message-group for the others to see and that seemed to work really well. We had pretty good cell phone coverage throughout the trip although data was sometimes a little slow. The weather, other than the easterly winds was near ideal and no rain at all. Bugs were a bit of a problem on Horn Island when the wind died at sunset and Steve said they were bad at Cat but otherwise the bugs weren't much of an issue. As far as wildlife, we saw alligators, stingrays, jellyfish, Nutria, birds of all kinds, a small shark, raccoons and probably 100 dolphins. Having the anchorages close together allowed all of us to make at least 2 of the anchorages together and offered the opportunity to stray from the others and still catch up. We were all at the final anchorage. The strong easterly winds we experienced the first 36 hours caused us all to think that this might not be a good event for first timers to open ocean sailing, sea trials on newly built boats or modifications. Murray White did his part of the trip in a 12 ft open O'Day but he has the experience to do it safely. Rescue is difficult in open waters with steep choppy seas and it could potentially cause the rescue boat to become part of the "need to be rescued" and we were spread out over 30 miles of water at times so better to be prepared to self-rescue or at least be able to call & wait for the professionals. All of the participants this year had completely different routes and experiences because we all had different variables that caused us to do so. The fact that we were all OK with being separated from the group and do our own thing was a huge plus. The fact that we were still able to anchor in company nearly every night was proof that the event's anchorage locations were a good choice. Everyone agreed that this would likely become an annual event.